INTERACTIVE WALL
The very first time Ethan was introduced to an interactive wall was in April last year during his first trip to Petrosains KLCC.
The screen shows pebbles dropping down and when you stand in front of it, the pebbles will drop on your shadow! Ethan was very fascinated with that. I was highly impressed too!
Several days ago I heard from an ex-colleague who is working in KLCC about the new interactive wall located in Petronas Twin Towers Sky Bridge Visitor's Centre. I know Ethan will love this a lot so we made our way there on that fine Saturday morning.
For easy access, enter through this particular entrance (the one nearest to Mandarin Oriental).
Upon entering the Petronas Twin Towers lobby, take the escalator down 1 level (these escalators are located at either side of the lobby).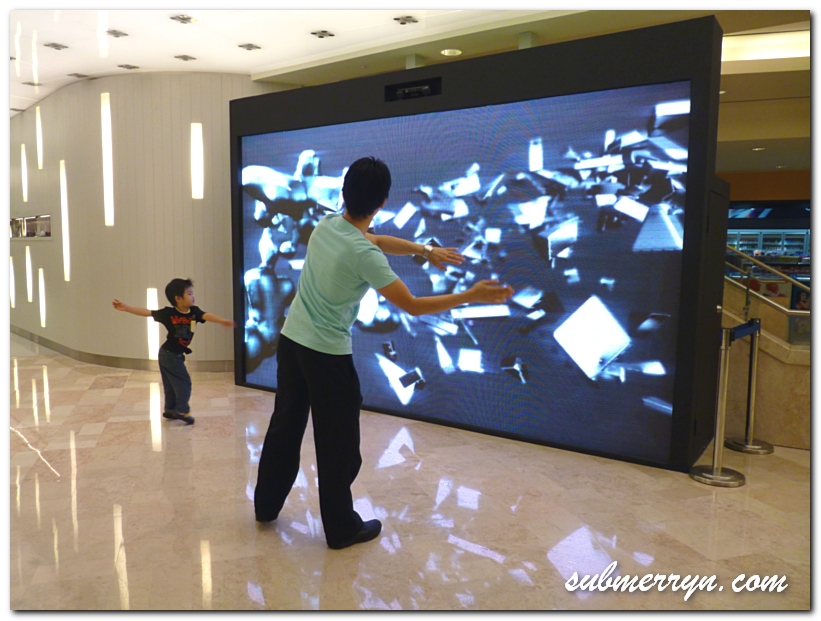 You'll see this HUGE screen in the vicinity of the Sky Bridge Visitor's Centre.
This huge screen is actually an interactive wall using kinect sensor. The liquid and metal elements on the screen move according to the direction you move your arms.
The aim here is to make the two elements clash with each other.
When the two elements clashed with each other, a short animation comes on. We saw a mercury-like swirl and what emerged out of it is one of 5 things: mechanic heart, diamond grille, piston, shark, and headlights. Shown on the screen (in the picture above) is the mechanic heart.
The point of the game is to work with a partner to help push the two elements (liquid and metal) on both sides of the screen to the centre. It focuses on the importance of partnership and teamwork.
You won't be able to get the two elements to clash with each other by doing it alone (unless you have an extra ordinary pair of long arms :P) It is essential to find a partner to help you out.
This random lady came to Ethan's aid when she saw that Ethan was losing speed (as he had been interacting with that wall for the tenth time or so). Together, they managed to get the liquid and metal elements to clash, hence the importance of teamwork.
The interactive wall is very popular amongst the visitors. People from all walks of life tried to make the two elements clash. Strangers did not hesitate to help each other out.
Young or old, they all worked together just to merge the two elements together so they can marvel at the different results produced.
When was the last time you played with your shadow on the wall? You should try it, this time with a wall that interacts with you!
Imagine a wall with an amazing, gorgeous display that will react to your every movement. You can even get your friends to join in the fun! Check out this sophisticated visual presentation of science and art at:
Venue: Petronas Twin Towers Skybridge Visitor's Center
Date: Today – 18th Jan
Operation hours: 9:00am – 7:00pm
The interactive wall ends on the 18th of January 2013 so hurry up and make your way there NOW.
Related Posts
//
//
//
//

//

//
//
//
//
//
//
//
//