PETRONAS 'Five Pillars of Happiness' Pledge
Chinese New Year is a time for the Chinese communities all over the world to gather and reunite with families and loved ones to celebrate and welcome a new beginning with wishes and hopes for peace, happiness and good fortune for everyone.
In multiracial Malaysia, CNY is also a good time for all Malaysians to participate and join in the celebration in a true spirit of unity and togetherness. It is in this same spirit that PETRONAS launched its 2013 CNY Communication Campaign last Saturday.
YBHG Dato Mohammad Medan Abdullah, Senior General Manager, Group Corporate Affairs Division, Petronas 
"We are pleased to introduce our on-ground activation programme entitled "5 Pillars of Happiness: A Celebration of Culture and Tradition". The programme is rooted in the rich Chinese culture that is an integral part of Malaysia's diverse nation and draws inspiration from the auspicious blessings that are shared as the new Lunar Year is ushered in, namely Luck, Wealth, Longevity, Health and Tranquility", said Dato Medan during his speech.
The focus of the campaign is to extend the CNY cheer and celebration to the less fortunate by encouraging the public to be part of it.
"The act is simple, yet so meaningful. The pledge counter will open until the 24th February. So for those of you who do not have a Facebook account make sure you open one now and make your pledge. Once we receive 25,000 pledges, we will contribute in kind to the homes", Dato Medan said.
The six homes that will be receiving the contributions are:
Rumah Keluarga Kami in Kajang

Shelter Home in Petaling Jaya

Pusat Kanak-Kanak Terencat Akal Bahagia in Malacca

Pusat Jagaan Pertubuhan Pengurusan Anak-anak Yatim dan Miskin Anning Ipoh

Rumah Kanak Kanak Kota Kinabalu

Sarawak Cheshire Home
Dato Medan then proceeded to be the first to pledge.
It's so easy to pledge. Just go to https://www.facebook.com/petronas1 and click the pledge button!
I pledged too! I was the 340th person to pledge.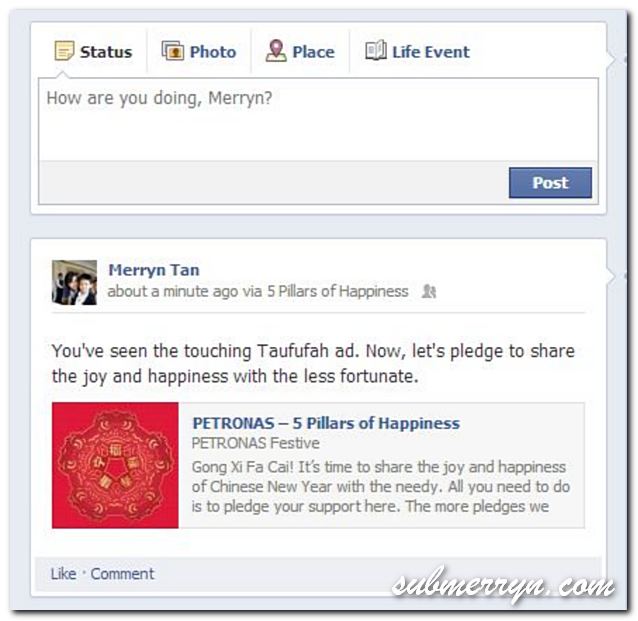 I even shared it on my Facebook wall to get others to pledge.
PETRONAS also unveiled a short film 'Tau Fu Fah' that tells the story of a couple who builds a life together going through many challenges but were able to prosper to golden age through perseverance and positivity even in the most dire circumstances.
Children from Rumah Keluarga Kami watching the short film 'Tau Fu Fah' during the launch
The 'Tau Fu Fah' film is gaining popularity in Facebook as I saw many of my friends sharing it. On the day it launched I saw that it has been shared over 200++ times. 
Watch the short film here:


Dato Medan handing money packets to the children from Rumah Keluarga Kami
Guests were also treated to a magnificent Lion Dance performance by 5 Lions representing the 5 Pillars of Happiness!
Dato Medan 'waking up' the lions.
It was simply beautiful to see 5 lions performing with the grand Petronas Twin Towers as the backdrop.
Dato Medan giving the lion 'angpow'
Dato Medan watching the lion dance performance with the children from Rumah Keluarga Kami
Ethan doesn't want to be left out and sneaked in for a picture with the children!
Here he is seen taking the orange from the lion's mouth!
After a fun time in the sun with those 5 Lions, we proceed back into Dewan Filharmonik PETRONAS Lobby Entrance for a Lou Sang session.
Dato Medan tossing Yee Sang with Cheryl, Jin, members of the media and the children from Rumah Keluarga Kami
Again, Ethan wants to be part of the celebration :D
Jin and Cheryl having fun with the children.
It is said that when on wishes another good tidings, good will fall upon the person. This year, let's go one step further. Instead of just wishing the person luck and health, let's make a difference to society. Let's PLEDGE! A click is all it take! Let's start by clicking here https://www.facebook.com/petronas1/app_311039082348510
Related Posts
//
//