Lucky '8' at Tai Zi Heen
It was a cold evening and we were craving for some wholesome Chinese meal. Luck has it that Tai Zi Heen is offering an eight-course meal for just RM88++! The first time I stepped foot in Tai Zi Heen was during Chinese New Year earlier this year and I loved their food! So without hesitation we made a quick dash to Prince Hotel & Residence Kuala Lumpur.
Tai Zi Heen, Prince Hotel & Residence Kuala Lumpur
Ethan say… CHIAK! :P
Lucky 8 Menu
With dishes as scrumptious as the above, how can we resist right? Let me share some pictures of what we had..
Ying…
Yang Prawns :D
Ethan enjoying the Ying Yang Prawns Tossed with Asian Dressing and Garlic Pepper Sauce
Double-Boiled Chinese Herbal Soup with Chicken, Fish Maw and Dried Scallops
Both Ethan and I love soups! The above soup is simply delicious and nutritious. We were both having a slight cold and runny nose so the hot soup was a very welcoming dish. It warmed us up instantly.
We had this too. Comforting soup for the soul. Ahhhhh…….
Butter and Parmesan Cheese Crust Cod Fish on Baby Spinach
Being a fish lover, this dish just can't go wrong. The melted cheese covered the cod fish perfectly that the fish remain moist and tender.
Just look at the fish flake! Moist and melts in your mouth, I love this very much!
Oven-baked Black Cod Fillet
The oven-baked cod fish is equally delicious. The cod fish dish itself costs RM58 IF ordered individually so paying RM88++ for the entire course is really worth it!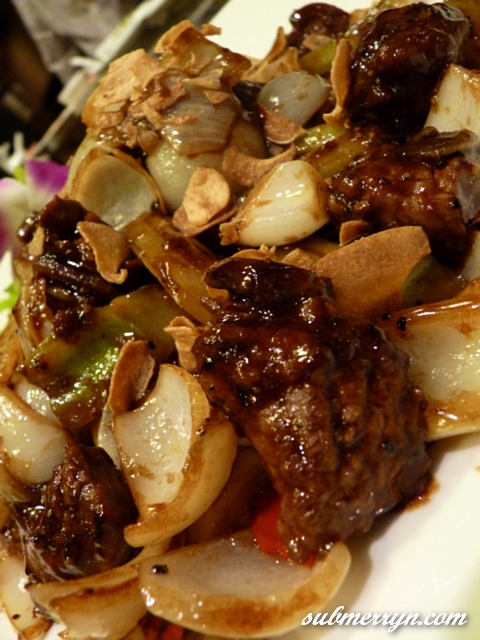 Wok-fried Diced Australian Beef Tenderloin with Black Pepper Sauce and Crispy Garlic
I love beef tenderloins for it is as good as it gets. Wok-fried with black pepper sauce and crispy garlic makes it even tastier whilst retaining its tenderness.
Stir-fried Shanghai Noodles with Shredded Chicken, Bean Sprouts and Carrots in Supreme Soya Sauce
I have been eating lots of Shanghai noodles lately. I love to break the crispy noodles into smaller pieces, soak it in the supreme soya sauce, letting it absorb all the goodness of the gravy and slowly eating the soften tasty noodles. Simply delicious!
Chilled Mango Puree with Vanilla Ice Cream
Kwai Lin Kow with Sago Pearls and Fresh Pomelo
We had the mango puree with ice-cream and herbal turtle jelly for dessert. Lol! Herbal turtle jelly is the direct translation of Kwai Lin Kow and no worries, no turtles were harm in the process of making this dessert!!
But we were really hungry that night so we had something extra out of that Lucky 8 menu.
Wok-fried Fresh Scallops with Hong Kong Vegetables (RM58 per portion)
I just had to have this as I'm a good girl and must have my greens during meal time. Ethan too! :P Plus, the scallops are just too good to resist!
Crispy soft-shelled crabs tossed with buttered oats, garlic, curry leaves and chilies (RM32 per portion)
Can you say NO to soft-shelled crabs? I can't! These crabs are made for LAZY people like me. We don't have to remove the shell as they are edible! Just nom-nom-nom…
Tai Zi Heen's Lucky 8 Signature Tasting Menu is on-going for the entire month of August. Dine and be in a running to win a Suite stay!
Tai Zi Heen
Prince Hotel & Residence Kuala Lumpur
Jalan Conlay,
50450 Kuala Lumpur,
Malaysia.
Tel no:
+603-2170 8888 ext 8200
Fax no.:
+603-2170 8999
Email:
[email protected]
Website:
www.princehotelkl.com