Laguna Redang Island Resort
We went for some sun, sea and sand over the weekend :D


The water is still amazingly crystal clear in Redang. I love it!

When I think of Redang, I can only think of Laguna Redang Island Resort. I don't know why..


Ethan @ Laguna Redang Island Resort :)

Ethan @ More More Tea

The swimming pool.
Now let's take a look at the room we stayed :D


Lovely and spacious room.


The King sized bed.

Comfy rattan chair.

Coffee and tea making facilities and four bottles of complimentary mineral water. Water from the tap is not safe for consumption even if we boiled it. We are encouraged to boil bottled water for drinking.

Flat TV that plays the movie "Summer Holidays" or "More More Tea" (aiyah I dunno what's the title-lah!) over and over and over again.  Not all rooms come with flat tv though.

What is best is when we open the door that leads to the balcony. The view is simply awesome!

I was so at awe with the view and the sound of the waves that I felt like just lying there whole day doing nothing..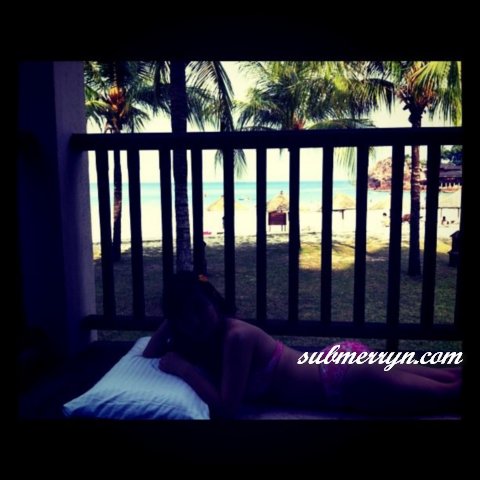 and I kinda did.. it was nice lying at the balcony with the sound of the waves to lullaby you to sleep nap…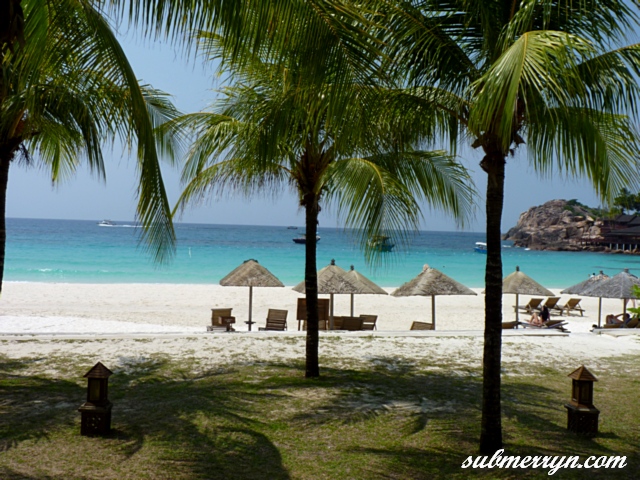 We wake up to this view every morning.. Heavenly!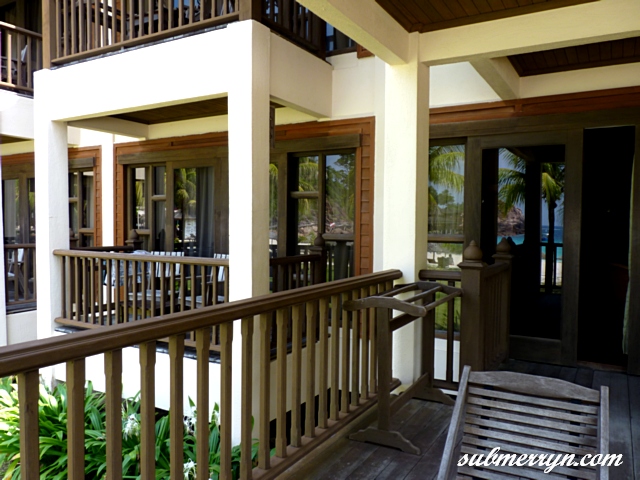 I found out that our Premier Sea balcony is longer than our neighbors' Deluxe Sea and they don't have the recliner chairs that we have. They also don't have flat tv as I saw bulky tv in their room. Yikes! Resorts actually still use bulky tv these days? o.O

That is how near we are to the sea. Love it, love it, love it!

Our room! :D

The recliners are very comfy because they can actually rock as you move your body! <3

From the balcony on our first day, I saw Star Cruise Virgo.
Darling and Ethan spent a considerable time at the balcony. I did not suspect anything until I went to have a look and found out that they are actually enjoying the 'view'! @_@
Ethan and his thumbs up lagi!
What's nice about our Premier Sea Room is that we get House Keeping service not once, but TWICE a day! Pampered to the max! :D That's all about the room we stayed. Activities and more in future posts to come :D

Click here to find out the varieties of rooms Laguna Redang Island Resort has to offer and their respective rates.
Laguna Redang Island Resort
Pasir Panjang, Redang Island
Tel: +609-630 7888
Fax: +609-630 7878
Malaysia
Related Posts
//

//

//
//
//

//

//

//

//

//

//

//

//

//

//

//

//

//

//

//

//

//

//

//

//

//

//

//

//

//

//

//

//

//

//

//

//

//

//

//

//

//

//

//

//

//

//

//

//

//

//

//

//

//

//

//
//
//
//
//

//