Browsing articles tagged with " Pavilion KL"
You may have heard of D Empire Art of Cuisine during their tenancy in Main Place Subang Mall. They have since seized operation there and is now operating on Level 6, Pavilion KL. D EMPIRE Art of Cuisine Lot 6.33 & 6.34, Pavilion Kuala Lumpur 03-2110 6196 We were here yesterday evening to show our support to Chef Dallan Tan at this new place.  D EMPIRE is a European cuisine restaurant. Tastefully decorated to give diners […]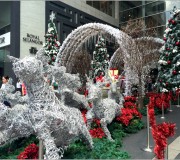 Our first stop for this year's Christmas decor hunt is Pavilion. It was still work in progress when we were there last weekend. I was at Starhill to get my hair done so I thought why not hop over to have a look at Pavilion's decor. The outdoor decor. I believe it will be magnificent once it is lighted up come night time.  The boys are attracted to these bears. It's a mechanical Santa, Bunny […]
I used to wonder why people frequent the malls on the first day of a festival. Don't they have relatives to visit? Don't their relatives visit their home?  And then today, on the first day of Chinese New Year of the Goat, I ended up in Pavilion. We were in Seremban at my in-law's house when my sister-in-law suggested for us to go to Pavilion. The reason being that my parents-in-law doesn't go KL often […]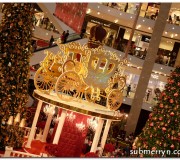 We dropped by Pavilion last Saturday and saw this beautiful red reindeers with golden carriage outside. When it comes to Christmas, I always look forward to the Christmas decorations in Sunway Pyramid (specially love the street decor), 1 Utama and Pavilion's. I would not miss these three malls for anything!  This year, Golden Carriage is the theme in Pavilion. The Golden Carriage stood out magnificently from afar.  Closer look at the golden carriage.  Closer… Beautiful […]
After their impressive gigantic Dragon do for Chinese New Year, we kind of expect something more spectacular from Pavilion this Hari Raya. I went "Wow" when I saw the decor.. I mean "Wau" .. Larger than life Wau(s) hanging around the mall. Wau! -.- Hmm.. I prefer 1Utama's decor this year. Check them out here.
The Dragon hunt brought us to Pavilion KL today. Actually I don't know how we ended up in Pavilion. One moment we were in Eastin Hotel then Ethan and I fell asleep in the car and when we woke up we were already in Pavilion! Superb! The 600 ft long Majestic Dragon at Pavilion KL. Having just woken up from our nap, Ethan and I walked around Pavilion while Darling went somewhere else to meet […]
Pavilion has one of the better Christmas decorations in town. Let's have a look… Christmas @ Pavilion KL They have the Largest Real Lollipop by Sticky. Oops.. somebody ate the P in Pavilion and NO, it's NOT Ethan :P Ariel view of the Xmas decor in Pavilion. So many people loitering on the staircase accompanied by beautiful Christmas trees :) Santa Claus is flowery! Rudolph not only has a red nose this year, he went RED […]
We were at Pavilion Kuala Lumpur yesterday to check out their Christmas decoration but what caught my attention more is the United Buddy Bears on display during its world tour outside Pavilion. The United Buddy Bears promote living together in peace and harmony and Malaysia is the first South-East Asian country to be chosen for its tour. I had a 'beary' great time walking from one painted bear to the other. These cheerful and colourful […]
Remember I learned the art of eating Xiao Long Bao in Din Tai Fung, Pavilion not too long ago? Well, not only did we have xiaolongbao that day, we had a whole lot of other dishes too. Let me get us drooling with the pictures now, shall we? :P Din Tai Fung, Pavilion Din Tai Fung has been voted one of the world's top 10 restaurants by The New York Times and has been awarded […]
After eating xiaolongbao yesterday, we went to Tokyo Street at Level 6, Pavilion. Tokyo Street is the newest precinct at Pavilion Kuala Lumpur, merging the traditional elements and modern facets of Japan's dynamic culture and ambience. Tokyo Street @ Level 6, Pavilion Ethan undecided at Tokyo Street :P With so many things to see and do, we can't decide to start with the right or the left lane. Finally we took the right lane and started […]