Back to School Check-List
With a blink of an eye, the boys are going back to school. They spent most of their schooling days studying online from home in 2020 but now it is time to face the inevitable and return to physical schooling. I must admit that it is a mixed feeling to allow the boys to get back to school. In one way, I am glad that they are going to be reunited with their friends. They have been home for so long that they may have 'forgotten' how to interact with other human beings beside their parents and sibling. On the other hand, I am still quite worried of their safety with the numbers still on the high side.
Stay Safe and Keep Well
As long as we are still not vaccinated against the invisible threat, the risk remain and we will always worry for our kids as we release them back to school.  But no matter what, we have to face the reality and carry on life the new normal way. I've been talking to the boys especially Ayden on the importance to follow the SOP, keeping their distance from others, wearing their masks at all times except meal time and to wash their hands frequently.
Reset the Clock
I have to start building a new routine to prepare them for school. Current habits such as late bedtime and lots of screen time would have to go. We are going to reset the clock and start waking up early to get back on a reasonable routine.
Stationery
We've bought some stationery online the other day and I've checked their school bags which happens to still be in good condition hence we have no problem here.
School Uniform and Shoes
It's also time to prepare their school shoes and uniform. Their school uniforms are still new as they only wore them for a few months in 2020. The only problem is they may have outgrown them.
We would not want them to go to school looking like the King of Pop with his 'singkat' long pants right?
The boys definitely need new school shoes because during the entire time they study from home, they have been wearing their school shoes to the playground as I was afraid the shoes would go to waste should they outgrow them. Not only they wore their school shoes to the playground, they also wore it out.
Ayden wearing his black Pallas school shoes out. Not bad right? Easy on the pocket too coz Pallas carries affordable and good quality shoes.
The boys have been wearing Pallas Jazz for several years now. I usually get two pairs each for them to last the entire year.
This was Ayden back in December 2019 with his new shoes and school uniform when he was excitedly preparing to enter Primary One in January 2020. 2 pairs of shoes each for him and big brother Ethan. Little did we know then what a journey 2020 has brought upon us.
But as I've mentioned, those shoes were put to good use nevertheless.
The boys wear their school shoes to the playground every day. These Pallas Jazz shoes are light and airy with good ventilation hence they are comfy to wear outdoors.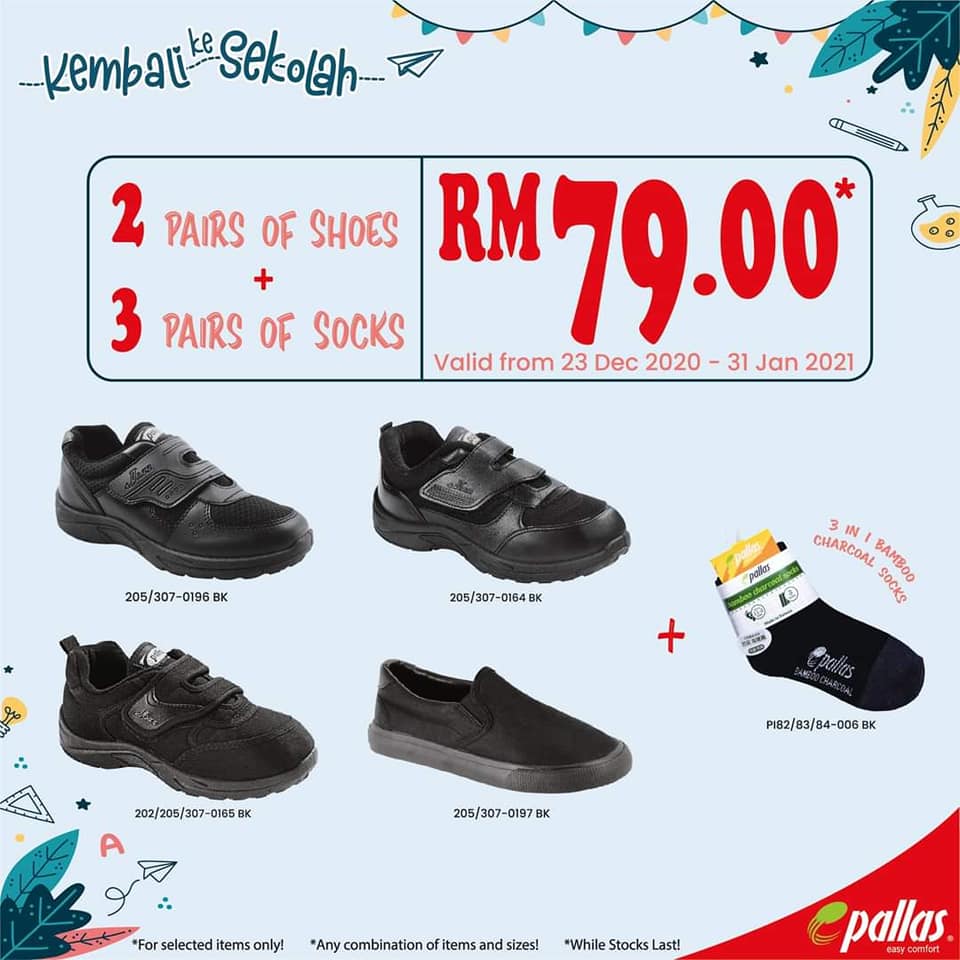 RM79 for 2 pairs of shoes + 3 pairs of bamboo charcoal socks is a good deal so I bought them new pairs of shoes for the new academic year.
Comfort is key. Poorly-fitted shoes can actually hinder a child's normal growth and comfort. It is recommended to get lightweight and flexible shoes that ensures better growing feet.
It's important to get shoes with good fitting and comfortable. Look for that magical combination of durability and comfort. Extra features like lightweight, breathability and waterproof materials can help with the longevity of a school shoe, but comfort is arguably the most important factor of all.
Soles should not be too stiff or too soft. For shoes to support our feet properly, they need cushioning that soften the blow to our feet with each step and arch support that hugs our natural footprint and prevent injury and strain to the muscles, bones, ligaments, and tendons in our feet. I got for Ayden the shoes with Rebounce Insole because you know, that boy is a little firecracker; can't stay still and jumping all the time. The rebounce insole helps absorb impact as well as gives better rebound. He's like a walking coil spring while wearing that shoe. Haha!
Both Ethan and Ayden's shoes come with Arch Support. This is the most important factor as Ethan has flat foot. The arch support also provides relief to tired muscles hence it is comfortable to wear for long hours and this is the exact reason why I got it for Ayden too; doesn't matter if you have flat feet or not.
Another important factor to look for when buying shoes is the ventilation system. We need to understand that school children will be wearing shoes for at least 5 hours a day. Shoes with good ventilation keeps the feet cooler, drier, reduce discomfort and (urgh!) smelly feet.
School shoe soles should be sturdy and thick enough to protect our child's feet from pain and injury. But they should also be flexible enough to bend with the foot.
It's also advisable to get our child's feet measured before we shop for shoes or risk miscalculating and ending up with a pair of shoes that start pinching before the term is even over. Make sure to measure BOTH feet. We don't have to go in-store to do this as there is an online tool to do it these days. I checked my boys' feet with this online feet measuring tool and proceeded to purchase them online from www.wow2wee.com. We get almost everything done online these days especially when we are entitled for Free Shipping.
These Pallas Jazz shoes are also available at AEON, Tesco and Mydin Supermarket.
//
//