Flying with Children | Tips and Tricks to make it work
You see people flying so much, you'd think it's fun. Then the day comes when it's your turn to fly and you get all excited and ready to go. But there is one problem. You are not flying solo. You have young children flying together.
The kids are equally excited to fly with you. They want to experience the joy of travel and experience for real what they only see in pictures prior to this.
But without proper planning, your holiday can turn into a nightmare before it even begins especially during long waiting period at the airport. You'll usually need to walk quite a distance to the boarding gate at the airport. Your young children may not want to walk that much and request to be carried. If you are strong like Hercules, you can for sure juggle a kid in one hand and the rest of the luggage in another but in this ideal world, we are not born with super powers.
BUT we can buy some. When I say buy, I mean there are products out there to help ease our journey and Trunki Ride On Suitcase is one of them: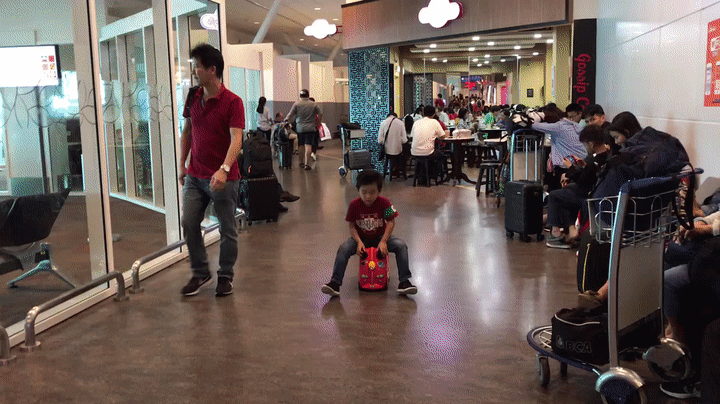 Yup. Let them ride if they are too lazy to walk.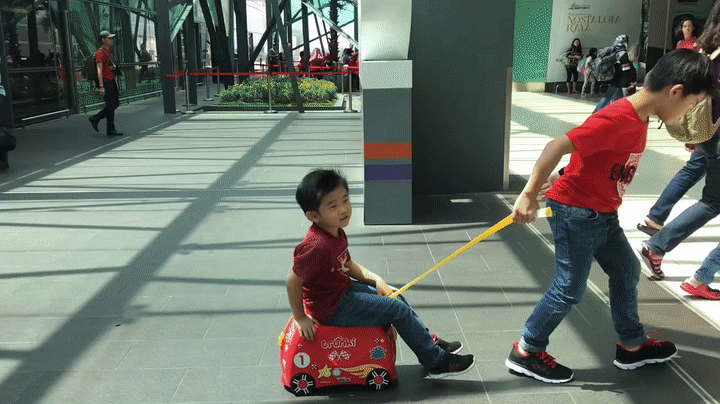 Too lazy to ride? Tow them! Get the older sibling to tow the younger ones. This will keep them occupied until it's time to board the plane.
FLIGHT SCHEDULE
It's very important to choose a flight schedule that works around your kid's daily routine hence very early morning flight may not be a good idea for families travelling with young children. Afternoon flight is good as your kid is still able to carry on with his/her daily routine; waking up as usual, have breakfast, head to the airport and maybe nap in the plane because it is already nap time.
Try to avoid red-eye flight at all cost. Red-eye flights depart late at night and arrive at the destination early in the morning. Most passengers in red-eye flight expect total silence in order for them to get some shut eye before arriving hence a fidgety or crying children will be frowned upon.
But if you absolutely have no choice but to take a midnight flight, then try to plan to minimize disturbance. It's important to make sure the kids are well fed before they board the plane because hungry kids are cranky kids. Furthermore, if the kids have eaten, chances are higher that they will sleep sooner in the plane.
COMFORT
Try to make your children as comfortable as possible. We can usually request for a pillow from the air crew but it is better to bring your own travel pillow or your kid's favourite teddy. If your kid loves toy guns, please remember that toy guns are not allowed into a plane. You don't want to pack it into the checked-in luggage only to have it taken away at checkpoint causing lots of distress for the kid. Tell him in advance, weapon toys are NOT ALLOWED in the airport. 
BLOOD CIRCULATION
Smaller children usually have their legs hanging out of their seats. This is not good for their blood circulation during flights. Get something for them to rest their legs on. 
The Trunki ride-on suitcase doubles as a leg rest. It will ease their blood circulation during the long flight.
PICKING SEATS
You can't stinge on this. Pay for seat selection so you can sit together with your child. If your kids require toilet visits often, choose to sit at the back of the plane which is closer to the loo plus you'll get better access to flight attendants coz they are seated at the back too. And please by all means get an isle seating so you need not trouble the passenger next to you should your kid needs to get up to go to the loo. 
PREPARE YOUR CHILD
Share with your child in advance regarding this upcoming trip. Talk to them about the destination, the flight, the do's and don'ts in a plane. Show them lots of pictures and videos of the destination as well as of the plane. This will help your kid get familiarize with what to come.
EXTRA CLOTHES
Travelling with children is unpredictable. Always pack an extra set of clothes in your checked-in luggage for yourself as well as the little ones for any untoward situation. It's also good to bring some plastic bags in case your child experience some motion sickness. You'll never know when you'll need them. 
LAST BUT NOT LEAST… 
We as parents are responsible for our children. Please make sure they are not causing inconvenience to others eg kicking the seat in front of them, pulling a passenger's hair, knocking on the food tray (as this will cause disturbance to the passenger in front) and make sure they are not intruding on the private space of the passengers at the back by turning behind to keep looking at them. Teach them that it is rude to stare at others.
Traveling made easy with Trunki Ride On Suitcase. Happy kids, happy travels.
Watch our video here:
Traveling with young children is possible. We have done it countless times. Your itinerary and choice of lodging are also equally important to make your holiday a success.
We always make sure to choose family friendly resorts with lots of activities to keep the boys occupied in between sight seeing tours. Check out our travel posts to see the list of the many family-friendly accommodations we have experienced. Click here -> FAMILY FRIENDLY HOTELS & RESORTS
Do you have any other tips to add on? Do share with us in the comment section. 
//

//

//

//

//

//

//

//

//

//
//