Crab Factory | Little Paris | Bandar Jaya Putra | Johor Bahru
When my blogger friends invited me to join them on a road trip to Johor, I was a little hesitant knowing that we will have to endure long hours in the bus. But they know my weakness. They told me we'll be eating seafood until giler. They know I super love seafood and will never say NO to it especially the ones from Crab Factory.
The pioneer in bringing the whole Southern American cuisine of Creole and Cajun cooking with their shared culture of relaxed backyard affairs of large seafood boils, they opened their first outlet in SS2, PJ.
Crab Factory has recently opened a sister outlet at Mount Austin, Johor Bahru and we were here to check it out.

Crab Factory – Little Paris, JB 
G14, Block B,
Jalan Jaya Putra 1/1,
Bandar Jaya Putra,
81100 Johor Bahru,
Johor, Malaysia.
Tel: 07-3514062
Opening Hours:
Tues-Sun: 12pm – 10pm
Mon: Closed
Famished and ready to get our fingers dirty, we licked our lips in anticipation as we witnessed large seafood boils being poured on our table.
We had 3 flavors of sauces that afternoon – Signature Southern Bang, Creamy Lemak and Salted Egg.
Just look at all the seafood in their Signature Southern Bang sauce being poured on the table.
We need no utensil for this as we are going to savor them with our bare fingers.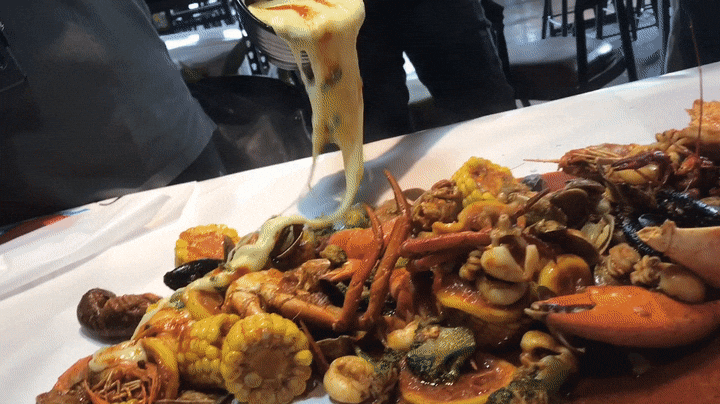 We went crazy as they poured hot and creamy CHEESE sauce all over the seafood!
Oooohs and Aaaaahs filled the space as we dig into the irresistible seafood laid before us.
The Southern Bang sauce with a secret blend of cajun spices, garlic, lemon and herbs is perfect for those with a kick for anything spicy. It goes pretty well for me but Darling's lips doubled the size as he has lower tolerance towards spicy food 
I guess the Nyonya in me has rubbed into him as he prefers the Creamy Lemak sauce. I love this too.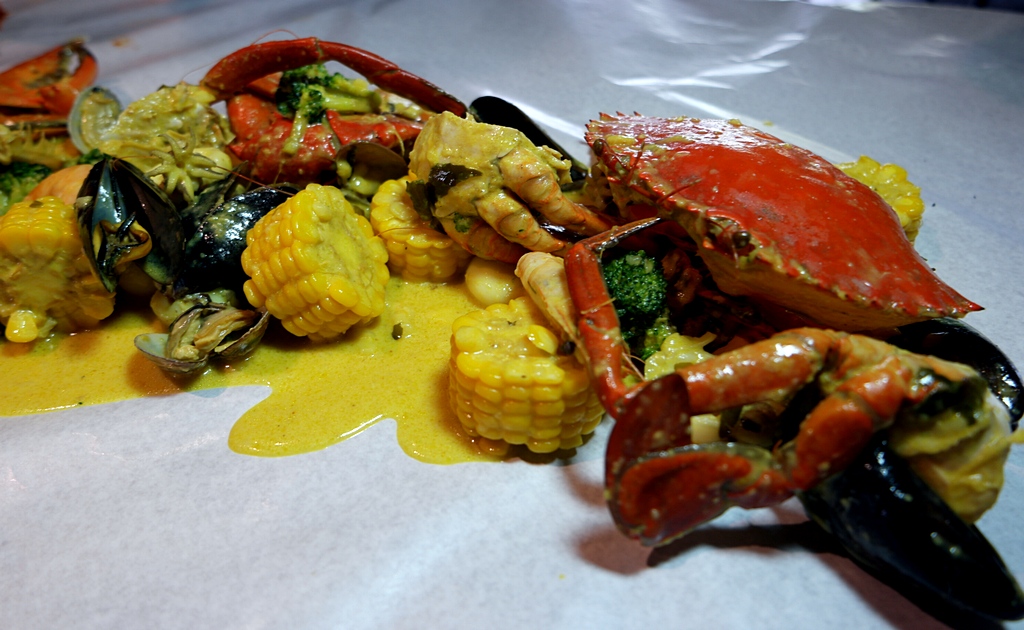 The combination of creamy butter and lemak works perfectly as it does not overwhelmed but complements the dish. In my opinion, creamy sauces can never go wrong with seafood dishes.
We also tried the Salted Egg sauce. It's aromatic alright but I find that it lacks punch. I'd prefer it to be thicker as the sauce was somewhat runny. I've read rave reviews for this sauce so it kind of did not meet my expectation that day. Nevertheless, it was still nice to soak the mantao bun in this salted egg sauce and savor every last drop of it.
Mantao (RM9.90) dips perfectly well in those delicious sauces.
Indulging in our favourite seafood need not burn a hole in our pocket as proven by these Crab Factory Value Meals.
Crab Factory Value Meals offers 3 choices – Crab Lover Shiok, Crab Lover Party and Crab Lover Giler to cater to different pax of diners. Price starts from RM49.90 to RM59.90 per pax.
Food always tastes better eaten using our fingers. There's just that unexplained satisfaction of holding and feeling our food for maximum pleasure …
Beside seafood boils, we also had the pleasure to try some ala carte dishes …
Bara BBQ Crab 
It comes with a choice of Cajun or Garlic sauce.
BBQ Prawns with garlic sauce is equally awesome.
At times, it is best to savor fresh seafood as naturally as possible and having them charred on the shells to give a smoky flavor while retaining their natural sweetness is just perfect.
There are kids friendly dishes at Crab Factory too.
The children had Fish & Chips served with homemade tartar sauce (RM25.90)
They also shared the Garlic Chicken Wings (RM18.90)
The kids had fun taking pictures with the many props laid out for diners.
We are happy to report that this sister outlet in Mount Austin maintains similar standards as the one in SS2, PJ. Seafood lovers down South can now savor seafood the Crab Factory way.
Before we end our post, let's watch this short video we made of our lunch at Crab Factory, Little Paris, JB:
//

//

//

//

//

//

//

//

//