My Parent's 50th (Golden) Wedding Anniversary Celebration
As you would have probably known (if you are connected with me via Facebook), my parents celebrated their 50th Wedding Anniversary last weekend. A Golden anniversary, it is a blessing to be able to celebrate with beloved family members and close friends.
I've shared pictures and videos on my Facebook but I'll share some again here in my blog for keepsake.
THE ATTIRE
The Golden Couple, Baba Robert and Nyonya Lilian
50 years of marriage and still going strong. Here's to many more beautiful years together ♥
My eldest sister paid for my parent's Peranakan Baba Nyonya wedding attire from Cedric Tan, President of Baba Nyonya KL / Selangor.
Cedric helped my parents put these heavy attire on. It is a very tedious process but the end result is simply amazing.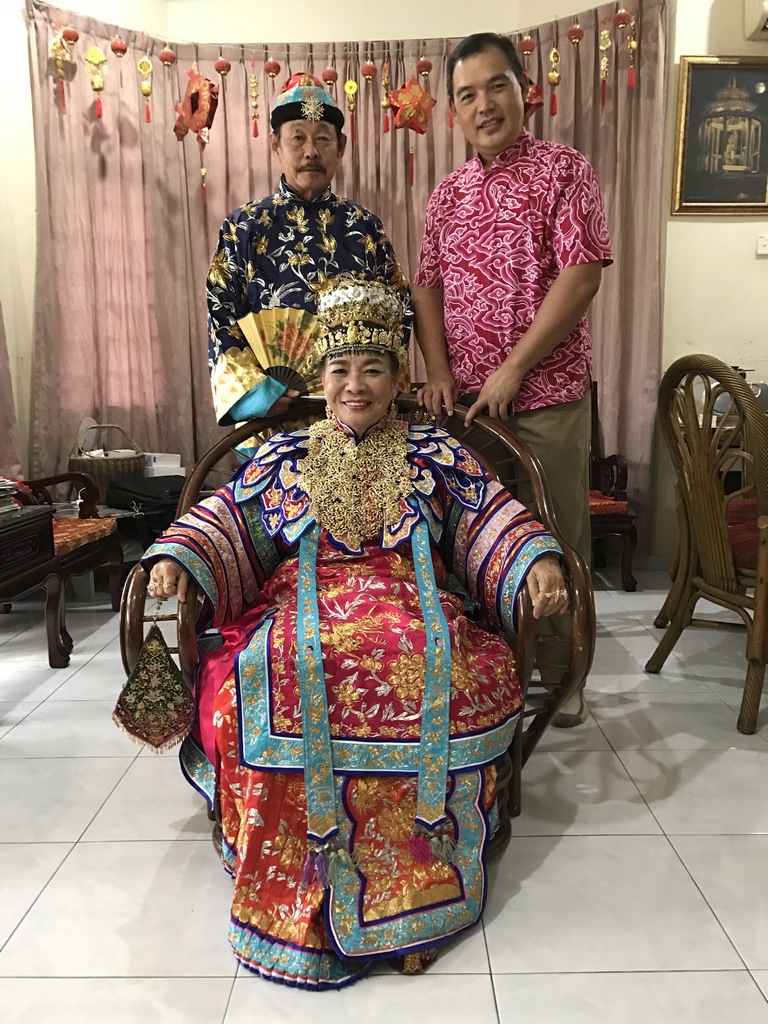 You know how our parents tear up a little when they see us in our wedding attire?
Well, I teared up when I see my parents in this Peranakan Baba Nyonya wedding attire. It simply means so much for them and us too. I'm so glad we managed to do this. Thank you Cedric for making sure all is well throughout the dinner. 
The Cake
My second sister ordered this cake in the shape of our Peranakan Bakul Siah for our parent's special occasion.
My parents (especially my mom) was reluctant to cut it as she feels so 'sayang' but it has to be done eventually 
THE FAMILY
My little family with my parents
My parents has 3 daughters. I am the youngest. Here is all of us.
My eldest sister (in green kebaya) has 2 grown up daughters, my second sister (in pink kebaya) has a school-going daughter and I have 2 young boys. Long way to go before my boys are grown-up 
MY MOTHER'S SIBLINGS
My parents with my mom's eldest brother's wife and daughter and her kids. There's more.
Here is my eldest uncle's daughter-in-law and her daughter.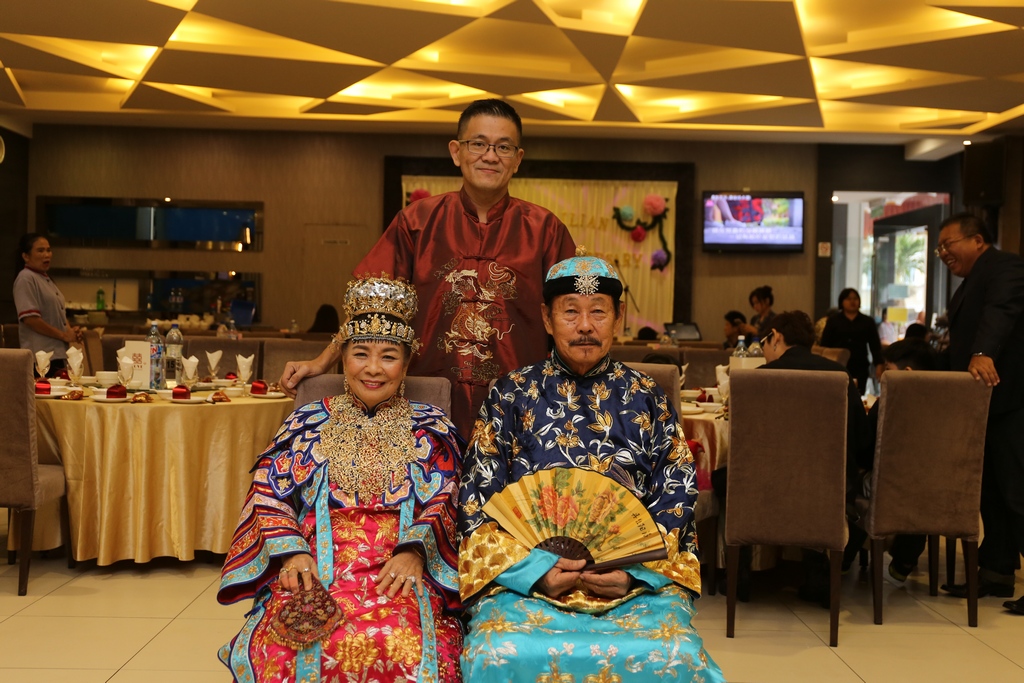 And here is my eldest uncle's youngest son.
My eldest uncle's grand daughter, husband and her son (his great grandson).
My eldest uncle was called back to heaven last year. He was one of my favourite uncle and we missed him dearly today.
My mother has 2 sisters and 6 brothers. These 3 ladies has very similar facial features, people often got confuse who is who 
My mom's younger brother and his wife and mom's elder sister and her husband.
My mom's elder brother who is also the Master of Ceremony that evening.
Another of my mom's younger brother with his wife and 2 of his children and grandchildren. One of his daughter (and husband) is missing from this picture. Let me try locate her.
Here she is:

This is my cousin Jill and husband Henry.
Without her, this celebration won't be a success. She helped my parents from the very beginning; from the design of the invitation card to the printing of the thank you note, she helped make the slide show and most importantly the design and decoration of the backdrop for the stage. She helped my parents the most while we were unable to do much as she resides in Melaka while my sisters and I are all in KL.
Thank you Jill ♥
My mom's youngest sister and her two children. Oops, my aunt's husband is missing from this pic.
There, here he is with the 3 girl siblings. In a glance they really look alike, don't you agree? My eldest aunt (in purple kebaya) is easier to differentiate as she has short hair 
My mom's younger brother. His wife is a beautiful Kadazan and they reside in Sabah. They have 2 handsome boys and 1 beautiful daughter. All big enough to be on their own hence my uncle is able to attend this celebration without them.
My mom's youngest brother (the baby of the family
), his wife and daughter.
My parents with Uncle Vijayan and family. Yes, he is our family. He's been with my mom's side of the family through thick and thin since young till now.
Another family member from my mom's side, our dear Uncle Usop. Together with my uncles, they went through many mischief growing up. Still very mischievous today but yes, he's definitely family ♥
MY FATHER'S SIBLINGS
My father is the eldest of 6. Here he is with one of his brothers and his expanding family.
If people say my mom and her sisters look alike, my dad and this brother has similar facial features too 
My parents with my dad's youngest brother and wife. We just attended their youngest daughter's wedding not too long ago.
My parents with my dad's only sister (in green kebaya) and husband.
DAD'S EX-NAVY MATES
One of the highlight for my dad that evening is being reunited with his former navy mates.
These guys go a long way back. They have known each other since bachelorhood. They saw us growing up, they are like a dad to us too.
All ex-navy guys. I think the last I saw them was during Daddy's 70th Birthday celebration.
Archive pic of Daddy's 70th Birthday celebration back in 2014. They were all with Dad in the navy.
PERANAKAN FRIENDS
My parents are active members of Persatuan Peranakan Baba Nyonya Malaysia and many of the members were present that evening.
With the President of Persatuan Peranakan Baba Nyonya Malaysia, Mr Ronald Gan and wife Ms Chan Bee Leng
Mr Ronald Gan also presented a customised gift to my parents on behalf of Persatuan Peranakan Baba Nyonya Malaysia much to their surprise and delight.

Vice President of PPCM (Persatuan Peranakan Cina Melaka) Mr Peter Ong and wife Ms Julie
Close acquaintances from PPBNM; also among them is the Vice President of PPBNM Mr Johnny Goh and Secretary Mr Lee Yuen Thien.
One of mummy's close friends and committee members from PPBNM, Aunty Helen.
THE FAMILY BAND
My uncles provided the entertainment that evening. Such talented uncles I have ♥
THE FIRST DANCE
My dad leading my mom for the first dance to officiate the dance floor.
My mom together with our relatives and members of Persatuan Peranakan Baba Nyonya Malaysia performed two dances that evening.
True to Peranakan Baba Nyonya style of celebration; filled with dance and lots of merry making.
Guests having a ball on the dance floor.
See, so cute 
When my mom's brother, Uncle Cheng played a dedication song for the ex-navy, many guests just jumped up and head onto the dance floor. The song (Drunken Sailor) was so catchy and happy to the point we were all clapping hands and tapping our feet even if we were not on the dance floor.
Ethan joined in the fun and danced together 
I even managed to drag Darling to the dance floor too 
YAM SENG
The toasting session.
My father so bersemangat yam seng, he doesn't even need a microphone 
I super love this picture of Ayden taken by our photographer Jason.
More Yam-Seng-ing…
Bottoms Up everyone!
Last but not least, one of the most precious moment that evening is when we managed to get almost all the ladies in Kebaya to stand together for a picture. My second sister and 2 nieces were not in the picture as they were greeting guests at the entrance.
THANK YOU
Anyway, there are many more beautiful pictures of more of our guests that evening but I just can't put them all up here. If you wish to see more pictures, you can click on this link to check them out -> Baba Robert  Nyonya Lilian Golden Anniversary
I'll end this post with this video I made of that evening.  

A celebration where families come together to help make this a successful one.
Thank you to all my uncles, aunties, cousins, sisters and nieces for making this possible. From the bottom of our heart, thank you very much.