South East Asia Buffet Dinner @ J's Cafe & Restaurant
It was drizzling that particular evening during our recent holiday in Phuket so we decided to dine in the resort we were staying at – Holiday Inn Resort Mai Khao. There are 2 main restaurants here. J's Cafe & Restaurant serves breakfast, lunch and dinner while Pesto's is open for lunch and dinner.
We saw that their J's Cafe & Restaurant has different themed dinners every evening and on that Tuesday night were South East Asia Buffet Dinner. Without hesitation, we went in to eat as the boys are famished after an evening swim in the pool.

J's Cafe & Restaurant
Holiday Inn Resort Mai Khao
Phuket
Thailand
It was enjoyable being able to savour dishes from countries such as Japan, Korea, Singapore, Philippines, Vietnam, China and also Malaysia. Here are pictures of some of the food: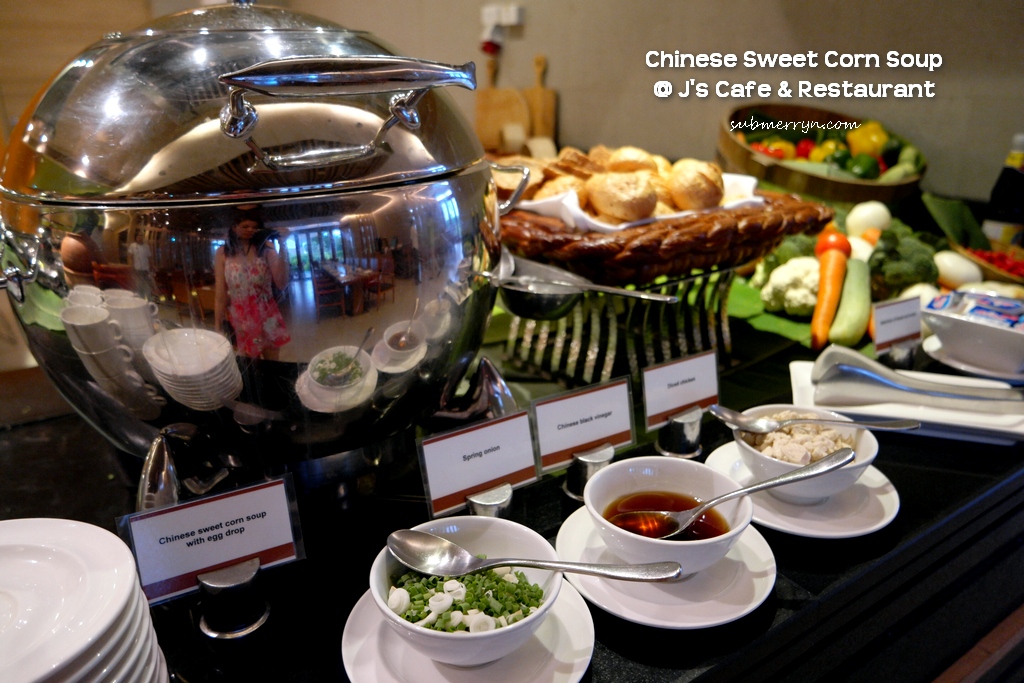 Chinese Sweet Corn Soup
Japan's assorted sushi maki
The boys' favourite. I think Ayden ate only this the entire dinner 
Indonesia's Balinese Grilled Tumeric Fish Fillet
Singapore's Chili Crab
Malaysia's Pasembur
Korea's Kimchi ChapChae
Thailand's Green Curry with Pork
China's Roasted Chicken with 5 Spiced Powder
Japan's Beef Niku Jaga
Braised Potato with Pork Belly
I'm not sure which country this is from but it was delicious. Those pork belly are just to die for!
Indonesia's Mee Goreng from the Live Station
Philippines' Custard Candy
Vietnamese Steamed Rice Cake
Thailand's Sticky Rice with Coconut Milk
I don't know which country these glutinous rice ball is from but it is similar to the ones we eat in December during Winter Solstice.
The boys were kept occupied before and after dinner with activity sheets and crayons courtesy of this kids friendly resort.
We had a very pleasant and satisfying dinner as we get to sample food from around SEA under one roof. My favourite has got to be the Singapore Chili Crab and Thailand's Green Curry with Pork. It was so good that we ordered the Green Curry again the next day when we dined ala carte. 
//
//
//

//

//
//
//
//
//
//