Brazzo Cascade @ Kota Damansara
There is a new place called Dataran Cascades that is set up to be the latest hotspot in Kota Damansara. It is just 4 minutes away from Dataran Sunway. It is so new that parking is still complimentary at the time of our visit yesterday.
Cascades @ Kota Damansara is an integrated development consisting of retail mall, commercial and residential area next to Giant hypermarket and opposite Encorp's The Strand.

BRAZZO CASCADES
LG Dataran Cascades
13A Jalan PJU 5/1 Kota Damansara
47810 Petaling Jaya
Tel: 03-7629-4086
Open daily from 12.00pm-1.00am
Brazzo Cascades is made up of a gastropub, wine bar and a steakhouse all rolled into one in this aesthetically pleasing place especially come night time. A beautiful water fountain spurting colourful jets right at the front courtyard is such a welcoming sight. My boys are immediately drawn to the lights and water.
In between the air-conditioned restaurant and the bar is the al fresco dining area with a huge dark wooden oval table in the middle. What impresses me is the plants that protruded from the hole of that table.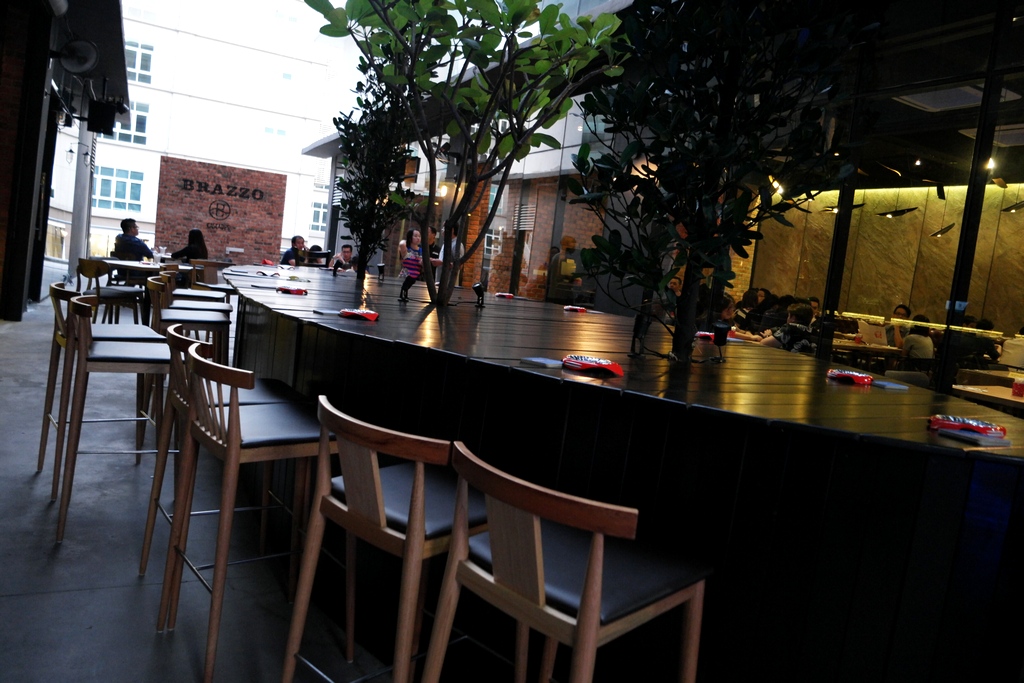 It will be even prettier when the lights shine on the plants at night.
Walnut colored high stools matches the brick walls at the bar.
Now let's take a look at the some of the selection of foods served here. We started off our dinner with this lavish appetiser of Hokkaido scallops.
XL Hokkaido Scallops with Balsamic Tomato Salsa (RM42.80)
XL size plump and juicy scallops are seared to perfection and served with balsamic tomato salsa.
Atlantic King Cod Fish (RM78.80)
This king cod fish with crispy skin accompanied by homemade parsley sauce is easily our favourite. The fish is opaque and flakes easily with a fork yet is still very moist. It is served on a bed of mashed potato with garden greens and mushrooms.
Moving on to another seafood item is this lovely sesame crusted tuna.
Sesame Crusted AHI Tuna (RM72.80)
Slices of imported Ahi Tuna crusted with black and white sesame seeds and flash seared. Served medium rare with their special sauce, this is also in my favourite list.
If you are not into seafood and would like something simple and easy on the wallet, then this char-grilled chicken thigh is the answer.
Char-Grilled Chicken Thigh (RM25.80)
A whole chicken thigh seasoned with smoked paprika and seared to perfection. Served with fries and garden greens.
Brazzo prides themselves as serving premium items and the Iberico pork cheek and AACo 1824 grain-fed sirloin steak and AACo grain-fed ribeye are in that league.
Brazzo's Iberico Pork Cheek (RM103.80)
This is one of the MUST-TRY item when you dine here (provided your wallet is willing).
The porky fan in me is really excited having the privilege to be served this Spanish Iberico marbled pork cheek marinated in spices. Seared to perfection and sliced thinly; it is meaty yet surprisingly tender. Our party of 5 adults and 2 kids polished this off in an instant!
Char-Grilled AACo 1824 Grain Fed Sirloin Steak (RM66.80)
Look at all that juice…
Char-Grilled NZ Lamb Rack (RM78.80)
If you are a fan of lamb, you'll love this succulent rack of lamb char-grilled to perfection.
The pastas here are also really good. My kids are huge fans of pastas so we get to try two out of the 4 currently on the menu.
XL Hokkaido Scallops Aglio Olio (RM35.80)
XL scallops served with pasta tossed with garlic, chili powder and extra virgin olive oil. The star of this dish is without doubt the huge scallops. The pasta is surprisingly not spicy eventhough there are chili powder visible yet it does bring out the best of this dish.
Blue Cheese Pasta (RM33.80)
When I first heard blue cheese, I was very doubtful of this dish. I am not a fan of blue cheese due to its over-powering aroma but worry not as our plate of blue cheese pasta proves to be without the stinky cheese smell. The pasta is slow cooked with blue cheese and tossed with chips.
Last but not least is the new item on their menu – the Family Platter.
Family Platter (RM158.00)
I think this easily feeds a party of 4 to 6 adults. My family of four definitely won't be able to finish it all. My favourite item on this platter is the mouth watering, juicy fall-off-the-bones ribs. The four of us polished off the ribs effortlessly. The boys also love the fish fingers. I like the pork knuckle but a mountainful of it proves to be just too much as we have eaten a lot prior to this. The sausages are a little tough for my liking though.
This platter is served with fries, mushrooms, garden salad and a variety of sauces and condiments. I actually won't mind if they reduce a little on the meat and add corn in as we simply love corns!
From the bar is this family of cocktails. Looks so beautiful but I did not try them as I am not a fan of cocktails. My boys and I ordered orange juice instead 
Having sampled all of the above, it is worthy to note that Brazzo serves some pretty decent wallet friendly Lunch Sets too from RM12.90 nett only so it is a good opportunity to drop by and explore this place :)
//

//

//
//
//
//
//

//

//