CNY mall decoration: 1 Utama
Have you seen 1 Utama's Chinese New Year decor this  year? I took a peek down and saw these…
God of Prosperity and friends? I am only familiar with Cai Shen (财神) but not his friends but it's okay because this decor is so much better than their shocking cardboard Christmas decor last year. I was even afraid to take a look at their CNY decor initially for fear that it might be worse than their Christmas' decor but thank goodness it isn't. 

There are 5 gigantic deity (dunno if we can call them deity?) that is strategically placed as to not take up too much space. I actually appreciate that the decor is nice and simple with plenty of open space hence we can still walk about easily without bumping into each other. 
See? So much walking space. Parents with kids can breathe easy now. 
This one lah our best friend, Mr Cai Shen, God of Fortune. If there is God of Health will be even a better friend :D
I take with this one because it's a lady lah though I don't know if it symbolises anything. Anybody cares to enlighten me?
Ethan popping his head in the cutout board.
Ayden wanna pop too :P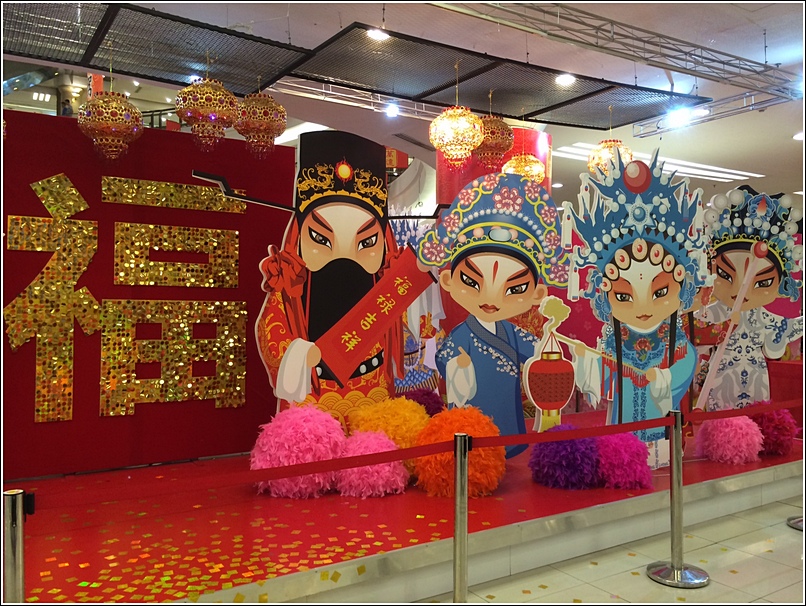 The end. Not too bad. Went with low expectations but was not disappointed. Great job with the CNY decor this year, 1U :)