Barn Thai @ Plaza 33
Late last year, a few days after Christmas, a day after my birthday and a couple of days before the new year, we went to Barn Thai Restaurant & Bar at Plaza 33 for dinner with some friends.

Such a posh looking place this Barn Thai Restaurant @ Plaza 33.
The moment I stepped inside, I am mesmerized by their interior and decor. Definitely a nice place to hang out. Every corner exude style and gives you the feeling of luxury.
This Tuk Tuk decorative piece on the wall caught my eyes. 
Ethan wanted to be well-dressed that evening. He insisted to wear his keyboard necktie but when we took a family picture, he hid at the back of the Dad >_<
Our drinks. My apple juice, Darling's mango juice and Ethan's lemon soda. 
Before deciding on what to eat, we ordered something for the 3 kids to eat first. There were 7 adults, 3 kids and 1 toddler that evening. 
The kids had Chicken Fried Rice (RM17++)
We ordered two plates of this and the kids and some of the adults share it. I think we all had at least a bite of it.
Sweet & Sour Grouper Fish Fillet (RM48++) was also ordered specially for the kids as we expected our meal to be a spicy one that evening. We are after all dining Thai tonight. 
Now let's look at what we adults had.
Pla Tod Ka Min (RM29) or simply known as Tumeric Fried Fish is the Southern Thai way of eating fish. Fried with fresh tumeric, garlic, lemongrass, galangal and black pepper. It is one of their promotion items so we thought we should try it. The chili dip that goes with this fish is a bomb! We can't have enough of it. 
Next on the table is another fish dish, Deep Fried Whole Sea Bass with Thai Ginger Sauce (RM79++). 
Deep frying fish is very popular in Thailand as it creates a nice, crunchy crust to the fish that goes well with strong flavoured sauces and the one we had here with Thai Ginger Sauce is one good example. My friend who is very familiar with Thai food brought my attention to those little round green thingy on the fish and told me that those are Thai pea-sized eggplants. Wow! One look I thought they were normal peas but now I know they are actually eggplants. So small, so cute! What I learned that evening was these pea-sized eggplants are often used in Thai cuisine but mostly substituted with green peas outside of Thailand. I am lucky to get the real deal here tonight so at least I can go around telling people I have eaten these pea-sized eggplants in Malaysia, specifically in Barn Thai :P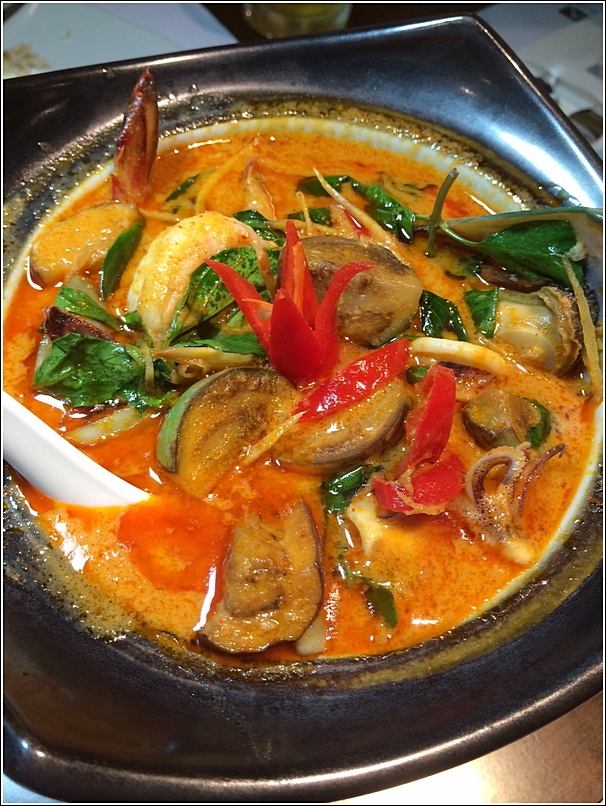 We also had this Mixed Seafood Red Curry (RM38++).
This Thai red curry has shrimp, squid, mussels and some other seafood with lots of vegetables swimming in a light coconut-milk broth with exotic flavour. Goes so well with our bowl of warm steamed white rice. 
Chicken and Papaya Salad (RM23++) or Som Tam or better known as Kerabu in Malay.
Som Tam is a very famous dish in Thailand as it is listed as one of the World's 50 most delicious foods compiled by CNN Go in 2011 so each time we dine Thai we must try their Som Tam :) Made of shredded unripe papaya it has the combination of the five main taste: sour (lime), hot (chili), salty, savory and sweet. It definitely whets our appetite for more. 
Baked Tom Yum Chicken (RM28++).
We did not have the usual pot of tomyum soup here that evening but what we had was the baked tomyum chicken. Shallots, lemongrass, galangal, chili all chopped finely, slather onto the chicken and baked. Well, at least that is how I guess they whipped up this dish lah. 
The chicken vanished very quickly and I don't remember getting a bite of it but I do remember scooping the leftover sauce to drizzle onto my rice. I also remember that it was very yummy :)
Stir-Fried Eggplant with Minced Basil Chicken and Shrimp (RM32++)
This dish turned the mundane eggplant into something exciting thanks to the basil and chili. One of my favourite that evening. 
Stir-Fried Brocoli with Shiitake Mushroom (RM23++)
Eh suddenly I feel so Chinese. Lolol. Who ordered this? No need elaborate introduction as we usually eat this in Chinese wedding dinner. 
Before we end our dinner, we must have dessert!
Mango with Sticky Rice (RM12)
This is a classic Thai dessert. Sticky rice with sweetened coconut milk, served with fresh mangoes. Deliciously refreshing. I can't believe I had this all by myself after our scrumptious dinner. 
Tub Tim Krob (RM8)
Also one of Thailand's famous dessert, this is made of cubes of water chestnuts in syrup coated with red food coloring. It is also known as red rubies because of its appearance.  
A refreshing end to our wonderful dinner with great friends here at Barn Thai. It was nice to indulge every once in a while. If I have guests coming from outstation, I won't mind bringing them here for some authentic Thai cuisine. This place has a very nice feel and oh, I forgotten to take pictures of their washroom. The setting is unbelievably breathtaking with so much greeneries you'll think you are in a garden or something.