Hello Kitty Car
We went to The Star Motor Carnival in Bukit Jalil today and were lucky as we arrived just in time to catch the car drifting demonstration. Smell of rubber burning and screeching sound made our blood pump. Darling and Ethan experienced adrenaline rush just watching the demo! 
I saw so many gorgeous cars on display and this particular car caught my attention:
Super cute Hello Kitty car. Check out the cute rim!
Front view of the Hello Kitty car. Headlamp with eyeliner yo!
Back view of the Hello Kitty car.
What fascinates me most about this Hello Kitty Car is the exhaust pipe! Just look at it!
HELLO KITTY EXHAUST PIPE I TELL YOU!! I almost fainted! Why you so cute wan??!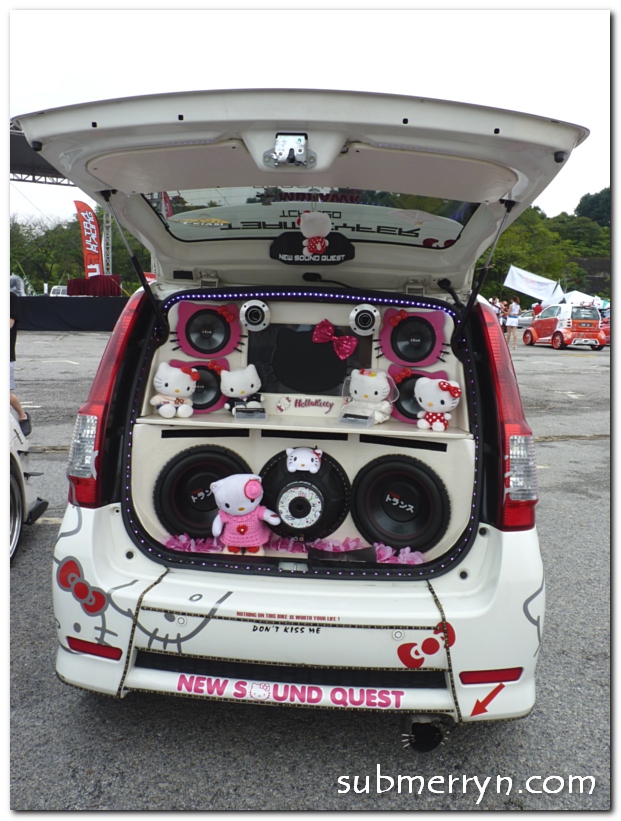 Then when you open the car boot, you see the sound system. OMG!
Hello Kitty car speaker.
Hello Kitty boom boom boom!
This car even has Hello Kitty rear wiper :O
Hello Kitty car seat.
Dashboard penuh dengan Hello Kitty!
Side mirror oso Hello Kitty.
iFaint!