Gridiron Sports Cafe & Lounge, Bangsar
Located in the swanky neighborhood of Bangsar Baru, Gridiron encompasses the trifecta of creature comforts; game watching, groovy tunes and upscale pub grub and beer.

Gridiron Sports Cafe and Bar
No 11-15, Jalan Telawi 2
Bangsar
59100 Kuala Lumpur
The ambiance boasts the lounge's 360 degree angle of sports viewing in a lounge that has been engineered as the living room you so richly deserve. With 33 screens broadcasting the complete sports package, every sports fan can bask into lounge chairs that boast poise and comfort, nosh on scrumptious meals and toss back some classic cold ones.
Emphasizing freshness, quality of ingredients and classic cooking styles, Gridiron's menu encompasses an assortment of dishes that bring back delicious into dining.
We were there not too long ago with some bola kakis and what I like about this place is their huge open 'window'. It only means that the place is well ventilated and will never get stuffy or smoky.
Creamy Mushroom Soup (RM11) to start our meal. A rich blend of mushrooms and cream, served with fresh baguette is easily Ethan's favourite :)
My favourite Crunchy Spicy Squid (RM16) served with Thai chili sauce, Ethan does not take this as he has not acquired the taste for spicy stuff. All the more for me then :)
Lamb Vindaloo (RM18). Curried lamb served with fresh baguette is another of my favourite. I just sat there on their comfy couch dipping my baguette into the paste, pinching for some of those super tender lamb cutlets and eat away.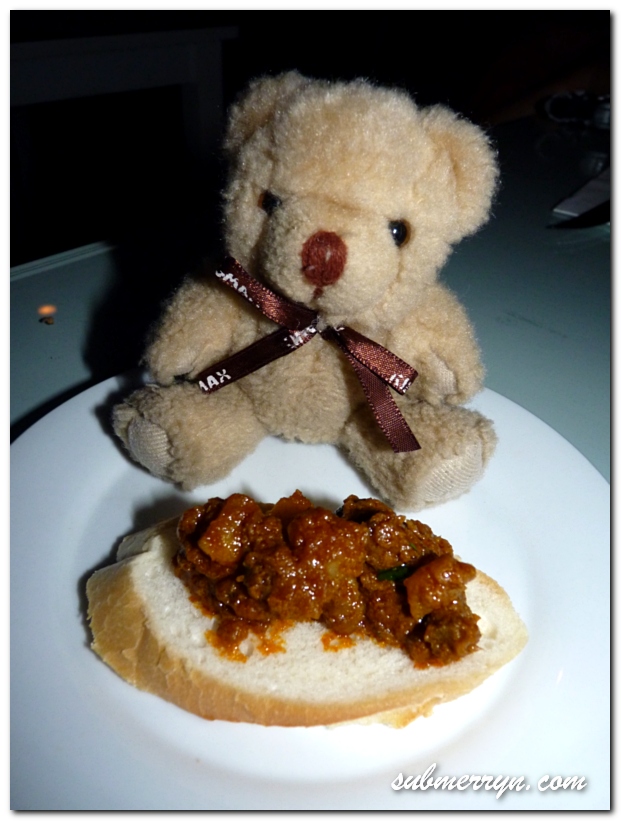 See I told you it's THAT good even Baby Morgan wanna have a bite of it! :D
This Roast Beef Sandwich (RM18) is excellent. Too bad Darling and Ethan don't take beef or they'd definitely give their thumbs up for this roasted beef slices with mixed leaf salad & horseradish dressing, serve with fries. The fries here is really amazing I tell you. There's something in their fries that is really interesting. I can't figure out what >_<
Classic GI Burger (RM22) With a choice of grilled beef or chicken patty, served with salad and fries. The gang chose beef that evening but what really draws me to it was the EGG! Oh such goodness in the EGG!!! *melts*
Shepherd Pie (RM25) Juicy Minced lamb, carrots, leek and peas, topped with mashed potatoes and served with a side of steamed veggies. Ethan super love the steamed veges!

I'm such a lucky Mom. My boy loves his greens!
Finally something for Darling after all those lamb and beef up there. Peri Peri Chicken (RM25) Half a chicken roasted with herbs and served with fries, salad and peri-peri sauce. The slightly charred skin is simply delicious! There goes my rule of NOT eating chicken skin -.-
Fish and Chip (RM25) If you see fish and chips, you'll know for sure that da SUBMERRYN orders it! Fresh fish fillet dipped in beer batter and served with mushy peas and fries. Beer batter! Fuh! In case you are wondering, NO, it does not taste like beer :P
How often do you find mushy peas these days? It's a rare find and having it here is simply awesome! Perfect meal for Ethan (minus the batter that went in straight into my stomach) :P
Steak and fries (RM40). Yeah, if you know me well you'll know that this won't be in my order. With me, it's either fish or chicken. One of the gang had this and I just had to have a try of this Grilled fillet of loin steak served with peppercorn, red wine gravy and fries. I find the steak a bit tough but the richly flavored red wine gravy delicious.
The Aglio Olio (RM23) is one of the best I've had so far. Sauteed with olive oil, garlic, chili flakes and GENEROUS amount of fresh shrimps, this is definitely in MY repeat order list! Too bad it is slightly spicy or else Ethan will surely love it as much as I do!
Chocolate Brownie (RM12) served with chocolate sauce and ice-cream to make Ethan happy :D
It was certainly an evening to remember as Ethan had the greatest time bonding with his favourite coolest Kor-Kor Xiang Cool!
It was also the day when Ethan played pool for the very first time!
Ethan and Darling. Image captured by Chasingfooddreams
I love this place. It's a perfect hang out place after work for a drink and relaxation. There are pool tables and darts game to chill while waiting to catch your favourite ball game.
Well, check out XiangCool's entry of this place here. Read his version as you know perhaps a young chap can tell about a Sports Bar better than an old mother like me? :P Anyway, his pictures are way more fabulous… =.=
//
//

//

//

//

//
//
//
//
//
//
//
//
//