JoJoBa Spa: Valentine's Day Couple Chocolate Treatment
From Xmas to CNY and now into Valentine's Day. The clock seems to be ticking so quickly. Valentine's Day falls on the 14th February every year but it has always been a habit of Darling and I to celebrate it earlier as food is ridiculously expensive on that day itself. This year we did something different. Since we've been pigging out since Christmas, we decided to do something else besides eating. We decided to go for a spa instead.
The spa of our choice is JoJoBa Spa at Berjaya Times Square Hotel. Why? Because I heard they provide Kids Spa. Knowing me, you should know that I don't go anywhere without Ethan so when we planned for a romantic spa outing, Ethan is definitely in it.

JoJoBa SPA
Berjaya Times Square Hotel,
15-1, 15th Floor, East Tower, 1, Jln Imbi,
55100 Kuala Lumpur
Tel: 603-2144 9966
The first thing we did when we arrived was to decide which treatment to choose for Ethan. Spa packages for kids ranges from 45 mins to 75 mins. I spoke to the therapist about my concern of Ethan completing his session earlier than us. I am worried that he might be bored and neglected and that will certainly disrupt Darling's and my treatment. Thank goodness the therapists here at JoJoBa are very accommodating. They suggested for us to take the 75  mins session to our 100 mins session. They also suggested for Darling and I to start our treatments first followed by Ethan soon after so that we will all end at the same time.
That leaves me with another concern: I won't be able to spa in peace if Ethan is out of sight to which they arranged for all of us to have our treatment done in the SAME room! Cool max!
With all our concerns answered, we proceeded to the treatment rooms.
Ethan took the Kids Spa @ RM140++ (75 mins) that consists of:
* Milk Mask
* Aromatherapy Massage
* Lavender Shower
* Aroma Eye Pillow Treatment
* Red Dragon Honey Drink
Darling and I on the other hand chose the Valentine's Day Lovely Chocolate Couple Treatment @ RM399++ per couple (100 mins) :D
* Cocoa Bean Body Scrub
* Lavender Body Shower
* Jacuzzi
* Ear Candle Treatment
* Aromatherapy Massage
* Aroma Eye Pillow Treatment
* Ginger Tea

The spacious treatment room that is able to accommodate all three of us. We did our treatments together. A family that Spa together, stays together! :P
They started off with Ear Candle Treatment for me. Darling took this pic of me before he is being ushered to his place. I've never fancied ear candling as I find the sparkling sound disturbing but here in Jojoba, the therapist rubbed my neck and massaged my shoulder while doing the ear candle treatment that I actually 'forgotten' that I'm having an ear candle treatment! After I was done with both sides of my ear, the therapist showed me the result. Mine was full of toxin. She said due to lack of sleep, lack of drinking water and also fatigue :(
Darling getting his Ear Candle Treatment. He started shortly after me so we were both busy ear candling. Being a blogger, I always preferred to have pictures taken of whatever I'm doing and Spa-ing with my family is a definite MUST have! So I requested for the therapist to assist us in taking pictures of us. Since we have 3 therapists with us, the one in charge of Ethan helped us with the pictures as Ethan has not started his treatment yet.
Darling's ear candling gave favorable result with him being in tip top condition :D
Once the therapist is done taking pictures, she proceeded to apply milk mask on Ethan.
We were all very anxious, afraid that Ethan might reject the mask but to our surprise, this boy loved it! He laid there quietly for the therapist to apply milk mask all over him! So so cute! I took a peek from my place and find it very amusing to see my little boy lying there quietly and not rejecting a total stranger :D
After applying milk mask, she wrapped him up with thick towel to keep him warm and comfortable. I watched him from my treatment bed and saw him dozzing off after a while! Hehe..
After our ear candle treatment, they applied Cocoa Bean Body Scrub on us. The cocoa bean body scrub is actually quite sweet!
That is me getting my entire body scrubbed with yummy cocoa bean body scrub while having the Aroma Eye Pillow Treatment :D I'm so yummy right now I just wanna lick myself! *ok… so dat doesn't sound right!* :P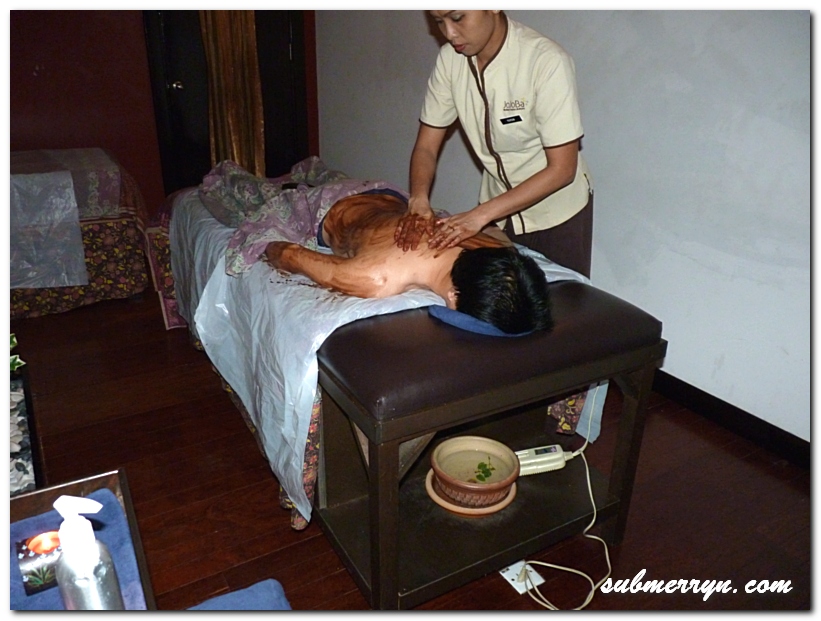 Darling getting himself covered with cocoa too. Pictures taken by Ethan's therapist as he is sound asleep by now :D
After our scrub, we went into the jacuzzi room to have our Lavender Body Shower. After shower we all jumped into the jacuzzi for a milk bath.
Milk Bath jacuzzi. Darling and I are supposed to have Lavender oil in our jacuzzi if I'm not mistaken but they specially changed it to milk bath to cater for Ethan. So sweet! We love our time in the jacuzzi and we certainly loved the milk bath. Makes me feel like Cleopatra! :P
After our milk bath, we were all feeling very refreshed. Getting our aromatherapy right after is so nice that I just wanna sleep! I requested to linger for a minute or two to see Ethan having his very first aromatherapy massage and what I saw is something really cute. My little baby obediently putting his face into the 'hole' and staying so quietly for the massage!
Just look at him! Haha.. sooo cute! aww… Head in the hole. Body all covered like that. Being a ticklish person, he was not at all ticklish during the massage session! What a surprise!
There! Took a pic of Ethan from the hole! Hehe..
He was smiling to the therapist throughout the massage session. He enjoys it so much that he actually told the therapist, "When you massage me I feel so SHIOK!". All of us burst into laughter! That's IT! My kid is spoilt!
The massage oil used on Ethan.
Darling and I have our aromatherapy massage soon after and no more pictures taken as all THREE therapists have their hands full busy massaging us :) Darling enjoyed the heated treatment bed. He said it keeps him warm and cosy throughout the session. I dozed in and out of sleep….
And then I was gently tapped on my shoulder to be told that it is OVER :( Ethan said, "NO! It's NOT!" Lol! That kid doesn't want it to end!
The normal price for the above treatment is RM651nett but we took their special Valentine's Day package at RM399++ PER COUPLE (100 mins) only. Not only that, after the massage, we get to bring this home:
YES! The package comes with a FREE bouquet of Lovely Couple Bear worth RM99.00!
This is my BEST Valentine's ever! We had so much fun spa-ing together that Ethan said he wants to come again!
At RM399++ per couple for a spa, this is totally worth it. I'm so happy! This on-going promotion is valid from 15 Jan – 29 Feb 2012 so all you guys out there, if you wanna make your gf or wife as happy as me, you know what to do :P
//

//

//

//

//
//
//
//
//
//
//
//
//
//
//

//

//
//
//
//
//
//
//