ASUS Eee Pad Transformer
Do you see me as a gadget chic? Tell me ASUS Eee Pad Transformer and this came to mind!
Can't blame me okay as I received the invitation like this…
"
ASUS exclusively invites you to The Eee Pad Transformer Launch next week at GSC Signature, The Gardens."
Put Transformer and GSC together, my brain automatically churns out a MOVIE! LoL!
So there I was, in GSC Gold Class, The Signature, The Gardens…
Eh, Eee Pad Transformer. "My multiple lifestyle, I decide"
Alrite, so obviously there'll be no yellow robotic thingy today! @_@
Instead, this is what we are talking about. The first tablet with an expandable keyboard dock on Android 3.0 'Honeycomb' OS.
Technically, it's called the Eee Pad Transformer for its ability to transform into a netbook/notebook with an optional keyboard dock.
The plus points of the Eee Pad Transformer includes:
Real Keyboard
10 Finger multi-touch Input. It has the external full Qwerty keyboard on the dock and an internal keyboard in the touch pad.
Battery Life up to 16 hours which means the ability to have a LOTR movie marathon!! :D
USB Micro SD Card
The QWERTY keyboard docking station offers two USB slots and SD card reader while other pads doesn't.
Polaris Office, to create Microsoft Office-compatible Word, Excel and PowerPoint files.
Dual Cameras
with 5MPx rear camera and 1.2MPx front facing camera.
Adobe Flash 10.2 now you can check you Bursa Saham on the go!
HDMI Connectivity
Surround Sound
GPS
Waveshare
Mr. Stanley Chen, ASUS System Country Manager reading a note from his tiny smart phone. He complained that he can hardly read anything from it…
Then there, he pulled out an ASUS Eee Pad Transformer and happily exclaimed that he can read better now!

:D

"The Eee Pad Transformer is much more than another tablet. It is a new milestone for the Android device for the market. We are offering superior features with competitive pricing,"

said Stanley.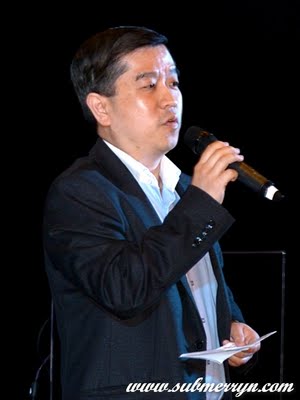 "We are extremely thrilled as the distributor in Malaysia to bring the Eee Pad Transformer to our end users. I strongly believe it is a must-have tablet and will perform very well in Malaysia," said JH Soong, Executive Director of ECS Astar.
Mr HP Li, Product Manager, did a product presentation of the Asus Eee Pad Transformer.
People of the media getting a feel of the ASUS Eee Pad Transformer
Here's a comparison done on four of the major tablets in the market.
Tablet Specification Comparison sourced from here

.
Last but not least, watch this video for a walk through on the ASUS Eee Pad Transformer.
The suggested retail price (SRP) of ASUS Eee Pad Transformer (tablet + keyboard) is RM1,799; and RM1,498 for tablet only.
//
//
//
//
//
//
//
//
//
//
//