Peugeot 5008
NASIM Sdn Bhd (NSB), the franchise holder for the Peugeot brand in Malaysia, launched Peugeot 5008 at the 2010 Kuala Lumpur International Motor Show (KLIMS).
"The new 5008, like its sibling, the 3008, has won numerous awards abroad and features cutting edge technologies to enhance comfort, convenience and safety," said SM Nasarudin SM Nasimuddin, CEO of Nasim.
The Exteriors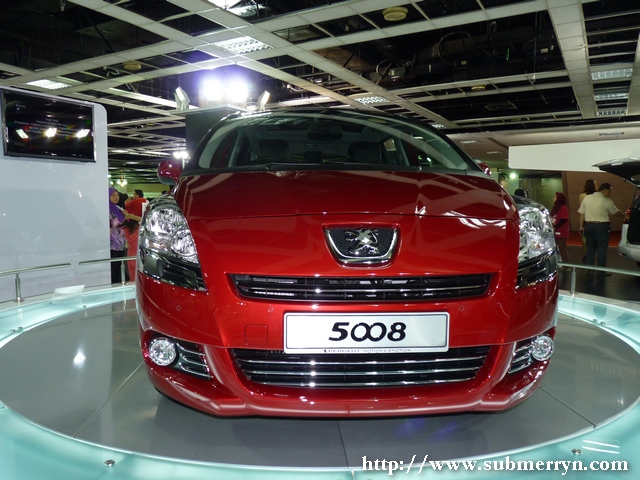 Peugeot 5008 – Front; chrome-detailed grille
Peugeot 5008 – Rear
Attractive profiled headlamps
Stylish rear light
17-inch alloy rim
The Interiors
18 sq feet panoramic roof as well as seven inch LCD screens located in the front seat head restraints
Two Bluetooth wireless headsets and a connection console, which can be connected to a DVD player or video-gaming consoles, can possibly connect two video sources simultaneously making each screen independent in terms of the image shown.
The Peugeot 5008 has 5 seats as standard but you have the option of increasing this to 7 whenever you need to.
The steering wheel and head-up display unit (HUD) which displays essential driving information such as speed, cruise control/speed limiter and Distance Alert – a non-intrusive alert system, that will alert the driver if the 5008 gets too close to the vehicle in front.
The Peugeot 5008 carries an indicative price of RM165,000, setting itself apart from its competitors in terms of power, luxury, comfort, practicality and safety.