McDonald's new Grilled Chicken Burger (GCB)
There's a new Mc in town! If you haven't heard of it..
"Hello!!!!!!! Which stone have you been living under?!"
:P
We tried it yesterday and it's awesome! OK, for the benefit of those stone-age peeps, I'm talking about
McDonald
's new
G
otta
C
uba
B
urger
:D
The Grilled Chicken Burger is priced at RM8.00 ala carte or you can have the medium set which includes a pack of fries and aerated drink at RM11.90 excluding the 5% Government tax.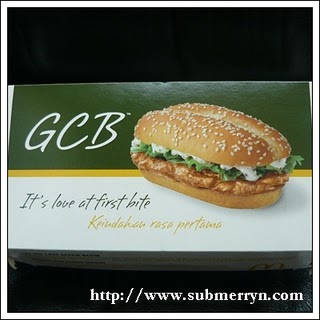 My GCB
:D
Why do they have to pack it in thick paper box? We'll all end up throwing the box away as it will be too messy to be cleaned and recycled into crafts
:(
McD, please think this over. You aren't helping the environment in this sense…
Ta-dah! For once the burger kinda look 99% as what is shown in
their GCB ads
! Got me feast-cited there…
Now, this part is a little bit too messy. GRILLED whole chicken thigh, GORGEOUS iceberg lettuce, GLORIOUS char-grilled sauce within GOLDEN sesame seeds bun. Sorry for the messy presentation
:P
I love the juicy, tender chicken thigh but am wondering if they really use the WHOLE chicken thigh? Don't seem like it though. Darling said he preferred it better without the chicken skin as he found bits of skin here and there. Darling always preferred his
chicks
to be skin-less
:P
Oh by the way, they are also running a contest on G-spot. Eh, sorry… misleading info. The contest is about
"Tell us your G and win big!"
Nevermind the spot, just tell them your G!
:P
//
//
//
//
//
//
//
//
//
//
//
//
//
//
//
//
//
//
//
//
//
//
//
//
//
//
//
//
//