Ikano's Underwater Christmas
Remember my recent post on Christmas @
The Curve
? I ended it saying that my next stop is
Ikano
where '
Submerryn
' takes centre stage.
:D
Well, here it is.. Presenting
Ikano's
Underwater Christmas.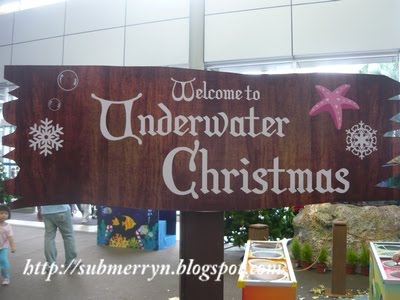 Last year's
Christmas in

Ikano
was a blast. Kids enjoyed themselves playing with
'snow'
. Ethan had a great time with the snow and refused to budge. This year, it's a little quiet as there is nothing much for the kids to do besides looking at fish, fish and more fish.
Last year's snowy Christmas in Ikano
This year's highlight – The Submerryn! :D
See! My blog's getting famous… My parents beaming with pride with the Submerryn! lol.. This is a serious case of 'masuk bakul angkat sendiri!' :P
Gigantic ship on stage. Nope, it's not the Titanic..
Dad and Ethan.. beaming with pride with the Submerryn again :D
The Christmas Bazaar outside
Honestly, I preferred last year's theme. But then again, as they are 'honouring' ME :P I have to be grateful and say.. thank you for the Submerryn! :D
//
//
//
//
//
//
//
//
//
//
//
//
//
//
//
//
//
//
//
//