Sushi Aid
Ethan and I really love sushi. We can't afford to dine out each time we want some sushi so I really need to 'master' the art of making sushi. Try as I might, I still can't get my sushi to be cutely rolled. It will always end up weird.
Then that day I was in a 100 yen shop, I found this gadget. Immediately I grabbed it. The very next morning, I tried making sushi again!
My miracle sushi aid.
First, I filled it half with rice. Press the middle a little bit to curve it for the ingredients.

I play safe with eggs and cucumber. Can't put in anything raw besides cucumber. Ethan will be eating lots of it.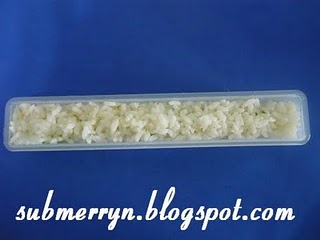 Fill it up with more rice.
Cover it and press.
Here this sleepy head with his mouth full of sushi, trying to help me press the rice.
Then, just open it up, drop the rice onto the seaweed, roll and slice. So simple!
He just can't resist the now BETTER looking sushi!
Here, you can see him trying his hand at rolling sushi. This boy just has GOT to lay his hands on EVERYTHING I do…

//
//
//
//
//
//
//
//
//
//
//
//
//
//
//
//
//
//
//
//
//
//
//
//