Browsing articles tagged with " Smurfs"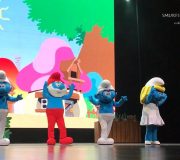 SMURFS SAVE SPRING My boys and I are one of the lucky few to catch the very first viewing of the Smurfs special 60th anniversary show live at Genting International Showroom yesterday thanks to the lovely PR team from Resorts World Genting. This 70-minute, two act musical extravaganza features live actors singing and dancing in full Smurf costumes. La la la-la la la, Sing a happy song La la la-la la la, Smurf it all […]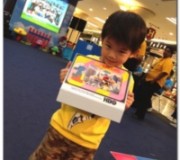 Last Friday we went jalan-jalan at 1U after Ethan's class. As soon as we entered the mall we saw some activities going and immediately Ethan ran towards it. The emcee was calling for kids to go up stage for dunno what lah and this Ethan dunno head dunno tail terus run up! -.- Other kids all got siblings with them but Ethan solo jer kat sana but nevermind-lah, janji dia berani. They danced, played games […]
While everyone is in the Transformer's craze, I dreamt of Smurfs last night! Dunno what made me have that blue dream (hehe.. ) but I am really looking forward to watch Smurf in 3D! Remember Smurf Day not too long ago? BLUE everywhere! Read about it here. Well, today is craft day and I seriously dunno what to make. Sitting in the art room with Ethan, I recalled my dream. That prompted me to make […]
Okay, a very quick post today peeps. Sorry yeah coz I'm in da midst of something so am EXTREMELY busy. Was at the Movie Carnival 2011 again today… Pierre Andre and I Po and I :D Pierre, Smurfs, me and who's dat chick? I don't really know our local movie industry so very sorry to say I don't actually know who she is.. yikes.. *malu*
When Vin Sen ajak me to attend the launch of Movie Carnival 2011 @ IPC he also informed me about the upcoming Global Smurfs Day. Yesterday, 7/6/2011, we went to IPC again for the Smurfs event and saw these.. 500 little smurfs invading the place! So many SMURFS! Vin Sen trying to get a good shot of Ethan but that boy is so busy drinking Vitagen! >_< That's the best we got of him! o.O […]
Hehe.. I've bid farewell to Blogger and am now in WordPress! Yeay! Let me settle in my new home first. There's a lot of re-arranging of furniture to be done :D This is how my new home looks like… I'm loving it! :D Thank you Kimmy!