Browsing articles tagged with " recyclables craft"
How many of you charges your handphone this way and worry that some elephant might stomp on it when you are not watching?  I used to do it this way until that day when I saw a genius creation of a handphone charger holder being made out of plastic shampoo container being shared on Facebook.  Well, I don't think I can even cut a shampoo container so I decided to make do with a milk […]
Every once in a while I like to buy milk in a carton. We don't drink them too often but we do-lah once in a while. Knowing me, you'll know that I don't throw away things easily. I'll try to come out with something before disposing them off.  So we did this – Milk Carton Sailboat. Ethan and his milk carton sailboat.  Ethan enjoying his glass of chocolate milk. I super love chocolate milk! Ethan […]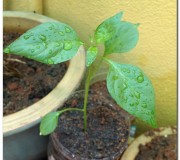 I love gardening but since I had Ethan, I've not been able to do that much. As Ethan grows older, I thought I can start gardening again but our schedule became so tight that we don't even have time to care for our plants and eventually they all dried up and die :( A couple of months ago I saw a post on self watering container on Facebook. I glanced through it and never thought […]
We ate lots of ice-cream during the scorching HOT days recently and instead of disposing those popsicle sticks, we made airplane fridge magnet out of them. Airplane fridge magnet We used a couple of long popsicle stick and one short one (cut from the long stick) and a wooden laundry peg.  Paint the peg with any color of your choice. We used acrylic paint.  Paint the popsicle sticks. Let dry. Glue them together. Glue a magnet […]
I am very happy! Ethan loves colouring so it's only natural that we did something to hold all his colour pencils. What made it best is that we used entirely recyclable materials for that. Presenting to you, our toilet paper roll cat pencil holder! :D Meow! Click here for the full instruction on how to make the toilet paper roll pencil holder.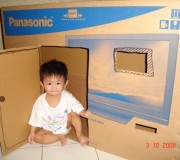 Time is bad. My dear little Ethan can't afford to keep his little house, so we had to sell off his house. It was a sad, sad day.. but what can we do.. What needs to be done, needs to be done… LOL.. the truth is, his little house is a ruin now. You know, how lasting can a board house be rite? With a boy as mischievous as Ethan, I was surprised the house […]