Browsing articles tagged with " Hari Raya decor"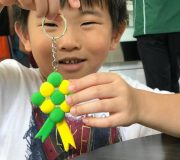 A couple of weeks ago, on a Saturday when big brother Ethan was busy with taekwondo, we brought little Ayden to a Hari Raya open house by a property developer.  Besides having a tour of their show houses, there were also a couple of complementary art and craft activities for the little ones.  Little Ayden painted this batik kampung house. It is his first time to complete a batik painting entirely on his own as […]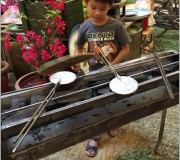 This is 1 Utama's Raya decor. Nice. I like it. They even use real grass though a lot has already dried up and turned brown. It reminds me of their decor several years ago with paddy field filled with water and all. The paddy field was beautifully done but we needed to move around it with caution as the kids might fall into it and there is no way we can push a stroller around. […]
It's that time of the year to be sharing the festive decoration in malls around the Klang Valley. I'll start with The Curve.  A kampung setting for Hari Raya. I've been to Sunway and they too have Kampung setting. I guess most malls will have Kampung house as their decor this year?
With Hari Raya fast approaching, I'm way lagging in my mall decor hunt as we've been tied down with projects after projects that I just can't make the time to hop to as many malls as I wish :( We managed to drop by IPC Shopping Centre (Ikano Power Centre) last week and though their Raya decor is nothing to shout about, Ethan LOVES it! Why? Because their decors are in 2D Cartoon! I thought […]
I was in 1Utama today to check out the completed Hari Raya decoration. I was not prepared to be amazed as I saw the initial stage when they were building it and it did not look too impressive then. But surprise, surprise! I was impressed! Themed "Pillars of Celebration" I think it is a wise and practical idea to have the 'stage' on the roof while the shoppers shop below. I saw dancers practising up […]
After Sunway Giza, my next stop on Hari Raya decor hunt is at The Curve. It brings us back to the 60's and while they aim to make us reminisce the nostalgic 60's, I couldn't as I was not even born yet then :P But what I do relate is how life was so much simpler than. Look at the ol' school cinema. This was the kind of cinemas I frequent with my friends, when […]
It's that time of the year to go mall decor hunting again. As usual, Sunway Giza mall is one of the first to set up their festive decor.  Sunway Giza Hari Raya decor Their decor might be very minimal and simple but it's beautiful. It's like having a real kampung house right smack in the hustle and bustle of the city life. It really makes us want to go back to our hometown to celebrate […]