Custom made DRUMMER caps for my Drummer boys
Most of my readers know both my boys are avid drummers as I regularly share videos of their drum covers.
I even created a Youtube playlist especially for all their drum covers so it will be easier to follow their updates. You can track their updates here -> Drum Covers
They are slowly but surely upgrading their drum set from the basic 5-piece set to an elaborate set of their dreams.
I wanted to contribute something to this passion of theirs and decided to make customized caps for them but I did not know where to start or how to do it. My friend Kimmy helped to make this surprise a reality.
He helped me design the caps and all I needed to do is to get them printed out on printcious.com
Check them out here: https://invol.co/cljnv8
Printcious.com is a DIY personalised gifts website where we can design anything from customized t-shirts, tote bags, mugs, photo gifts and many more. These items are especially useful as birthday gifts, wedding gifts and even corporate gifts. They even provide photo booth rental for these special occasions.
Designing the caps is a piece of cake. I just need to select the product and in my case is obviously CAPS, upload the design onto the template, choose the colour, place my order and wait for the products to be delivered to my house within 7 working days.
Kimmy helped me with the design and I proceeded to place the order.
Because I can't decide which design to use (as Kimmy gave me more than one design), I decided to print 3 caps each for my drummer boys since these caps are reasonably priced.
Both Ethan and Ayden were very excited when I presented these caps to them. They wear them almost everywhere.
These are the caps for Drummer Ethan
And these are the caps for Drummer Ayden
Ayden is the cheeky one.
He has always wanted chicken drumsticks to represent his drum drumsticks so I made his dream come true :D
He happily wore that cap to school on his birthday much to his friends' amusement. They all chuckled when they saw the chicken drumsticks. Several of Ayden's friends' parents even asked me where I got that cap printed as they are keen to make personalized caps for their kids too. I guess soon I will see many of these kids wearing personalized caps to school. Haha.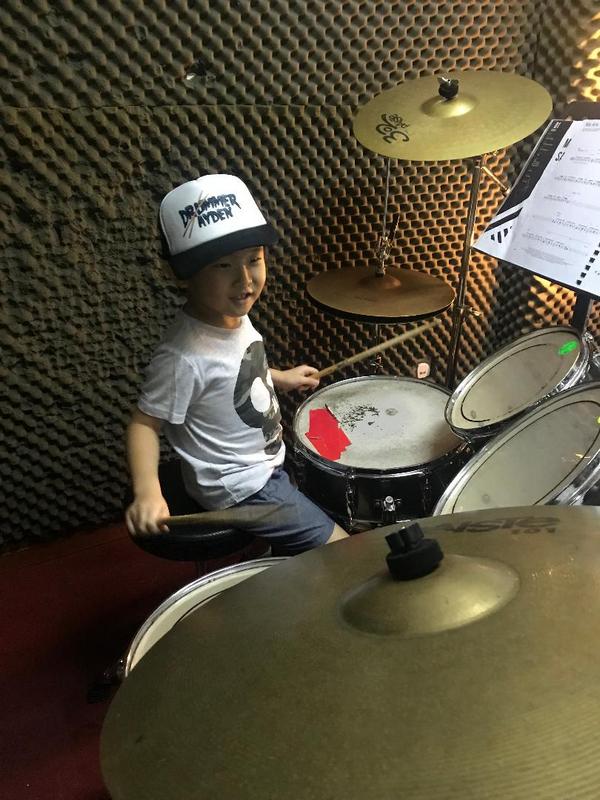 Drummer Ayden during his drum lesson
Since both of them are so happy to get their personalized caps, maybe I should print drummer's t-shirts for them next.
Anyway, before I end this post, let me share the video of Ethan's latest drum cover of Linkin Park's IN THE END.
Watch it here: