Hari Raya Art & Craft
A couple of weeks ago, on a Saturday when big brother Ethan was busy with taekwondo, we brought little Ayden to a Hari Raya open house by a property developer. 
Besides having a tour of their show houses, there were also a couple of complementary art and craft activities for the little ones. 

Little Ayden painted this batik kampung house. It is his first time to complete a batik painting entirely on his own as he had all the time in the world to do it. 
He was very proud of his batik painting. He kept telling me such a pity big brother Ethan did not get to do this. I actually felt guilty too as I know Ethan would definitely love to paint this as well.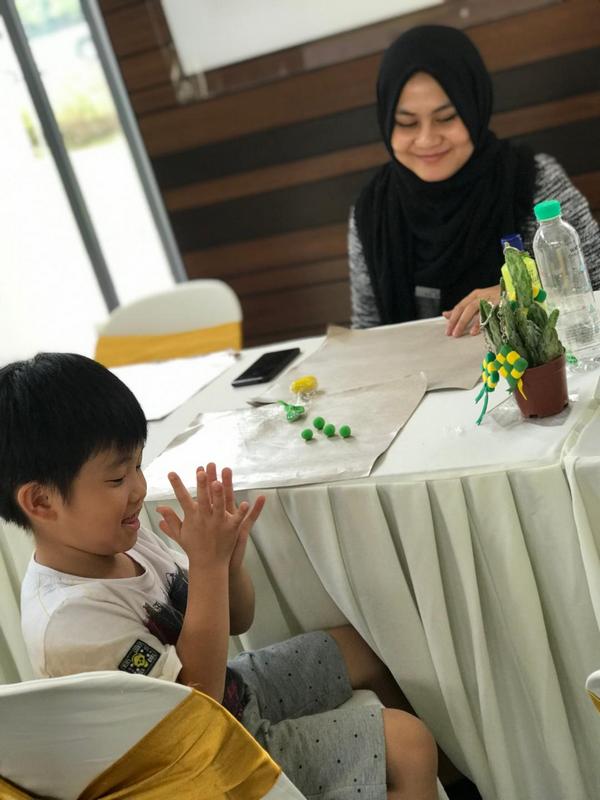 After Ayden was done with his batik painting, he proceeded to make a clay ketupat keychain.
The lady manning the booth was pleasantly surprised when Ayden conversed in Bahasa Malaysia with her and was even more surprised when she heard Ayden spoke to me in a mixture of BM and English.
When I told Ayden, "Cukup. Banyak sangat tu. Too big wait tak cantik" she lost it. She said, "Sorry, but I have to ask. How come both of you are so fluent in BM?" Hahahaha.
Side tracked a bit. I get asked this question a lot of times. There was once we were shopping and this Ayden took a bottle of sauce to show me. The Daddy went, "If that thing jatuh and pecah, you bayar sendiri okay?" And Ayden replied, "Tak pecah la, I hold betul-betul what. Always simply say me… macam I tak tau pegang nicely". A Malay family nearby looked amusingly at us and smiled. When they caught me looking back at them, they asked us the same question, "Why do you speak with a mixture of BM?"
I answered, "I am a Nyonya Melaka". We speak Peranakan which sounds kind of similar to Bahasa Malaysia to the general; it's similar but not exactly the same.
In Melaka, we Peranakans are a common sight and sound and no one will bat an eyelid when we speak this way but out of that historical state, we definitely turned some heads each time we are out and about. 
Anyway back to the keychain ketupat, Ayden continued to complete his ketupat and this time, he asked the lady if he can get an extra set of clay for his big brother who is unable to join us because he is in school. 
The lady said because Ayden was so thoughtful to think of his brother, she gave him a set for Ethan.
Ayden with his clay ketupat keychain. We went to pick Ethan up after that and upon reaching home, Ayden taught Ethan how to make the ketupat keychain. 
Related Posts