One Night Is Never Enough at Hotel Equatorial Melaka
The year 2019 is the year to visit my beautiful hometown, Melaka. Visit Melaka 2019 aims to attract local tourists as well as those from abroad to visit and stay longer in Melaka.
The UNESCO World Heritage Site is the heart of Melaka. You have not seen Malacca unless you've spend your time exploring the many places of interests here. It is a favourite amongst tourists and for that very same reason, this area is always packed and abuzz with activities. Driving here can be quite tricky as it is not easy to find an empty parking spot hence many opt to stay nearby so they can just walk.
During the recent school holidays, I brought the boys to play tourists in my own hometown to explore this historical city.
We stayed at Hotel Equatorial Melaka which is a walking distance to many major attractions in Melaka.
Hotel Equatorial Melaka is located in the heart of Malacca.
Bandar Hilir, 75000, Melaka, Malaysia
Tel: +60 6 282 8333
Fax: +60 6 282 9333
We even got rewarded as a returning guests to this esteemed hotel

 ♥

How not to love this spacious room with cosy window seat?

One of the top reason we keep returning to Hotel Equatorial is for their complementary Internet Protocol TV (IPTV) that we love and appreciate a lot. They get to watch their favourite movie for free and pause as needed when we need to leave and continue when we are back in the room. I think Hotel Equatorial is the only one of two hotels in Melaka offering complementary IPTV to their guests.
One night is never enough when you are in Melaka and Hotel Equatorial Melaka is aware of this. We got all our sight seeing sorted out by the helpful team at Hotel Equatorial Melaka as they assisted us in making reservations and getting tickets for us. This is the hotel's effort to fully optimize their guests' experience during their stay in Melaka.
To add to the excitement further, Hotel Equatorial Melaka is also holding a Holiday Memory Contest whereby guests are encouraged to explore as many interesting places in Melaka as possible, fill up the form given based on their beautiful memories of Melaka made during their stay here and stand a chance to win a 3 Days / 2 Nights stay for 2 persons inclusive of breakfast in a Premier Room.
I think we have a high chance of winning as we explored quite a lot while being a tourist in my own hometown recently.
Let me share with you some of the interesting places in Melaka that is a short walking distance from Hotel Equatorial Melaka.
THE STADTHUYS
Let's take The Stadthuys as our starting point. This famous Red Square is a historical structure right in the heart of Malacca city.
You won't miss it as its red exterior stands out among the rest of the buildings there.
CHRIST CHURCH
Just beside The Stadthuys is Christ Church Melaka.
Situated along Jalan Gereja (also known as Church Street) it is the oldest functioning Protestant church in Malaysia.
A FAMOSA
About 4 minutes walk from Christ Church is the A Famosa.
The A Famosa fortress (not to be mistaken with the A Famosa water theme park) is among the oldest surviving European architectural remains in Southeast Asia.
ST PAUL'S CHURCH
From the A Famosa, take a minute to climb up the stairs to St Paul's Church.
The ruins of St Paul's Church is situated at the summit of St Paul's Hill.
It was originally built in 1521, making it the oldest church building in Malaysia and Southeast Asia.
DUTCH WINDMILL REPLICA
Make your way downhill and you'll find yourself back at The Stadthuys. Just across The Stadthuys is a replica of the Dutch windmill.
A replica windmill indicative of the period of Dutch colonisation in Melaka.
MELAKA TRISHAWS
At the end of the road where the windmill replica is located, you may find countless beautifully decorated trishaws or becas.
These brightly lit trishaws are also easily available in front of Hotel Equatorial Melaka, right opposite Dataran Pahlawan.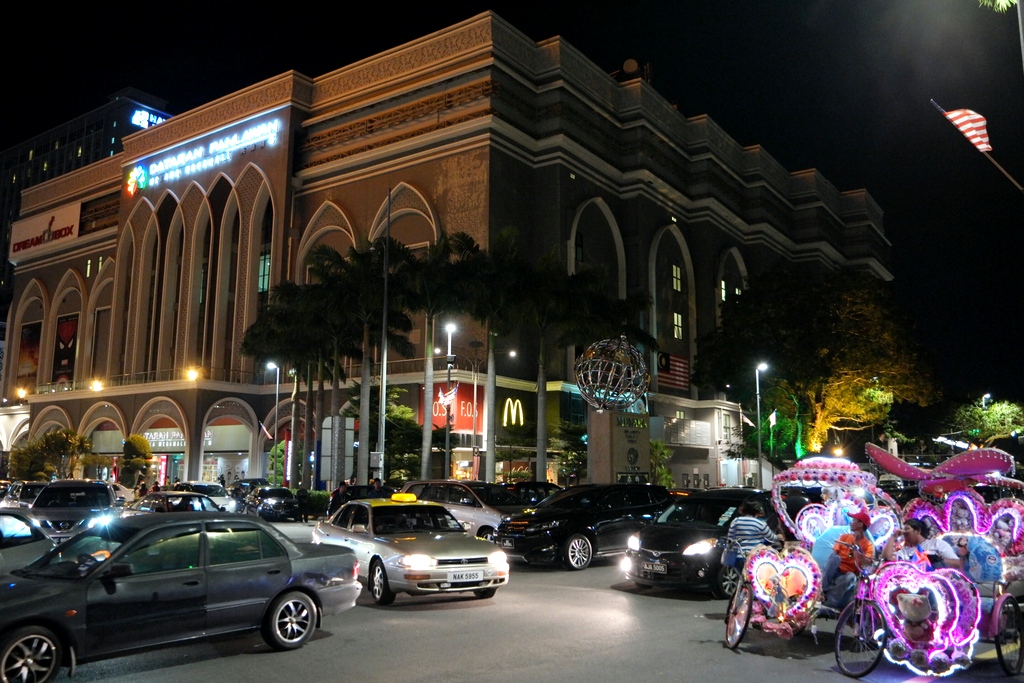 The starting price for a ride on these trishaws is RM35 and it can sit on average 2 adults and a child.
JONKER WALK
Jonker Street is popular for its night market on Fridays and Saturdays that sells everything from tasty treats to cheap keepsakes.
MALACCA RIVER
Once you've squeezed your way between the human traffic jam in Jonker Walk, it is time to squeeze your way out and walk along Malacca River.
Take a leisurely stroll along the river to enjoy the heritage city. The river cruise along Sungai Melaka is also very popular with the many cruises available.
We made a video of our river cruise experience along Sungai Melaka.
VIDEO
Let's watch to see how beautiful Melaka is from the river bank view:

We skipped the queue at the ticketing counter by getting our tickets delivered to us at the hotel. All we needed to do was to inform the front desk of our desired time slot and they'll make the necessary arrangements for us ♥
MELAKA MARITIME MUSEUM
From Melaka River, walk on to Maritime Museum (Muzium Samudera) of Malacca. It is located not far from the Stadthuys. It is opposite Medan Samudera which is a handicraft and local produce building.
MENARA TAMING SARI
About 200m meter away from the Maritime Museum is Menara Taming Sari.
The Taming Sari Tower is a revolving gyro tower and is ideal if you like to view Malacca from atop at the height of 80 metres.
Little Ayden all excited with his rented binoculars.
We also made a video of our experience getting a bird's eye view of Melaka on Menara Taming Sari.
VIDEO
Watch it here:

We got our tickets from the front desk at Hotel Equatorial Melaka. Do check with the friendly staffs of your sight-seeing needs and they'll be glad to sort it out for you. 
DATARAN PAHLAWAN
Walk along the street from the Taming Sari Tower and you'll find Dataran Pahlawan.
Dataran Pahlawan is a modern shopping mall in the historical city.
MAHKOTA PARADE
About 2.5km further is Mahkota Parade, another shopping mall in Malacca.
Once you are done shopping, just complete the circle and you'll find yourself back to K5, The Street Bistro at Hotel Equatorial Melaka.
K5 THE STREET BISTRO
This place comes to live cum night time. In the mornings, they opened up the space for the breakfast crowd from the adjoining Rest House Cafe. .
K5's teh tarik, one of the best teh tarik in Melaka. Coupled with its keropok lekor, it is a match made in heaven.
That was what we had while watching LIVE football here that day.
Big brother Ethan is a huge football fan so you can imagine how happy he was when he got the opportunity to watch Malaysia vs Vietnam with other die hard fans at K5 recently.
ENCORE
Intricate theatre props and costumes. First in Southeast Asia, 3600 rotating audience platform facing a 240-meter-long stage with multiple stages. We rotate as the stories unfold from one stage to another.
Cameras and flash photography are not allowed into the theatre but we are allowed to have our handphones with us. 
To give you an idea of what Encore is, watch this video:
Encore is one attraction that you should catch at least once if you are in Melaka and again, we got our tickets from the front desk at Hotel Equatorial Melaka (Official), the hotel we are staying at. Such convenience for their residing guests.
NYONYA FOOD COOKING CLASS
Hotel Equatorial Melaka is also famous for its Nyonya Food Cooking Class. I've always wanted to sign the boys up for it but never got the time. We finally did last December and boy, what a joy it was.
It was a FUNtastic family affair as both our little chefs and me got a hands-on experience cooking up a storm while Daddy sits back to enjoy the fruit of our labour.
Lil' Chef Ayden and big bro Ethan made two signature Nyonya desserts – Onde Onde and Popiah while I learned to cook Ayam Buah Keluak.
VIDEO
The Daddy managed to record a video of us so let's watch to see what goes on in this Nyonya Cooking Class:

We received certificates from Dato Syed A. Rahman Alkaff, the General Manager of Hotel Equatorial Melaka for our participation which we will proudly frame and hang in our kitchen at home.
Upon 'graduating' from our cooking class, we get to enjoy feasting to the fruits of our labor.
Private cooking lessons are available for guests at Hotel Equatorial Melaka. For more information, check out their website at https://melaka.equatorial.com
As usual, we had such a wonderful stay with the best hospitality at Hotel Equatorial Melaka. One night is definitely not enough as there are many more places we have yet to explore such as The Shore and more. We'll be back to complete our Holiday Memory Contest as we have until the end of February 2019 to submit our entry. 
2019 is Visit Melaka Year. Come visit my beautiful hometown ♥
//

//

//

//

//

//

//

//
//
//