Big Prawn Nasi Lemak Lunch
Both Ethan and his father were born a week apart in July.
We had a celebration for Ethan with his friends this year but did not do much for the Daddy as he was a little under the weather back then. 
The boys surprised the Daddy with their DIY birthday gift and homebaked cake. We did not go out to celebrate so I decided to compensate and treated Darling to lunch last weekend. 
I walk past this menu almost everyday and thought it is a good idea to bring Darling here for a belated birthday celebration.
The place I'm talking about is Just Seafood at Sunway Giza. 
Darling did not want the Lobster Nasi Lemak and requested for the Large Tiger Prawn Nasi Lemak but they did not have that the day we were there so we settled with Big Prawn Nasi Lemak instead. We ordered Seafood Spaghetti for Ayden. 
Little Ayden's hungry face seeing empty plates
Look at his HAPPY face when the spaghetti was served in front of him. Our nasi lemak took longer as they needed to grill the prawns. 
The spaghetti has prawns, mussels and squid in it. We enjoyed this a lot. The spaghetti portion was big. Enough to be shared between Ayden and Ethan. 
But Ethan has his own plate of big prawn nasi lemak.
So did Darling and I as we ordered THREE plates of nasi lemak.
I requested for the sambal to be served separately in case it is too spicy for the boys because I know Ayden will definitely steal the egg and some rice from my plate. 
True enough, this little rascal stole my egg and some rice 
The sambal is delicious and we enjoyed the grilled prawns but thought the rice is not lemak enough. I'm sure we'll enjoy it more if the rice is richer and more fragrant. 
I've dined here once before. We had their Creamy Durian Seafood and it was sooooo good! We really enjoyed that.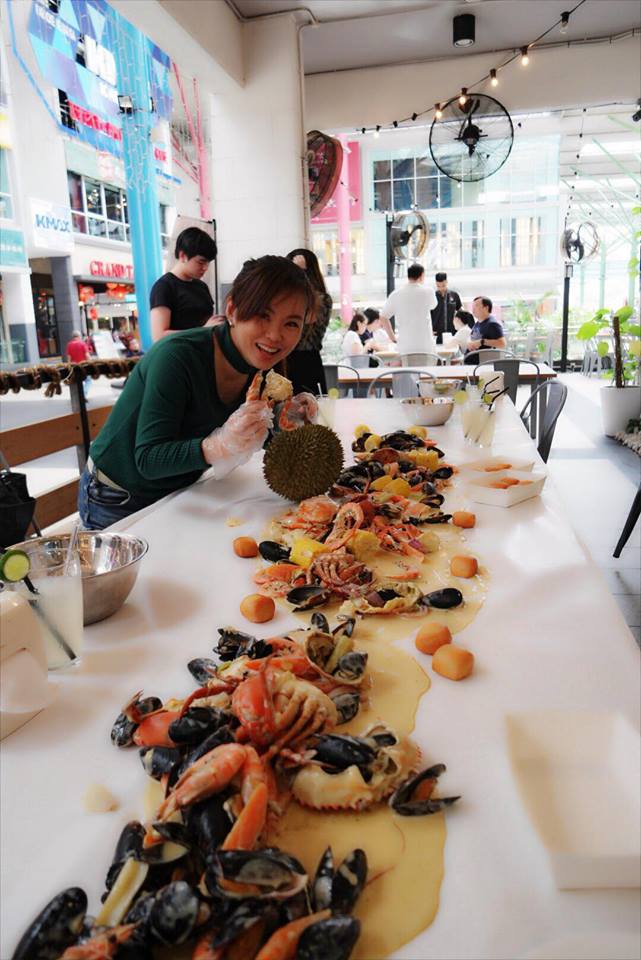 * Archive pic
Anyway, the bill for our lunch that day was RM115.50 for 3 Big Prawn Nasi Lemak and 1 Seafood Marinara. I just realised we did not order any drinks.