Darling's Birthday Surprise
We celebrated Darling's birthday at home.
He never wanted anything lavish for his birthday as I guess he knows he'll be the one paying for it in the end 
What can we do for the breadwinner of the house on his birthday then?
I assisted the boys in preparing some surprises for their Daddy.
First and foremost, we never mention anything about his birthday throughout the week. We pretended like we don't remember but as soon as he left the house for work, Ayden and I got busy baking the birthday cake.

We kind of cheated this time around as we used Betty Crocker's instant cake mix.
Baking a cake has never been easier with this instant cake mix. All we needed to do was to add water, oil and eggs into the mix and it's good to go into the oven. The result is this wonderfully moist chocolate cake. We kept the decor to the minimal as we were seriously short of time.
Besides the cake, the boys also prepared a surprise birthday gift for their beloved father. They did not know what to get for their father so I suggested for them to pool together their money to make a surprise gift. 
The much anticipated evening finally arrived. The boys hid behind the door with the cake as soon as they hear the Daddy approaching. Darling thought Ayden was napping when he saw that the door closed and the living room in darkness but he was pleasantly surprised by the boys and the cake.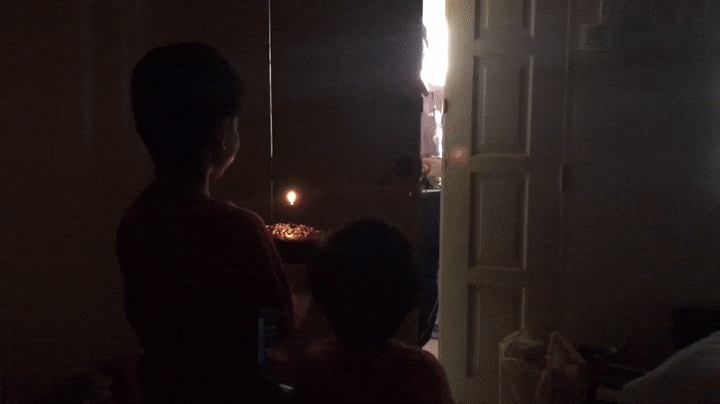 After blowing the flame off the candle on the cake, the boys excitedly presented the birthday gift to their father. 
Look at that never-ending paper notes coming out of the boys' gift 
Those are all the boys' money and they willingly parted with it for their Daddy. 
I got this idea from a friend on Facebook and taught the boys how to do it for their Daddy but it was Ayden's idea to include chocolates in the gift.
Watch this video for the tutorial on how to make this fun surprise gift so you can do it for your loved ones too ♥
Needless to say, Darling was very happy with the boys' simple surprise.
The boys were happier that their effort was worth it. 
At the end of the day, Darling told me he is now pressured as he won't know what to do when it is MY birthday in December. I told him not to worry. Just do the same as I did but this time please replace the RM1 notes to RM10 or even RM100! 
//

//

//

//

//

//

//

//

//
//
//