Gardening with Ayden: How To Grow Bitter Gourd in a Pot
It has been awhile since we last shared our garden project. We did not stop gardening. It is just that we grow the same thing so there isn't anything to share until recently when Ayden grew a liking towards bitter gourd and requested to try growing them.
As you all know, all our garden projects are done in pots and containers so same goes for our bitter gourd plant.
Here is a video tutorial of Ayden growing his very first bitter gourd in a pot:
It is important to know the female flower bud from the male flower bud.
Male flower
Female flower
Overall, there will be many male flowers on the plant with only a few of female flowers. The male flower will bloom and fall off quickly while the female flower stays on for a couple of days, during which, it needs to get pollinated.
If there isn't sufficient insect activity for pollination, we can always self pollinate the flowers in the morning. Simply pluck a male flower and bring it to the female flower.
Once pollinated, you may want to wrap it with paper to keep pest away.
The bitter gourd at 2 days old. Ayden keeps a lookout for it every single day; wishing it 'Good Morning' each time before we leave the house.
This is the bitter gourd at ONE week old.
And this is at TWO weeks old.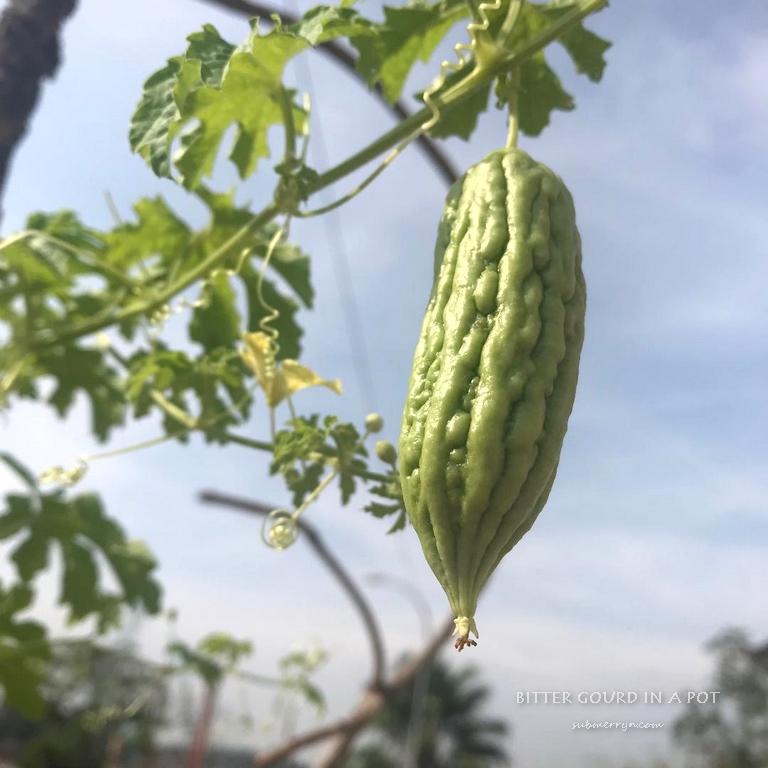 Our bitter gourd did not manage to grow very big and long though as it turned yellow by the third week prompting Ayden to quickly harvest it.
Maybe the constant heavy rain in the evenings affected our yield or maybe our soil is not nourished enough. We'll add more compost soil into the pot and hope our next harvest will be a bigger bitter gourd 
Watch this video of Ayden's first time growing bitter gourd:
And here's a video of Ayden cooking Stir-Fry Bitter Gourd with Egg:

From farm to table, the satisfaction is simply priceless ♥