Chinese New Year Yee Sang Menu: Three Brothers Restaurant
There is a restaurant nearby my place that serves awesome Fish Head Noodles. Darling always tapao-ed that home for me after I delivered Ayden 4 years ago. Besides Fish Head noodles, their forte lies on their super fresh, high quality premium seafood.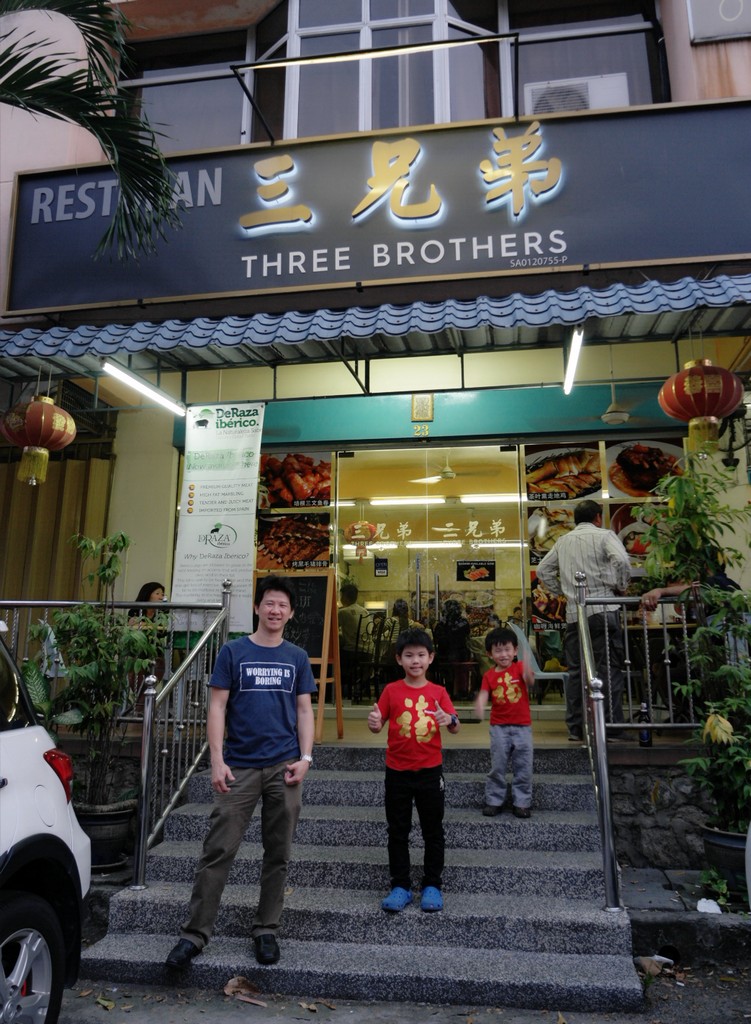 THREE BROTHERS RESTAURANT
23-G, Jalan Bulan CA U5/CA
Bandar Pinggiran Subang
Seksyen U5
40150 Shah Alam
Selangor
012-348 6631 (Kwan)
012-315 2953 (Shawn Lee)
012-315 2053 (Alice)
A couple of days ago, we were invited to dine here to check out their Chinese New Year Yee Sang menu.
They have four Yee Sang menus to choose from with price ranging from RM688 to RM1288.
Treasure Pots are also available with price ranging from RM588 up to RM788.
We were served a selection of dishes out of the four Yee Sang menus.

Giant Clam & Salmon Yee Sang
Pleasing to the eyes, the luscious salmon and giant clam came in beautiful thick cuts.
It was very satisfying to arrange these plump slices of salmon and giant clam on the bed of colourful salad…
and dress them up with the special plum sauce..
Excited and ready to toss
What a joy it was to toss to a wonderful and prosperous new year with the freshest salmon and firm giant clam. The crispy fish skin is also a crowd's favourite with everyone digging in to grab that precious treasure.
GEODUCK AND FISH MAW SOUP
Geoduck is a large salt water mollusk that is long in shape with a large clam shaped shell. The shape itself is very intriguing with its rough skin and ability to shrink or lengthen its body. Geoduck is nutritious as it is delicious. It is an excellent source of protein with less fat and cholesterol and is also a rich source of iron.
Geoduck, fish maw, shimeji mushroom and chicken makes a nourishing and flavorful soup.
People often say to know if a particular chef is worthy of his name, get him to steam a fish. A talented chef will turn a plain fish into restaurant worthy and true enough, Chef Shawn Lee impressed us with his interpretation of Ginger Steamed Giant Garouper.
This dish is showered with loads of minced ginger covering the fish's body. The chopped ginger with scallion and cilantro eliminates any fishiness, bringing out the great flavor of a fresh fish. The flesh has a smooth texture and seasoned nicely.
We can't get enough of the gingery flavor as well as that soft fleshy texture with the cheek being my favourite part.
Money Bag with Fish Maw is an expensive platter of jewels.
Fish maw is the air bladder of large fish and it is far from cheap. In fact, it is one of the luxury ingredients in Chinese cuisine as it is regarded as a nourishing tonic that helps blood circulation and beneficial to one's general health.
If earlier we had fish maw in our soup, this time we have it simmered until it takes on the flavor of surrounding ingredients like a sponge. The texture of the fish maw for this dish is somewhat similar to sea cucumber; thick, chewy and flavorful.
Three Brothers Restaurant is also well-known for their Iberico pork dishes.
The Spanish Iberico Ribs is done perfectly with crisp surface yet tender and juicy flesh. It was well marinated and roasted evenly.
It is recommended to use your hands to eat this as this is the only way you can clean it right up to the bones and finish it off with a bone licking goodness 
Iberico de cebo with melon proves to be one of the best combination out there. Sweet melon coupled with salty ham is just perfect. Topped with caviar and gold flakes makes this such an elegant dish.
We clear our palate with this colourful salad to make way for yet another iberico dish – Pan Fried Iberico Collar. 
The iberico collar is highly-prized for its super tender and well-marble ratio that renders great juiciness. We can actually taste a nuttiness in the meat which I assume must come from the acorns in their diet. This dish is flavorful with a good bite. 
The Scallop and Prawn in Truffle Oil is a simple fragrant dish with a huge effect. The combination of flavors are simply yummy to our tummy. 
Tobiko Crab Meat Fried Rice 
Fried rice with feathery crab meat and topped with briny and bright tobiko is the boys' favourite. I sometimes wish Chinese restaurants will serve the rice earlier because by the time we get to the rice dish, I am often too stuffed to even take a bite but I see that everyone else has no problem gulping down this delicious fried rice with good wok hei goodness to it. The plate is all clear within minutes so that speaks for itself how good the rice is. 
No matter how stuffed I am, I always save a little space in my tummy for dessert. The Italy Tiramisu here is to die for. Smooth and feathery light, it is a dream of a dessert. 
The Chinese New Year Menu is available now and is divided into two sessions. 
Group A (6pm – 8pm)
Group B (8pm – 10pm)
Do call or message 
012-348 6631 (Kwan)
012-315 2953 (Shawn Lee)
012-315 2053 (Alice)
for advance reservation.