Chinese New Year Yee Sang Menu: Ee Chinese Cuisine, Eastin Hotel Kuala Lumpur
Chinese New Year is about getting together and reconnecting with families, friends and loved ones; feasting in wholesome and sumptuous meals for a great start to a brand new year.
Today, let us bring you to a preview of what Eastin Hotel Kuala Lumpur has to offer this Chinese New Year.
Ee Chinese Cuisine
Eastin Hotel Kuala Lumpur
13 Jalan 16/11
Pusat Dagangan Seksyen 16
46350 Petaling Jaya
Tel: 03-7665-1111
email: [email protected]
To usher in the auspicious Year of the Dog, the Chefs at Ee Chinese Cuisine helmed by Executive Chef Alex have lined up flavoursome festive dishes that exquisitely blend both traditional and modern flavours to create an epicurean feast for both young and old alike.
PROSPEROUS ABALONE AND SALMON YEE SANG WITH RICE CRACKERS
We got to an early start to the new year as we 'Lou Hei' to a better year of the Dog with abundance of happiness, good fortune and excellent health throughout the year.
Generous salmon cuts with a beautifully twisted rosette in the middle.
An equally fresh and beautiful abalone rosette.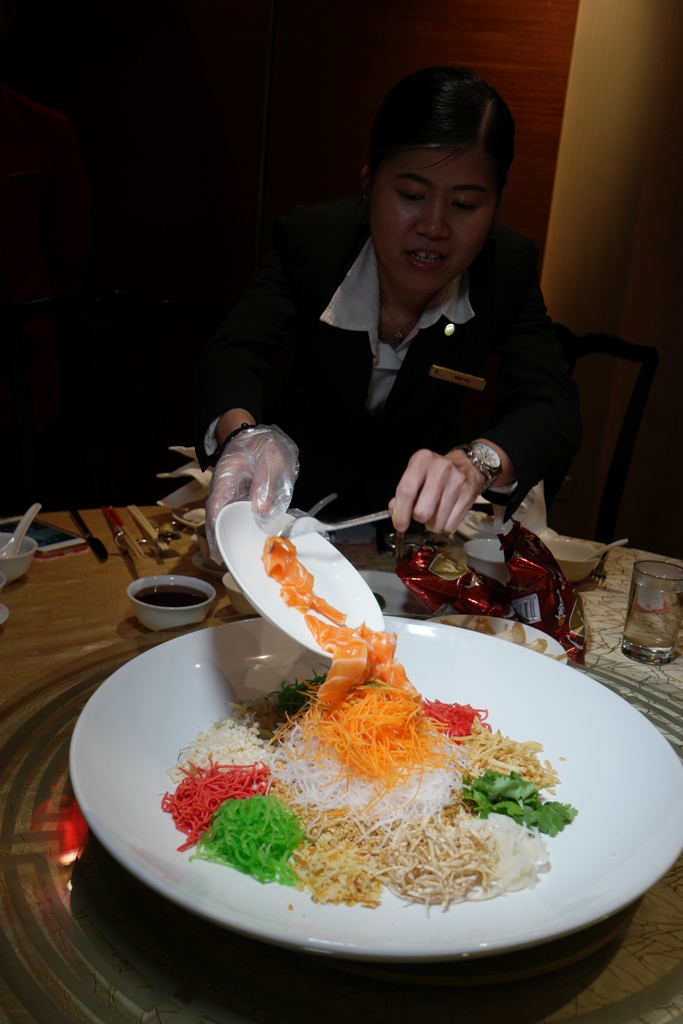 The waitress says a couplet for good luck, fortune and health while assembling the yee sang to raise better luck for the year ahead. 
Once the yee sang is done being pilled up, we are ready to toss.
And we tossed the yee sang as high as possible as it is believed the higher you toss, the higher your life and social standard will improve and the bigger a mess you make symbolises the bigger the grounds all these well wishes will cover in your life.
We found the salmon and abalone fresh and the other ingredients went well with the sweet sauce too.
DOUBLE-BOILED SUPERIOR SOUP WITH FISH MAW, AMERICAN TOP SHELL AND DRIED SCALLOPS is super nutritious and aromatic fit for a king. 
The STEAMED CAPON CHICKEN TRADITIONAL STYLE is full breasted with tender, juicy, flavorful meat. Its corn-rich diet resulted in a beautiful striking yellow skin with succulent meat. 
Paired with this delicious ginger paste, this dish will easily go well with the elder generations. 
OVEN BAKED KING RIVER PRAWN WITH CHEESE with a gooey goodness of baked cheese is the crowd's favourite that evening. 
The river prawn has a delicate texture and the cheese sauce is makes a heavenly match.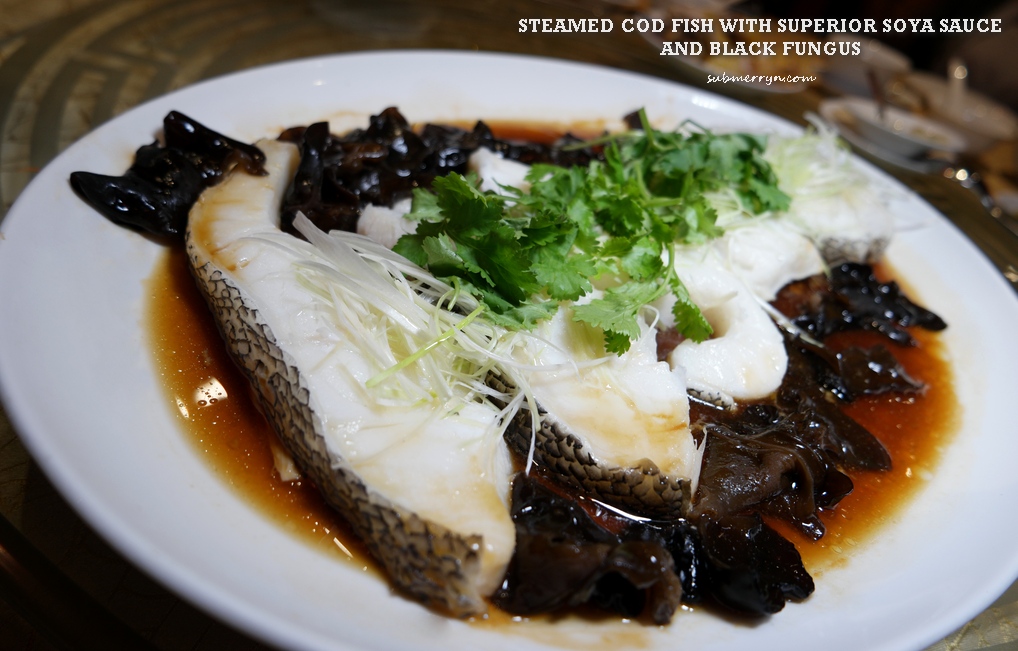 STEAMED COD FISH WITH SUPERIOR SOYA SAUCE AND BLACK FUNGUS is simply irresistible.
The soft white flesh instantly melts in the mouth; bursting with flavors.
We were also served this luxurious dish of BRAISED ABALONE LIMPET, SEA CUCUMBER AND DRIED OYSTER WITH GARDEN GREENS
My favourite has got to be the plump and juicy sea cucumber that has absorbed the tasty sauce. Oooh, I can just eat them all by myself!
Last but not least is a must-have during any Chinese New Year meal – CLAYPOT FRAGRANT RICE WITH PRESERVED WAXED MEATS
The waiter added the fragrant sauce into the hot, freshly cooked rice.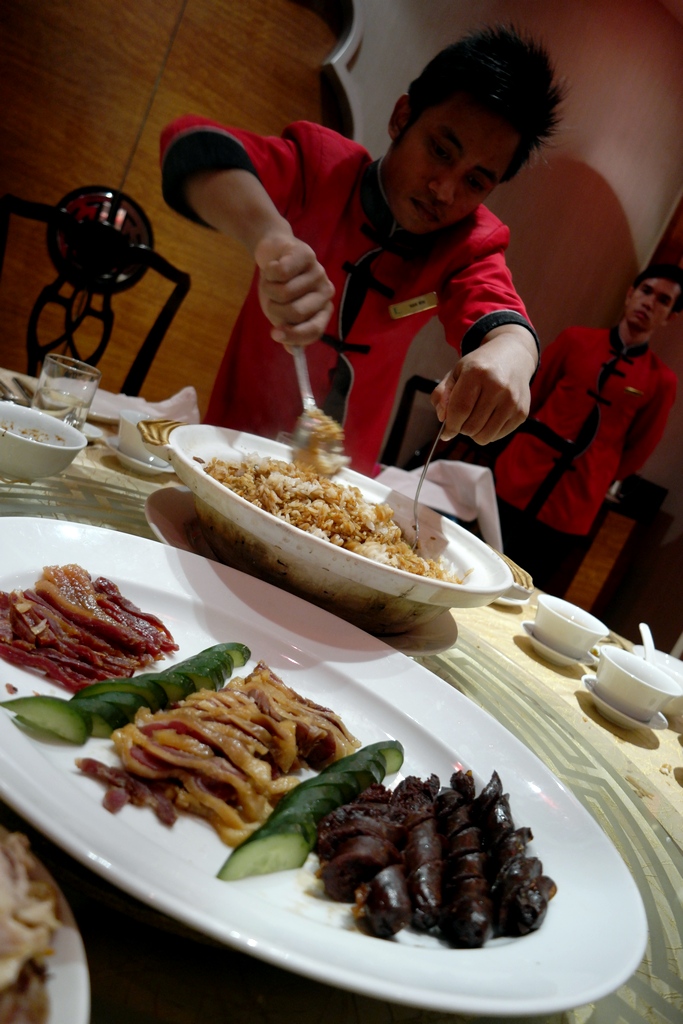 He mixed the rice well and it is ready to serve.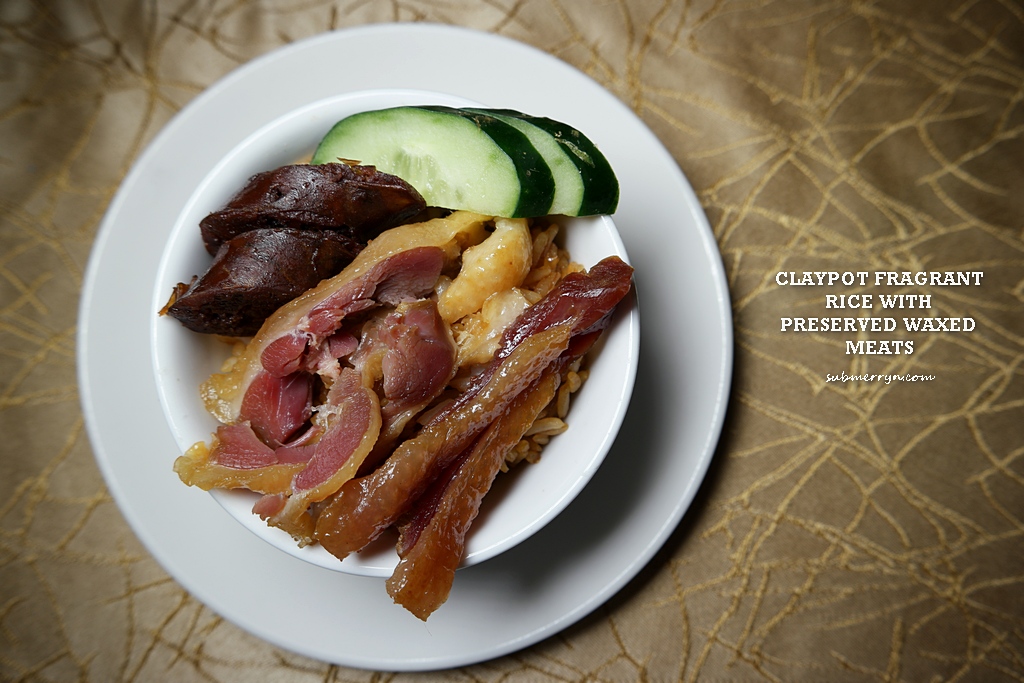 My bowl of beautifully constructed claypot fragrant rice with preserved waxed meat. 
We were also served this nutritious and refreshing DOUBLE-BOILED SNOW LOTUS WITH LONGAN AND SNOW FUNGUS
Snow lotus seed is not only delicious with its gummy texture, it also has a general health promoting effect. The snow lotus seed turns the soup to slightly sticky which makes it a prefect collagen dessert for both skin and joints. I fell totally in love with this drink, feeling refreshed after every sip I took.
We ended our sumptuous dinner with these SWEET DUETS of fried nin gou and refreshing jelly.
Ee Chinese Cuisine's Chinese New Year dinner set menus are available from 15 January to 2 March 2018.
Price: From RM1988nett per table of 10 persons, RM1388nett per table of 6 persons and RM688nett per table of 4 persons
For reservations, call 603 7665 1111 or whatsapp 012 251 0296