Moist Chocolate Birthday Cake for the Daddy
It is the Daddy's birthday today.
Every year since the arrival of the elder brother Ethan, the Daddy refused to let us buy him a cake as his birthday is just a week away from Ethan's hence he will always insist for us to buy a cake for Ethan instead and not waste on him.
This year since the boys can already bake, we decided to surprise him with the boys' own bake. It was amazing how Ayden can keep a secret the entire day and not reveal to the Dad that they baked him a cake until evening comes when we surprised him with that cake.
Ayden started baking alone while big brother Ethan finishes his school homework.
Ethan joined him immediately after he was done with his homework.
They bake Moist Chocolate Cake using our favourite fail-proof recipe except this time they added chocolate ganache as decor. You can refer to the recipe here -> Moist Chocolate Cake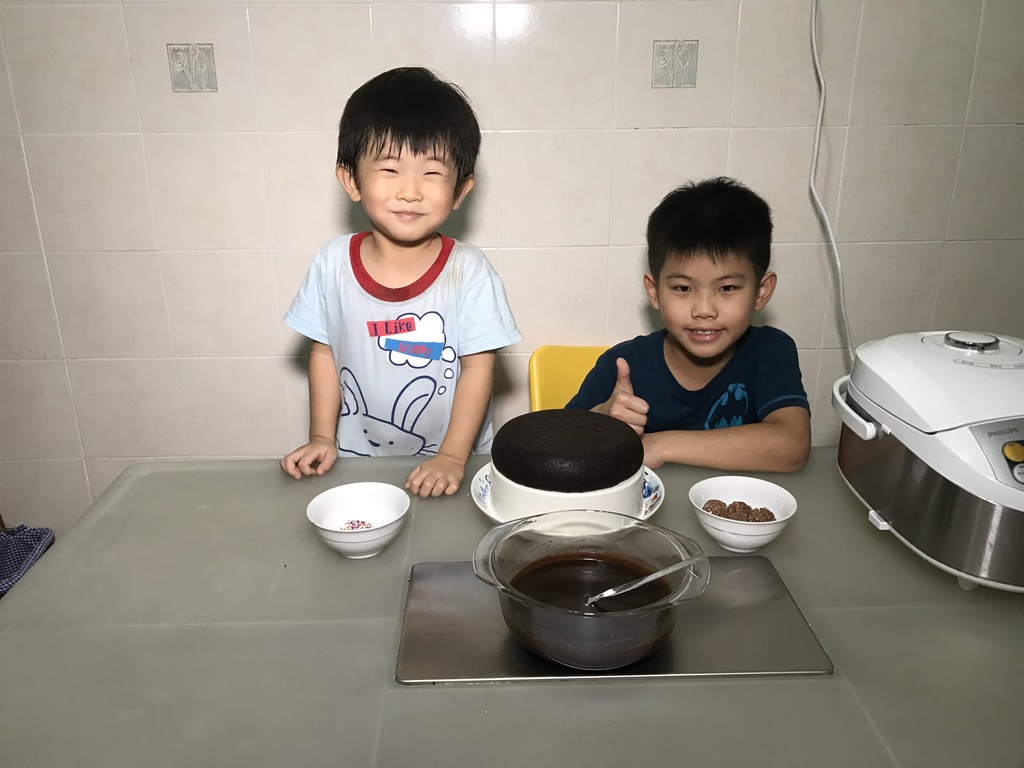 The cake comes out beautifully from the rice cooker and it is now time to decorate them.
To make chocolate ganache, we only need two ingredients. Cooking chocolate and cream with the ratio 1:1.
Just coarsely chop cooking chocolate and transfer to a heatproof bowl. Heat cream over medium heat until just about to boil and pour over the chopped chocolate. Let it stand for 10 to 15 minutes until the chocolate melt. Whisk the mixture until smooth and creamy. Let cool for another 10 minutes before pouring over cooled cake.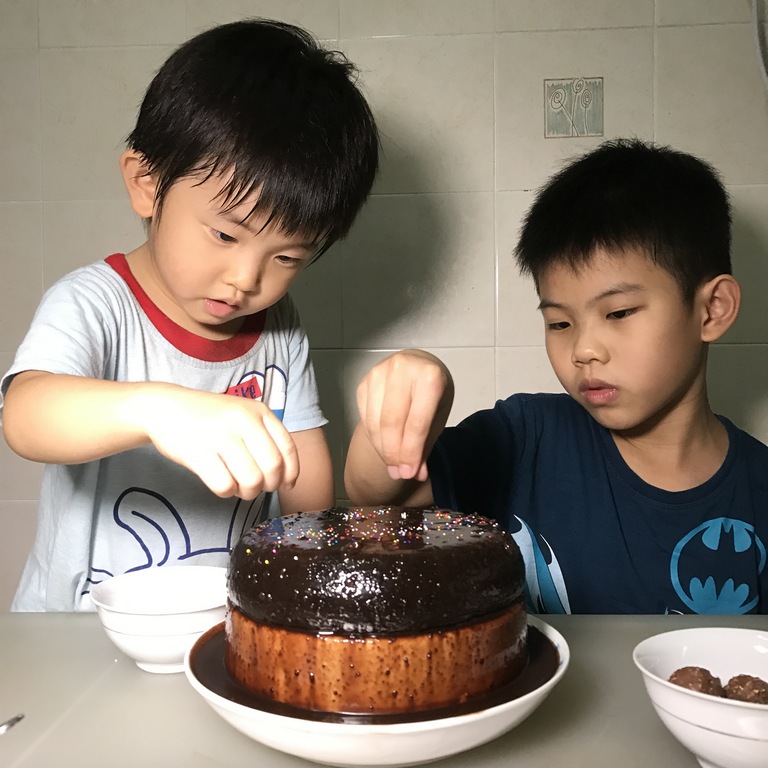 The boys had fun decorating the birthday cake with coloured ball sprinklers and Ferrero Rocher chocolate.
The birthday cake is done!
Look how beautiful and moist it is.
Seriously delicious, this recipe never once fail us.
Rich and moist chocolate cake for the Daddy's birthday.
The daddy came home from work in the evening. We hid behind the door with the light switched off. I had the cake in my hand with the candle lit up and the boys stood in front of me. When the Daddy opened the door, he wondered why it was so dark in the house and then we surprised him from behind the door with the cake singing the birthday song. Ethan also handed him a birthday card he made earlier today.
Happy BurpDay Darling. Hope you like the boys' surprise cake.
Stay happy and healthy and may we celebrate many more wonderful birthdays together ♥