50% OFF all DIM SUM promo at Dynasty Restaurant
DYNASTY RESTAURANT at Renaissance Kuala Lumpur Hotel has earlier this year been converted into a Pork-Free restaurant. It is now serving delectable pork-free and Muslim friendly Chinese dishes with emphasis on Cantonese cuisine creatively put together by award-winning Executive Sous Chef Kok Chee Kin.
They are having this fantastic 50% OFF all DIM SUM promotion from now until 29 August 2017, Mondays to Fridays.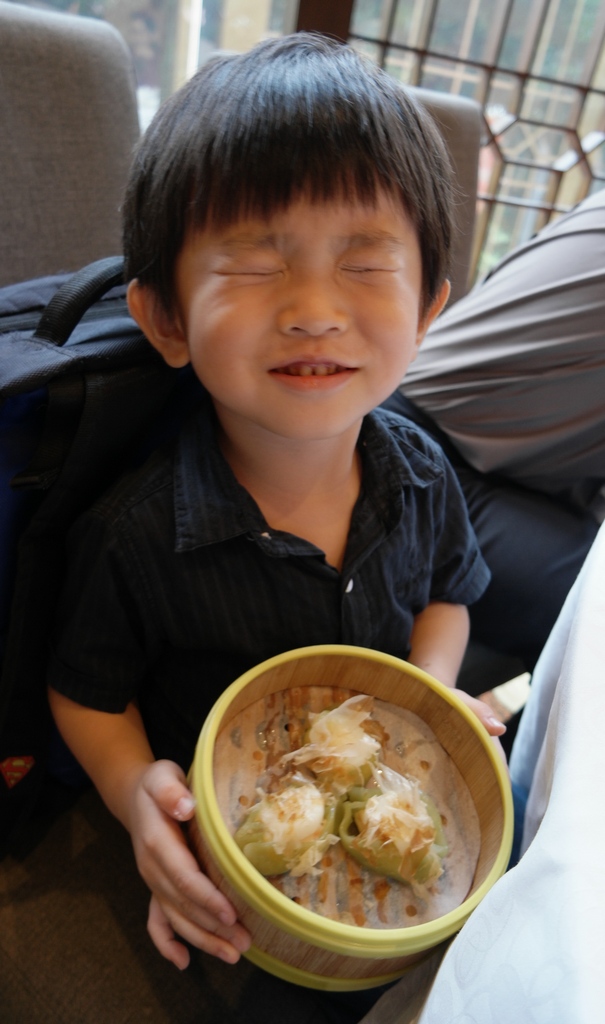 Ayden with one of his favourite basket of dim sum, Emerald dumpling topped with fresh scallop at half the price.
An entire piece of fresh scallop on a bed of shrimp wrapped in translucent emerald green is simply divine. 
Golden Yam Puff
The yam puff is a clear winner. We wholeheartedly agree that this is amazing stuff. 
Oven Baked Egg Custard Tart
Wok-fried Radish Cake with Shrimps and Bean Sprout
Savory and spicy fried omelette with white carrot cake and generous amount of shrimps and bean sprout. 
Crystal Prawn Dumpling with Cilantro
Steamed Rice Flour with prawn
Prawn Wonton with Chili Vinaigrette
I love this tender prawn wonton for the spicy and aromatic sauce coating them. I can eat lots of them as they are very appetising. 
Minced Chicken Dumpling Topped with Dried Scallops
This siu mai also did not disappoint. Overall, we were very satisfied with our dim sums selections. Even though they were pork-free, they did not fail to impress us. 
4-course menu at RM49.90nett per person
We can also create our own 4-course menu at RM49.90nett per person for lunch and dinner. 
Crispy Prawn Toast with Sesame
The combination of prawns with spices and bread is exellent. The sesame seeds gives a mild nutty taste along with extra crunchiness.
Sauteed Shelled Prawns with Golden Salted Egg Glaze
A delicious Chinese recipe. Jumbo prawns are wok-fried in a rich glaze, made from salted egg yolks.
Oriental Grilled Lamb with Mongolian Sauce
Mongolian sauce is probably one of the most popular in Chinese cooking when it comes to beef. This delicious tender Asian BBQ flavoured dish melts in your mouth, inviting you to have more of it. Simply superb. 
With over 30 types of Dim Sum to choose from and a choice of 4 items to select from each course to create your own set menu, there is surely something to satisfy everyone's craving. 
Located on Level 1, East Wing, Dynasty Restaurant is open daily for lunch from 12.00noon to 2.30pm and dinner from 6.30pm to 10.30pm. Dim Sum breakfast is served from 9.30am to 2.30pm on Sundays and Public Holidays, dinner hours are as usual.
For reservation or inquiries, please call 03-2771 6692
//
//