Buka Puasa Buffet 2017: The Saujana Hotel Kuala Lumpur
This year, The Saujana Hotel Kuala Lumpur stirs up a diverse range of delicacies at its casual dining outlet, Charcoal for the breaking of fast buffet.
From 26 May to 24 June 2017, The Saujana Hotel Kuala Lumpur takes the gratification once again to chaperone families and friends who are planning get-togethers during this blissful season with their delightful smorgasbord, 'Menikmati Aneka Judah di Saujana', commencing conjointly with the first day of the observance.
This creamy Bubur Lambuk is a very popular dish during the fasting month of Ramadhan and served during the breaking of fast. It is an appropriate starter for the other dishes that follow the meals.
Starring a well-rounded mix of traditional local delicacies as well as Western and Japanese eats, this exquisite buffet spread is passionately put together by the hotel's team of chefs, led by Executive Chef, Chef Tang Chee Keong and Executive Sous Chef, Chef Hussian Bavutty. Known for culinary fluency across a diverse range of cultures, Chef Keong and his marvelous team has never once failed to achieve diners' recognition and happiness with their specialites and exceptional food quality.
The highlight of the buka puasa dinner is the Peranakan themed dishes dished out by Aunty Belle who has been with the hotel for 30 years.
In Malacca, 'nyonya laksa' also known as 'laksa lemak' is very popular and this glorious pot of boiling hot Nyonya curry here at The Saujana Hotel Kuala Lumpur is a sight to behold.
A bowl of Nyonya curry laksa being freshly prepared.
Delicious and fragrant Nyonya Curry Laksa (also known as Laksa Lemak) is not to be missed.
Popiah Basah is also another must-have here.
Besides the Peranakan dishes, guests can also look forward to classic Kampung dishes such as:

Rusa Berempah (Whole Roasted Deer with Spices)
Roasted deer is becoming increasingly popular for breaking of fast due to its fine texture and soft, moist meat. It was such a hit here that this whole roasted deer 'vanished' quite quickly. 
Sup Gear Box (Beef Bone Broth)
Sup Gear Box is one of the must-have for breaking of fast. It is high in nutrient and helps to replenish energy quickly.
The bones is from the leg of a cow and cooked with spices that resulted in this hearty broth. You suck the thick and creamy bone marrow inside and lick tendon, meat and fat that covers the bone on the outside. 
After having this, you'll be stronger than a bull 
Lamb Percik (Roasted Lamb basted with Spiced Coconut Milk Gravy)
Instead of the usual ayam percik, we get to enjoy succulent Lamb Percik here. 
Rendang Ayam from the Peranakan counter is simply 'terbaik'. Fragrant, tender and flavorful, I just can't have enough of it. 
Daging Masak Hitam pairs well with Nasi Minyak. 
Udang Galah Masak Merah
Ayden just can't believe his eyes when he sees such a huge prawn. I love this. It is simply finger licking good. 
Sup Kambing
With ingredients such as goat meat, tomato, celery, spring onion, ginger, candlenut and lime leaf, this is another rejuvenating soup after an entire day of fasting. 
Serunding Daging
Both the boys enjoyed eating serunding with lemang. It is something they look forward to have every time we visit the Ramadhan bazaar and it was such a delight getting to eat lots of it here. 
Ulam Raja will sure whet one's appetite for more. 
There is also a wide array of delicious kuih-muih from dodol, bingka ubi, durian crepe, tapai to kuih lompang and talam seri muka.
Durian Crepe with real durian flesh is simply amazing. It is as good as eating the fruit itself.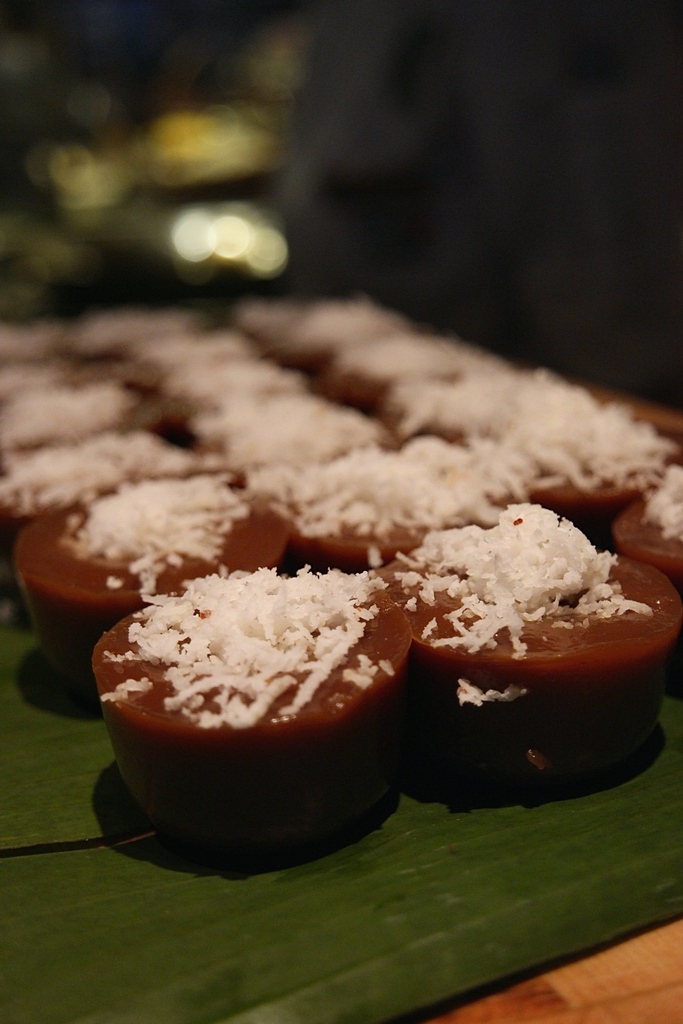 Kuih Lompang
For deep-fried items, there are cempedak goreng, pisang goreng with cheese, keropok lekor and more to satisfy your cravings. 
Cempedak Goreng
Pisang Goreng with Cheese
Keropok Lekor
A bowl of deliciously warm Bubur Cha Cha makes a great ending to a satisfying dinner. 
The 'Menikmati Aneka Juadah dekat Saujana' fast-breaking buffet is available all throughout the season from 6.30pm to 10.30pm.
| | |
| --- | --- |
| Adult | RM175 nett  |
| Children (6-12 years) | 50% discount |
| Children (Below 6 years) | Eats for FREE |
20% off the buffet for Lifestyle by Saujana (LBS) members as well as for MayBank or Citibank Credit Card affiliates with prior reservations.
Find out more or proceed for your reservations by contacting (603) 7843 1234 or [email protected]
//
//