Penang's Latest Children Attraction: Dino Gym @ The TOP, KOMTAR
During the recent school holidays, we made a trip up to Penang. One of the reason we went up is to visit the new Jurassic Research Center at The TOP, KOMTAR. The boys love it there as they got to see their favourite dinosaurs come 'alive'. Imagine seeing dinosaurs in your books up close and roaring in front of you. That was what they got during our visit there.

You can read all about it here -> Jurassic Research Center
After exiting Jurassic Research Center, we came across Dino Gym. It is situated just after the exit of Jurassic Research Center. We had some time to kill so we let the boys explore this place for a while.

A T-rex with razor sharp teeth welcomed us here at Dino Gym
We also managed to catch this runaway dinosaur circling the area. Yes, that is how the daddy catch a dinosaur – by the jaw! 
Dino Gym is an indoor playground. Socks are compulsory inside Dino Gym. If you don't have a sock, you may purchase it here at RM5 a pair.
The entrance fee is RM5 for Parent/Guardian and RM30 per child for those with MyKad while RM10 for Parent/Guardian and RM40 per child for those without MyKad.
I did not bring socks for the boys so we bought them a pair each here. Ayden's socks came with non-slip little feet. So cute!
There is also a locker to keep your personal belongings and shoe racks to place your shoes.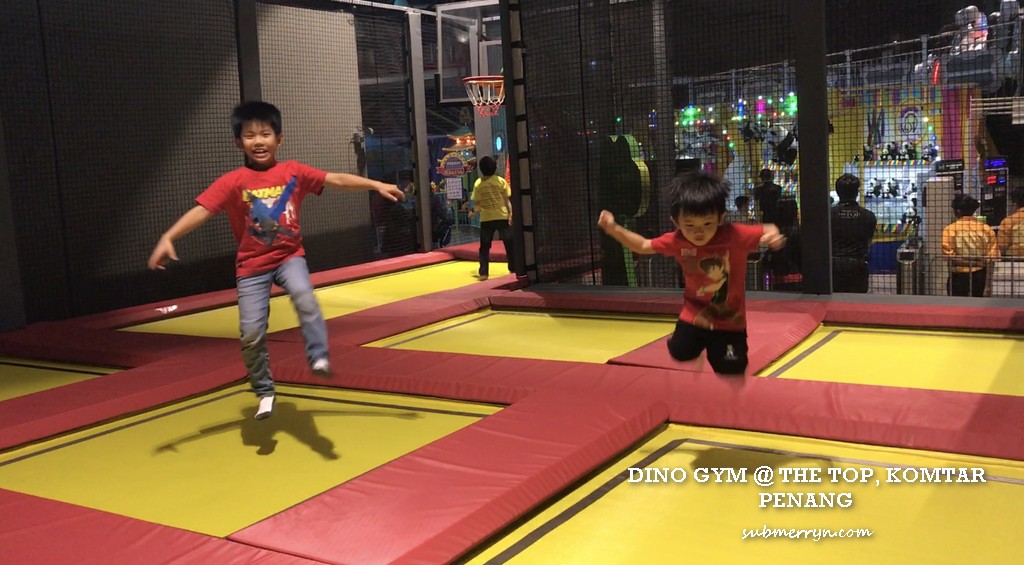 The first area that caught the boys' attention is the giant trampoline. There is also a basketball net so you can do a slam dunk.
And then there is this ball pit with a tv screen where you toss the ball onto it to play. I don't know what it was all about but I saw the boys tossing balls onto the screen tirelessly.
Here there are two guns that shoot out balls so the boys can battle with another two guns opposite them.
Ayden and Ethan battling with another two boys.
There is also a UFO at the same area that drops balls like rain. It's raining BALLS!
The boys enjoyed sliding, climbing and many more here.
People residing in Penang can also hold Birthday Parties here.
The party area.
Part of Dino Gym.
Outside the gym, there are some more games and entertainment for children with additional charges.
Magic mirror. We did not enter though as we were already running out of time as the boys spent too much time in the Dino Gym.
Dino Gym is an indoor playhouse. It is a great place for kids to run, jump, climb, slide, swing and use up excess energy so they can sleep better at night 
Here's a video of the boys at Dino Gym @ The TOP, KOMTAR, Penang.