Mid Autumn Celebration at The ARC, Bandar Rimbayu
The kids missed playing lantern and celebrating the mid autumn festival this year as we were in Bali then but today, we got the chance to feast on mooncakes, play lantern and more at The ARC, Bandar Rimbayu's Harvest, Joy and Unity Under The Moon in Magical Forest event. This celebration is open to public so we took this golden opportunity to let the kids have some fun.
Bandar Rimbayu,
Kota Kemuning
No.1, Jalan Flora 3, Bandar Rimbayu,
42500 Telok Panglima Garang, Selangor Darul Ehsan
The boys got pretty excited when they spotted buggies around the car park area. They were even more ecstatic when they learned that they can ride the buggy to the event area.
This Chinese Orchestra is the first thing that caught my eyes as we arrived. Playing a medley of songs, they entertained guests who were feasting to the complementary buffet spread.
As we just had our dinner at home, we skipped the buffet and went for a walk at the lake instead. Look at the fish in the lake. How come they are glowing? Nice kan?
Such a beautiful sight to see the Lover's Bridge being lit up so colourful come night time.
Nice sight isn't it? I love the mirror image on the lake in the above picture.
Water fountain and more colourful light displays.
Ayden is fascinated with this giant lantern that has moving insect motives and lights that changes colours.
We also checked out the giant lanterns at the lake area. This is the panda lantern before it is being lit up.
This is the panda lantern after being lit up. Besides panda, there are other giant lanterns too.
The tortoise…
and the hare giant lantern.
More makan stations. This is the Char Koey Teow stall. Look at that fire! Sure very wok hei wan the char koey teow!
We got hungry after walking around so we took some satay to eat.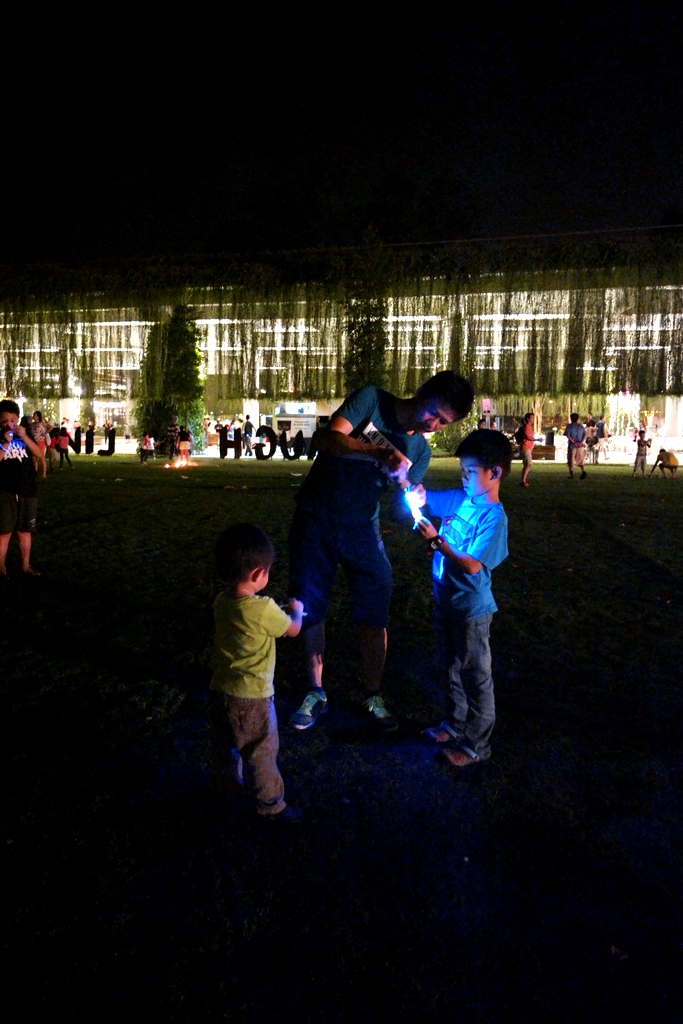 After eating, we brought the kids to the field to play with lanterns and LED helicopters that were given to all the kids there.
Ayden prefers to play with fire instead of the lantern. I guess most of the kids are the same as I saw them playing with candles instead of lantern 
The kids were also given fireworks so it was a sparkling sight at the field that evening.
I also bumped into my ex-classmate here.
Ethan took this picture of my ex-classmate and I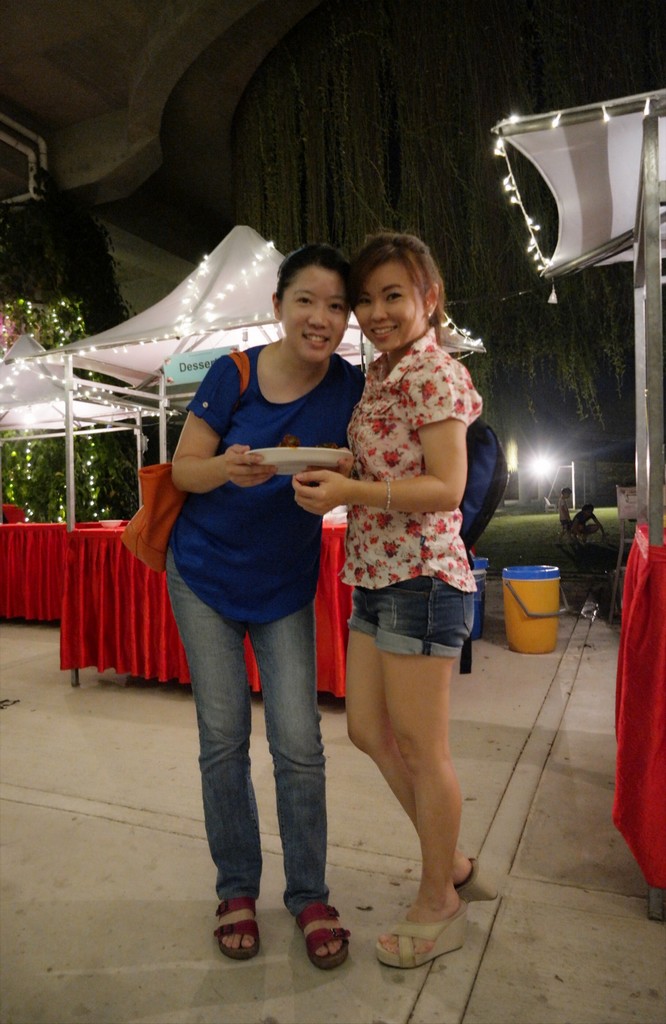 He also helped to take this picture of me and Elaine. I got acquainted to Elaine due to my blogging job and her being in the hotel industry. She has since left her job to be a full-time mom to her 2 lovely kids. We do keep in touch via Whatsapp and Facebook :)
We also dropped by the Sales Gallery before heading home. It was late by now otherwise I would love to visit their Show Houses. I love show houses as I love interior designing. Maybe I'll make a trip there again one of these days and visit their show houses. I always will curi-curi take pictures of show houses to share on my blog so the urge is really strong right now