Hotel Equatorial Melaka
I was back in Melaka recently for work purposes in town. 
As Darling and the boys tagged along, I chose to stay at Hotel Equatorial Melaka as it is situated directly opposite Dataran Pahlawan and is only 500m from Jonker's Street. At least they can go shopping or sight-seeing while I am at work.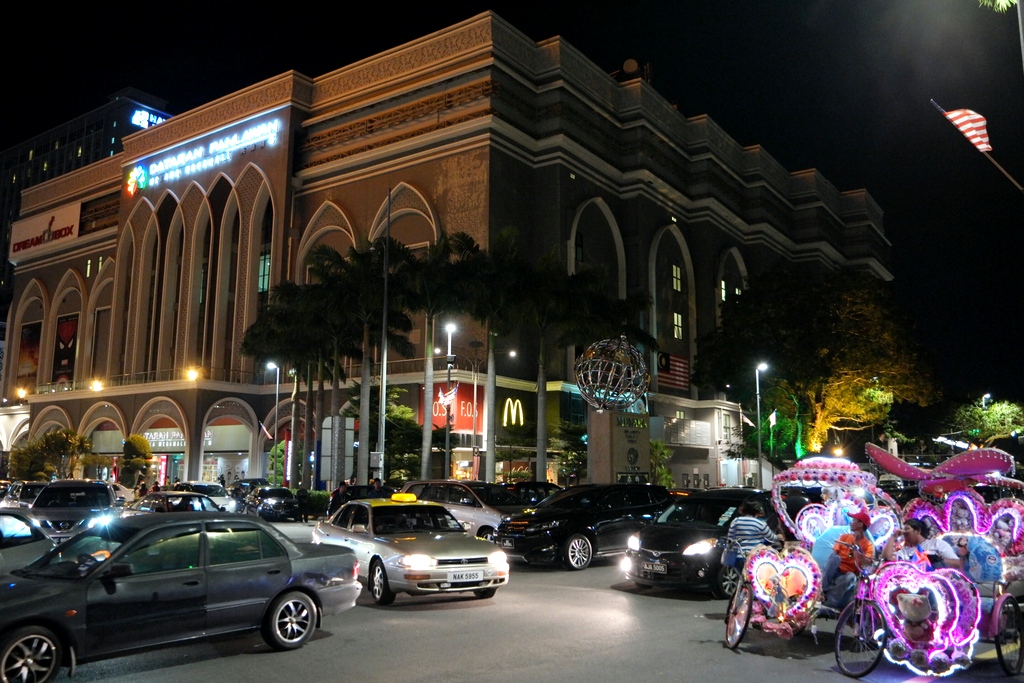 Dataran Pahlawan is just across the road from Hotel Equatorial Melaka. Can you see the cheerful and brightly lit trishaws? There are aplenty here and they will bring you around to Jonker Street area and back. 
Anyway, back to the hotel I was staying.. 
It came with a personalized greeting on the TV screen. I appreciate little things such as this. It makes me feel more connected and appreciated. Talking about TV, they have IPTV channels here much to the boys' delight. They spent a considerable amount of time glued to the TV while waiting for me. 
This is our spacious Premier Room. It comes with a Day Bed where Ethan sleeps at night. Ayden wanted to sleep there with Ethan too but ended up sneaking between me and the Daddy on the King size bed come night time. 
TV and Work Station. 
This is where I get my work done. 
Our room comes with a long bath much to our delight. I always prefer rooms with long bath during travels so the boys can play in there should it rain. Of course if the weather is good, they'll be splashing in the swimming pool instead. I also look forward to soak in warm water after a long day out. 
Complimentary toiletries.
Detachable hair-dryer. I like detachable hair-dryers. At least I can dry my hair in the room while watching TV and not restricted to just the bathroom.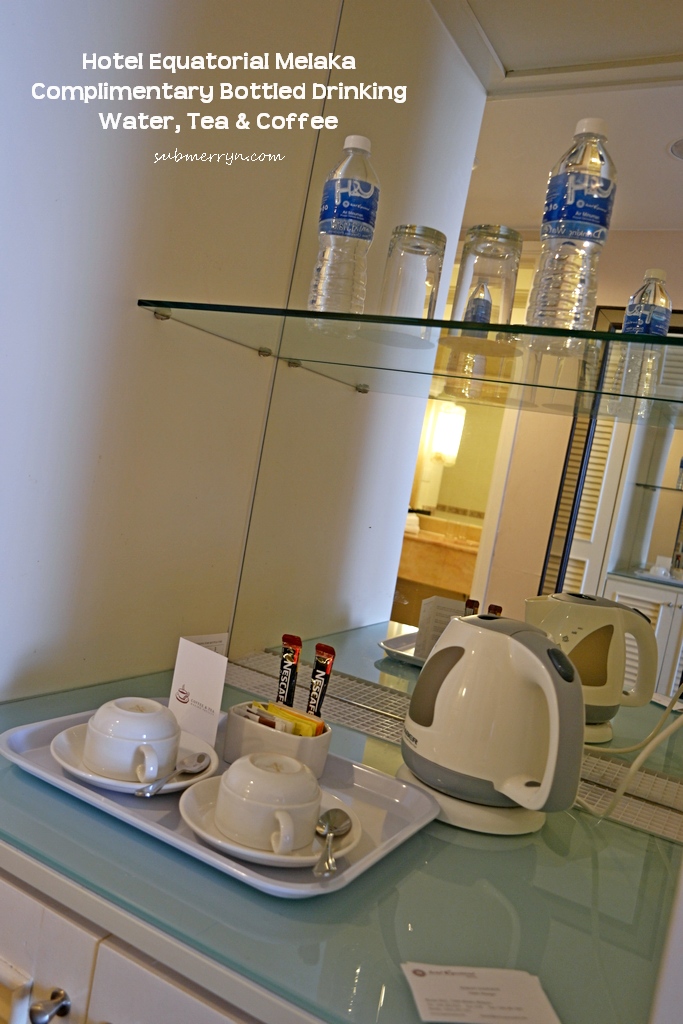 Complimentary bottled water, tea and coffee making facilities. 
In-room personal safe.
Ironing facilities.
Bathrobe and bedroom slippers
The view from our room. 
With the swimming pool very visible from our room, it is impossible to keep the boys away from it. They are constantly dragging the Daddy to accompany them into the pool 
They spent all their spare time here at the pool. 
For our meals, we have our daily breakfasts at Rest House Cafe on the Lobby Level. 
Rest House Cafe
We also had hi-tea buffet here for lunch. Will blog about it in a separate post later. 
There is also a Kids' Play Area in Rest House Cafe so parents can dine peacefully. 
Seri Nyonya Peranakan Restaurant
Hotel Equatorial Melaka also boasts of having one of the best Peranakan Nyonya Restaurant in town that I've just got to try it. I invited my parents over for dinner as I was unable to go back to visit them during this trip back to Melaka.
My parents and my family enjoying our Peranakan dinner at Seri Nyonya Peranakan Restaurant on Level 3. You can read all about our delightful dinner here.
etc… Coffee Corner
There is also a coffee corner for coffee and quick bites.
The boys and the cute resident bear here at etc… Coffee Corner. 
We did not dine here due to the limited time we have. The macarons look lovely though. 
K5, The Street Bistro
This place comes to live cum night time. In the mornings, they opened up the space for the breakfast crowd from the adjoining Rest House Cafe. .
I prefer sitting here as it is windy and we get to enjoy the view especially of those trishaws going around. 
We had a very pleasant stay here at Hotel Equatorial Melaka. I would definitely return should I need to work in town again in the future. I wish to bring the boys to go for the Melaka River Night Cruise that is just 10 minutes walk away from here. 
Hotel Equatorial Melaka
Bandar Hilir,
75000, Melaka.
Tel 606 282 8333 Ext 3380