School Holiday Crafts: Angry Bird Bookmark
It's the school holidays so let's make something useful on everyday basis for the kids or even better when they get back to school. My boys love to read so we'll be making an Angry Bird bookmark I learned from here.

We'll start with a red square paper. Fold it half as shown above. 
Fold both ends up to form a crisp line as shown above. 
Unfold the two ends. 
Fold the tip of the paper down, creating a 'pocket' as shown above.
Fold both ends up again, tucking them into the 'pocket'.
You should get this (as shown above). 
Draw a quarter of a circle on a white paper and cut. 
Spread glue on it. 
Paste on the folded red paper. Draw two circles for the eyes and cut. 
Paste on the red paper. 
Draw a beak on a yellow paper and cut.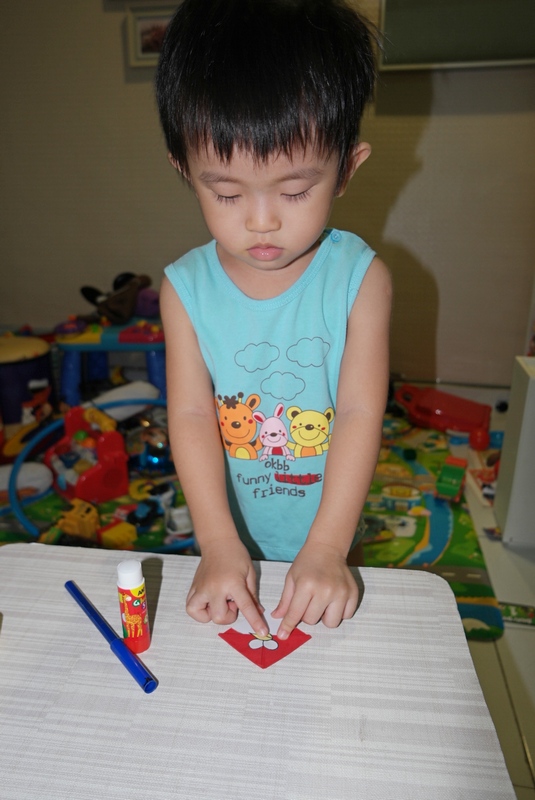 Paste just below the eyes. 
Paste eyebrows and draw the eye balls. 
Trim the bottom part to be slightly rounded and the Angry Bird bookmark is done. 
Ayden is very happy to use it for his book. 
Such cute little bookmarks. 
My happy little boy.
I taught big brother Ethan to do it too and he made many for his school books. He now looks forward for the school to reopen to show his friends his new bookmarks 
How is your holidays? What have you been doing? 
For more arts and crafts ideas, do click here.
Related Posts