It is getting better
My relationship with my in-laws might not be smooth in the beginning of my marriage due to the language barrier but it improved with the arrival of Ethan. It got better once Ethan started school and learn to speak Mandarin.
Nowadays, the boys love going back to my in-law's coz there are snacks everywhere. 
My father in-law runs a sundry shop so he has an ever ready supply of ice-creams 24/7!

The kids are so spoilt when they are back at my in-law's. My FIL will offer them ice treats especially on these crazy hot days. 
Look at this Ayden, eat until like that. He doesn't eat this messy when he is at home but gone crazy at my in-law's! >_<
Last weekend was also the first time my boys ate this:
Remember this?
Aiyo Ayden so rude, eat straight out of the big tong! 
My childhood favourite biscuit – Iced Gems! 
I don't eat this anymore these days hence the reason my boys have never eaten this but my FIL offered them these Iced Gems last Sunday and I let them have it. Guess what? I think due to different generations lah but the boys doesn't fancy this as much as I loved it back then. Nowadays kids' taste preference different dy kot.. 
Ethan also took the opportunity to get my true blue Chinaman FIL to teach him Chinese calligraphy. My FIL said he has lost his calligraphy kungfu as he has not been writing it for ages but still, it was fun to start again and guide Ethan. 
And… as usual this busybody has to check what is going on. 
Like magic my FIL dug this chinese calligraphy book out from his shop and gave it to Ethan.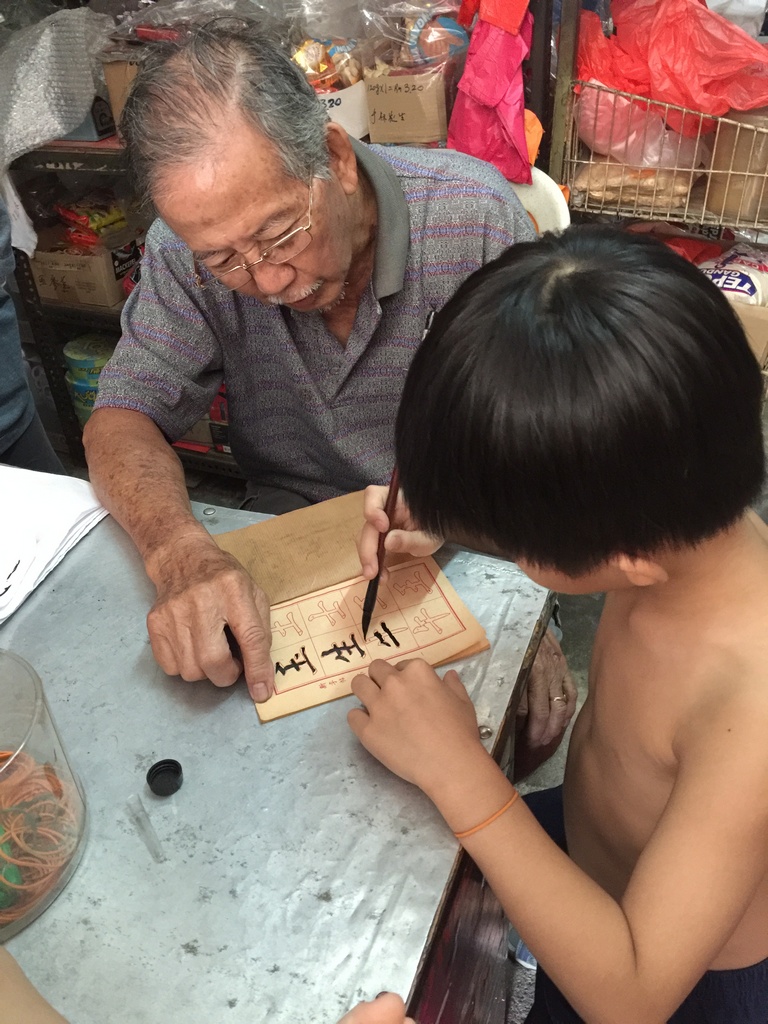 Ethan's turn in writing calligraphy. He has difficulty holding the brush correctly. He kept holding it like a pen but when I try to correct him, he'll get upset. He listens to the KungKung though so I just let him be lah. He won't listen to me because I don't speak Chinese hence I am not supposed to know how to hold a chinese brush! -.-
On another note, I brought back my trusted breadmaker and baked the boys' favourite – Chicken Floss Loaf bread for my in-laws. 
It was such a hit that it dissapeared when I went up for a nap. LoL. Finally I am able to contribute something. I don't cook when I am at my in-law's coz my cooking is terrible and I don't want to poison people. At least they love this bread so I know what I can contribute next time. Next year Chinese New Year, we shall all eat ROTI! Hahaha.
Okay lah, I better go sleep. Have not been updating the blog coz I am down with flu. Sigh.. This weather is horrible. It agitates me. Please rain.
//

//

//

//

//

//

//

//

//

//

//

//
//
//
//