Novotel Melaka
We were back in Melaka earlier this month for a short staycation at the newly opened Novotel Melaka hotel. Located in the heart of the city centre, it is a walking distance from major attractions and shopping malls.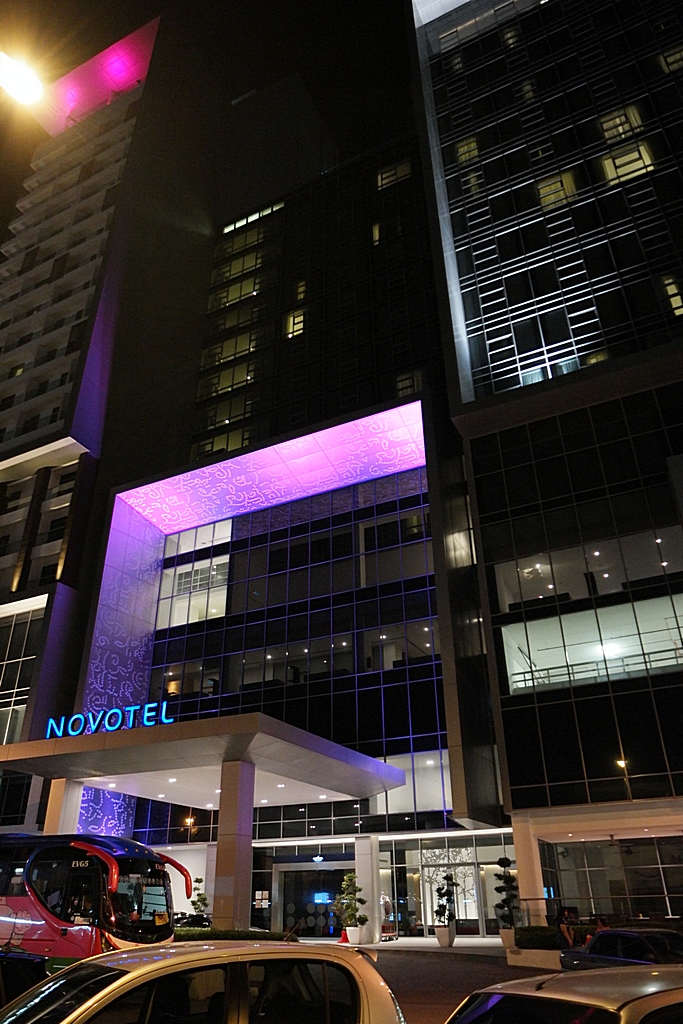 Novotel Melaka
Jalan Melaka Raya 2, 75000 Melaka.
Tel: +606-2898222
LOBBY
Clean and spacious lobby greeted us as soon as we stepped into the hotel. There are many cosy sofas to rest while waiting to get checked-in. The kids immediately ran into the Kids' Room while I was doing my check-in.
Boys will be boys in the Kids Room.
There are also complimentary Macs with hi-speed internet access for guests to utilise. I made the most out of it :P
Here we are at the spacious and brightly lit corridor leading to our room.
SUPERIOR ROOM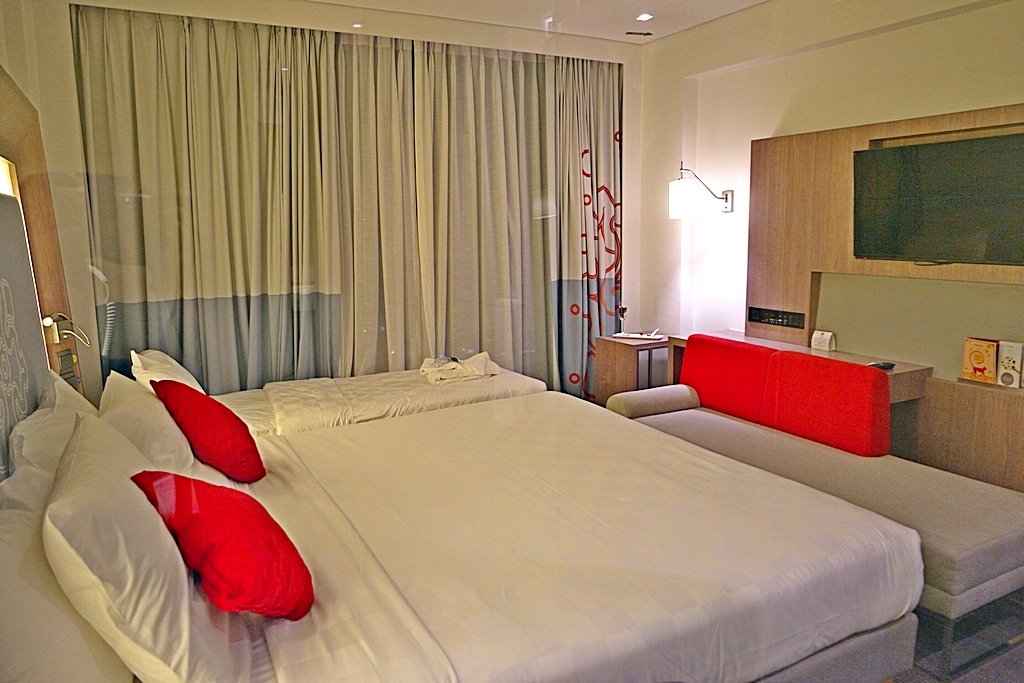 This is our Superior Room with 1 Extra Bed. It is a bit cramp after the extra bed is added with limited walking space available but the boys have no problem with that. They turned the entire place into one giant trampoline >_<
I love the modern design of our room with the see-through glass panel separating the room and washroom.
But this is my view when I am in the washroom! LoL! Boys! Can Mummy have some privacy, please?
No problem. Just bring down the electronic blinds and privacy it is :D
Ayden happily declaring the comfy extra bed as his.
The washroom is very spacious much to my delight. It comes with rain shower and the kids go crazy over it.
Complimentary bottled drinking water, tea and coffee making facilities.
There is also a safe and a mini fridge in our room.
Charging station with USB ports. I thoroughly appreciate hotels with USB charging ports as it makes life so much easier! The complimentary internet connection in this hotel is super fast with each room having its own booster. iLIKE!
FUNCTION ROOMS
Novotel Melaka also features a 500m² pillar-less ballroom which can accommodate up to 480 persons and can be extended by another 180 m².
5 meeting rooms on Level 5 and a business centre to cater to MICE and business guests, all equipped with state-of-the-art audio and visual equipment.
The spacious foyer outside the function rooms is also ideal for exhibitions.
There is also an open air private deck for guests who prefer to take their functions outdoor. This space can host up to 100 persons.
THE GYM
We don't usually use the gym during any holidays but we did this time around. Well, at least for a few minutes before jumping into the pool!
The gym has a nice pool view and the boys just can't resist it, pestering us to go to the pool right away.
SWIMMING POOL
The swimming pool is awesome with many deckchairs . There is an adult pool and a kids pool with attached playground.
We super love the kids pool. Equipped with playground facilities, this is the boys' favourite. How cool is that? A playground that leads you to the pool!
Imagine playing in the playground, sliding down the slide and splashing into the pool. Yep, Ayden did this repeatedly all day!
Ayden also had so much fun at the playground by the pool.
FOOD
For food, they have ala carte local delights as well as western fares and also buffet breakfast, dinners and hi-tea.
LOCAL DELIGHTS
Chicken Pongteh (RM22)
Being a Peranakan Nyonya, I have high expectation on Nyonya food especially if I am having it in Melaka itself. I am a bit sorry to say that the chicken pongteh here does not make the cut. They used boneless chicken fillet instead of the usual chunky chicken meat. Maybe it was done for the convenience of guests but I still find it lacking in taste and texture. It would be nicer if the chicken pongteh was served with sambal belacan on the side as how we usually have it for that added oomph.
Nyonya Curry Laksa (RM18)
The Nyonya curry laksa fares better than the chicken pongteh.
BBQ Chicken Rice (RM18)
As usual, the boys will have chicken rice where ever they go. Ethan was a little disappointed though as the rice here is plain white rice instead of the oily chicken rice he loves so much.
WESTERN 
We had western meals when we ordered room service late at night. 
Shroom Cappuccino (RM12)
Assorted mushrooms cream soup
Pasta (RM26.40)
Room service takes about 20 – 30 minutes for our food to be sent to our room. 
BUFFETS
The Square serves buffet breakfast, dinner and hi-tea on weekends.
We had our breakfast, dinner and also hi-tea here.
I personally prefer their buffet to their ala carte.
The assam pedas from their live station was very good. Made fresh to order, we just need to select our fish and vege and the chef will whip it out before our very eyes.
Their fish soup was very good too.
Lip smacking mee rebus. I had many servings of this.
Pasta for the kids
Rojak buah was good and satisfying.
Many varieties of kerabu.
Local delicacies such as gado-gado.
Seasonal fruits.
Desserts
Hi-tea RM45/nett person (every Sunday)
Buffet dinner RM55/nett person (every Friday & Saturday)
Kids below 12 years old eat for free with each paying adult.
For more information, check out
Website: www.novotel-melaka.com
Facebook: www.facebook.com/NovotelMelaka