Nyonya Taste Cuisine, Kota Laksamana Melaka
Being a Peranakan, we don't usually dine out at Peranakan restaurants. Nyonyas usually take pride of their own cooking and prefer to invite guests to their home for a meal. Majority of them are like that except for me as I am one of those rare Nyonyas who only knows how to eat but not cook. I attribute this to my mom who spoilt us constantly with her delicious home cooked food that I never find the need to cook them myself :P
Last week during the Chinese New Year break, my foodie friend Sidney made a trip down to Johor and then up to Melaka for a night. He invited me to join him for dinner at his friend's restaurant in Kota Laksamana.

Nyonya Taste Cuisine
15 , Jalan 3/11 ,
Taman Kota Laksamana Seksyen 3,
Melaka
Tel: +60 12-638 9915
Situated at Taman Kota Laksamana in the new shop lots area, Nyonya Taste Cuisine offers simple yet delicious comfort food you can find in any Nyonya home hence this is the place you may want to bring your foreign guests for an authentic home-cooked Peranakan dishes. 
It is non air-conditioned so you may want to dress down when dining here as it can be a little warm.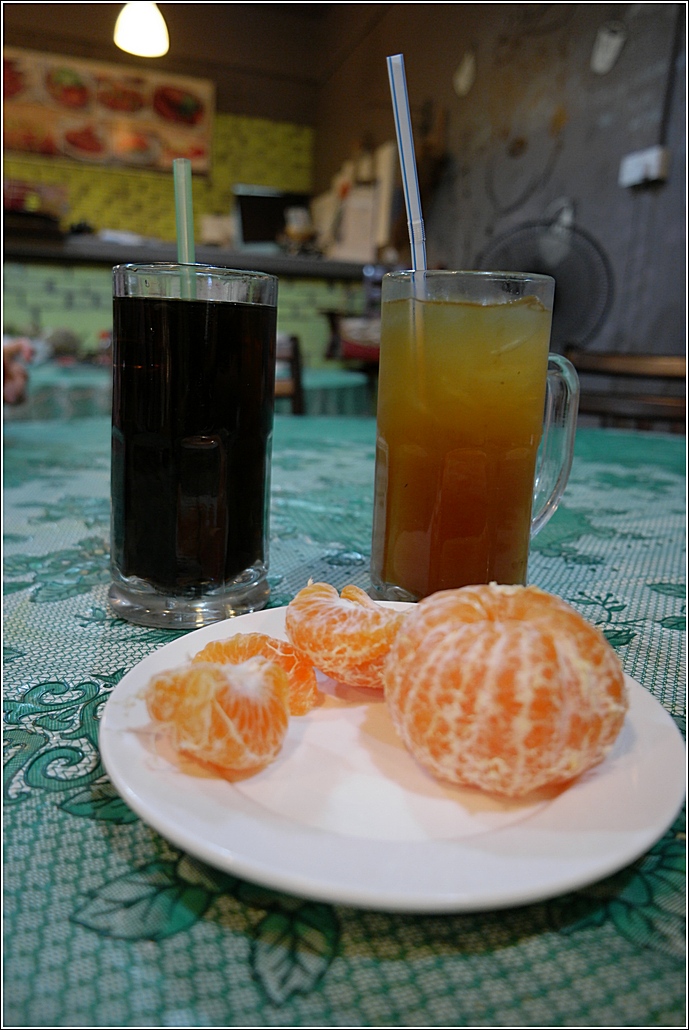 Our Cincau and Sour Plum drink at RM2.50 each.
We managed to sample 5 dishes that evening. 
Ayam Pongteh (RM18)
Ayam Pongteh is one of the signature dishes of Melaka Nyonyas; a soybean-based chicken (or pork) stew with mushrooms and potatoes. I am proud to say I can cook this dish. It is also worth to note that the ones served here is nicely done with thick gravy and soft, mashable potatoes. The boys love it when I mashed the potatoes and mix it with rice. 
Pajeri Terung (RM10)
The brinjal is fried until it is crispy on the outside yet soft on the inside and topped with the appetising sauce. The secret in the sauce is the kerisik (grated and pan-toasted fresh coconut) that gives it the fragrant aroma and distinctful flavour. I would appreciate if they are a more generous with the sauce though. 
Asam Empat Rasa (market price)
Besides the usual asam and pineapple, there is also bittergourd in there to my surprise. The whole combination of vinegary, piquant, sweet and a hint of bitter from the gourd makes this a party in my tastebud. This is definitely one of the recommended dish to have here.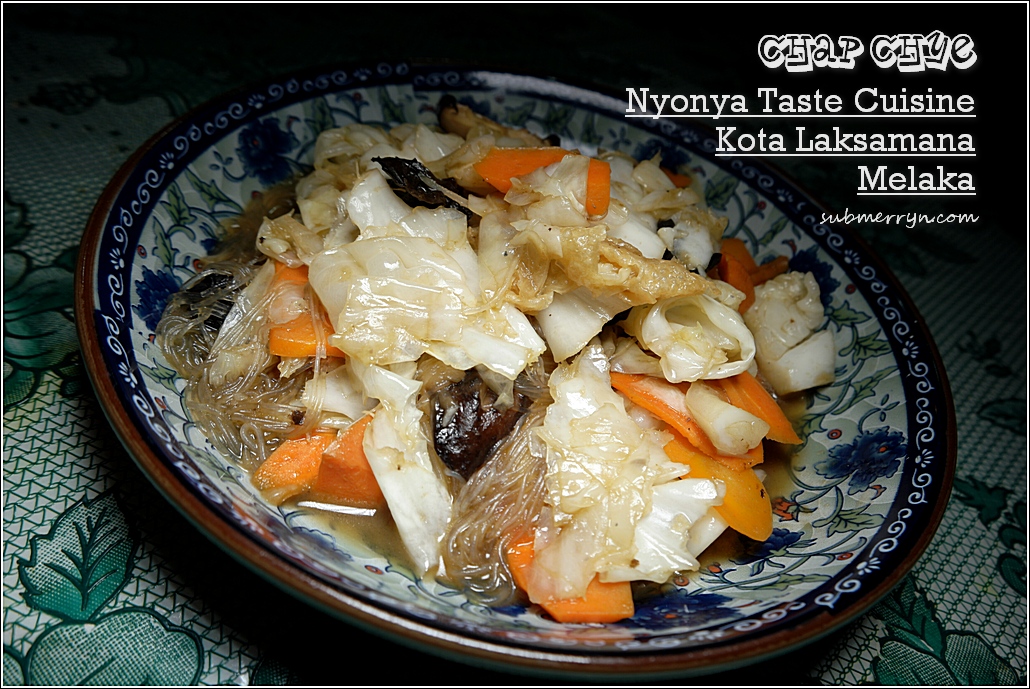 Chap Chye (RM15)
Mixed vegetables stir-fried and tossed with glass noodles is usually served on the first day of Chinese New Year when most people opt to eat vegetarian. This is a simple yet comforting food suitable for all. 
Cincalok Omelette (RM8)
Melaka is the top producer of cincalok so you can't possibly go wrong with this dish here.  
They also have cincalok in bottles for sale. 
Nyonya Taste Cuisine offers comforting home-cooked dishes. I noticed that they already have a steady stream of customers dining in during the two hours I was there. The dishes on the menu are ready to order except for Nasi Kebuli, Itik Tim and Bakwan Hati Babi which require advance booking. 
Related Posts
//
//
//
//

//

//
//
//
//