#10dayschallenge – Can the kids survive TEN-no-gadget-days?
Late last year we got ourselves a new HP Deskjet 4515 e-All-In-One printer that is able to print content from the Web without the need to connect to the computer. We had so much fun during the year end school holidays making lots and lots of origami printed from HP Printables. 
Ethan had the time of his life as it is extremely easy and convenient to print origami templates from HP Printables using our HP Printer. I left it all to him to print out as many origami as he wanted himself. I need not worry as the contents in HP Printables are children friendly.
We got another printer recently, a HP DeskJet Ink Advantage 3635 All-in-One Printer as the previous printer has been moved into our Craft Studio.
When I unbox it, this is the only thing that came out from the box (pic above). Looking nice in white and blue, this is one of the prettiest printers I have come across. I was wondering where they kept the cables and all.
Oh wow, look at that. Let me try pulling that out.
Oh, that's a whole box in there! Wow. I wonder what is inside.
As I opened that box, I found cables and inks in it. I must say this is pretty cool. Very neatly packaged, making me feel like I am unwrapping a birthday gift full with surprises :)
I discovered that we can actually do wireless printing with our HP Printer. All we need to do is download the HP Printables App on our smartphone or tab to start with.
HP Printable App can be downloaded on:
Android -> https://play.google.com/store/apps/details?id=com.hp.newsstand&hl=en
and
iOS -> https://itunes.apple.com/us/app/hp-printables/id881523106?mt=8
I downloaded the app on Ethan's tab so he can print out fun activities for himself while I am busy tending to Ayden.
But whenever I have the time, I like to sit down and see him choose his favourite activities. Besides 3D Origami, he loves coloring.
We can be anywhere in the house even on the upper floor while the printer is on the ground floor and will still be able to print.
With just a touch of a button from the tab, the printer will start printing.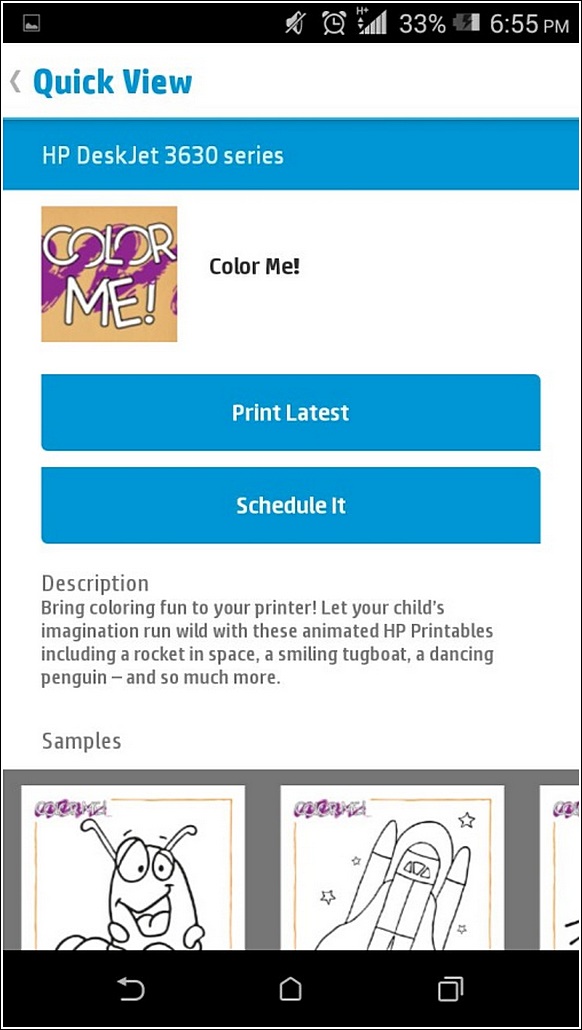 Aside from making origami, he loves printing from Color Me! with the latest being a printout of SPACE.  So appropriate as we recently watched the movie The Martian and that boy is still very much fascinated with Mars.
While Ethan is coloring, I took the opportunity to print out something for me too. You know the craze now is on Feng Shui coloring but I don't have the luxury of time to go purchase those books so you can imagine my delight when I found this among the many Printables:
I can print these relaxing coloring activities for free right in the comfort of my own home. It is so enjoyable to let my subconscious mind take over and fill my paper with colours. Research has shown that "coloring in" is the new way to de-stress. It is as effective as taking a quick power nap.
Ayden helps me too when I am coloring. He likes to choose the colors for me and see those colors filling up the white paper.
We are having so much fun with HP Printables that we are participating in the #10daysChallenge contest. During the #10daysChallenge, the boys will be kept away from electronic devices. Ethan will only be allowed to use his tab to print stuff from HP Printables. The boys and I will spend time together coloring or making crafts from the Printables. The target is to complete at least ONE Printable a day. I'll also be sharing them on my social media platforms (Instagram and FB page).
There are so many Printables to choose from but here are my top 10 favorites to be used from Day 1 to Day 10:
Disney

Crayola

ORIGAMI

Dreamworks Animation Printables

Angry Birds

Paddington Bear

Kid's Weekly Activities

High Five

PLAYMOBIL Printable Fun & Games

Awesome Airplanes
The recent haze situation has forced schools to be closed and we are all advised to stay indoors. Instead of getting glued to his electronic gadgets, we are spending time together rekindling his love and passion for art and craft. After all, he is the reason behind the birth of our Craft Studio in the first place.
Crafty-Crafted Studio.
Children can get irritable, aggressive, selfish, and impatient if given too much of a screen time on their electronic devices. Colouring and crafting are really therapeutic. This is a great lesson to bring out their self-control and patience. Crafting is a great way to promote flexibility in our child. There is no right or wrong way in exploring one's own creativity.
It is nice to spend time with Ethan creating something together and see the sense of pride in him when he successfully completed an art or craft.
You can also participate in the #10dayschallenge with your child. If you are a busy working parent, don't worry. If you can't do 10, you can give the challenge a go for one or two days as well. The #10dayschallenge will be for two weeks from 5th November to 19th November 2015. As a reward to parents who took on the challenge, HP will be organizing a Kids Day Out on the 28th November which will allow you to get a first-hand experience of the new HP Printer and Printables for your children to enjoy.
Join us in this #10dayschallenge too as HP will be giving out 20 pairs of tickets to enjoy "The Good Dinosaur" at GSC Signatures, The Gardens. You might also walk away with a brand new printer and other freebies as well.
As the famous quote by Barbara Johnson, 'To be in your children's memories tomorrow, you have to be in their lives today.'
Keep the gadgets away and start interacting with your children now. For all you know, tomorrow they will be all grown up and minding their own lives.