Pixels Movie
We've been watching a lot of movies lately. That is because Nuffnang has been very generous and been holding so many movie premiere screenings the past months or so. Furthermore, most of these screenings are held in 1Utama so it's a plus point. Yes, the location is very important as we'll only go for movies in 1Utama, The Curve or around that area. KLCC is a definite NO! The value of the tickets wont be able to cover their exhorbitant parking charges >_<
Anyway, the latest movie we caught last night is the science fiction comedy film Pixels. 
Thank you Nuffnang for the tickets and that cool Pixels wrist watch.
Pixels is actually a fun movie that brings back a lot of memories of the yesteryears (or maybe decades -.-). Though the boys enjoyed this a lot, it was ME who laughed the loudest. In case you are wondering if this movie is suitable for children, let me warn you that Pac-Man is evil here. It eats his way through New York City and a smurf gets shot with a laser and killed. YES, a smurf DIED! But I'll say it's okay for kids. Children these days might not even know what Pac-Man or Smurf are so it won't affect them much if a blue thingy exploded :P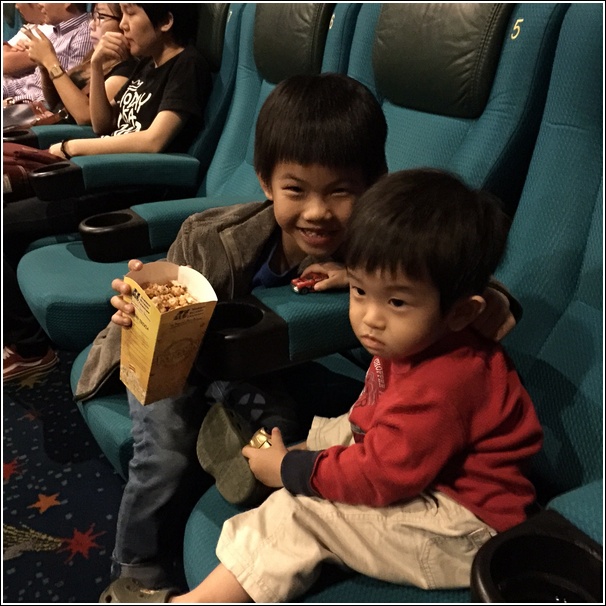 This Ayden is so annoying. He insisted to bring his car toys into the cinema yet dropped them TWICE during the show. 
Ethan is more excited with this watch. It's supposed to be mine but he claimed that it's his so .. tsk! Anyway, as Darling said it, Pixels is a feel-good nonsensical show. Go watch with a happy heart and you'll be entertained. It's definitely better than that disappointing Fantastic Four we watched last week.
Related Posts