School Holiday Programme at The School, Jaya One (Part 2)
This is Part 2 to Ethan's School Holiday Programme at The School, Jaya One. You can read about School Holiday Programme Part 1 where he participated in activities from Fantasia Music, Craft Space, The children's house, Cross Muay Thai, The Academy of Rock, Science Bridge Academy and Dialogue in The Dark.
The activities in Part 1 were for Day 1 and 2. Today, I shall continue with Ethan's Day 3 and 4.
Ethan missed the first half of Day 3 as he needed to attend his Trinity Drum Grade 4 exam and only managed to join the rest of his new found friends after lunch at Jump Street Trampoline Park,  Asia Largest Trampoline Park.
Call the security! These two are not supposed to be in there >_<
The instructor made sure the kids are properly warmed-up before jumping on the trampoline.
It was Ethan's first time here and boy, he had so much FUN! He has always loved trampoline and being here with hundreds of interconnected trampolines from the floor right up the walls with multiple jumping attractions at every corner is heaven to him.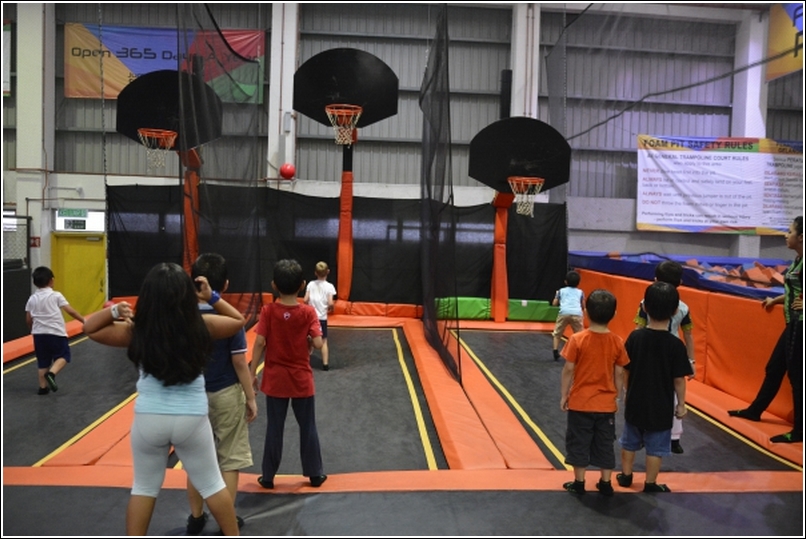 Gravity defying basketball shots. Now almost everybody can do the slam dunk. Even shorties like me! LoL!
He had a great workout here at Asia's Largest Trampoline Park. I think I should start jumping here too. Burning calories has never been easier and fun! Ethan went home all flushed and happy.
Day 4
He woke up fresh and eager for Day 4. The day started in Learning Fresh.

Learning Fresh, Jaya One.
The kids playing Pepsi Cola as an ice-breaking game with the facilitators. They then had a story telling session and lots more before having their morning snack. Ethan was very impressed with the story telling session that he came home reciting the entire story back to us.
After their snack, they headed to Roboticist.

It is no secret that Ethan loves robotics. I send him to his school's robotic classes every Saturday.
He came home telling me that the robots here are better. I asked him why and he answered that they are BIGGER!
Just look at him! He loves technical stuffs. From young, he'll look at the wheels of his stroller spinning whenever we go for a stroll. Whenever he plays with anything, he'll try to dismantle and fix them back. He is the happiest when given the task to build a robot as he loves building things.
The final programme after Roboticist is back in Science Bridge Academy where they learn about the science of taste. He also learn the term 'umami' here. I did not have any pictures of him here as I was busy nursing Ayden in the Baby Room.
It was a fun and wholesome four days at The School.
What I like about this school holiday programme is unlike other usual school holiday programmes where kids spend many days doing the same activities from a single learning centre (and gets bored along the way), here, Ethan gets to experience and participate in various activities conducted by no less than EIGHT participating partners. 
He was a little heavy-hearted on Day 4 knowing that it is the end of his school holiday programme. I guess he is not alone… 
As little bro Ayden was having fun tagging along and not wanting it to end too…