Ramadhan dinner preview: Swez Brasserie, Eastin Hotel
The holy month of Ramadan is commonly perceived to be a time of giving and blessing. It is also said to be the time for reflection and contemplation, for charity and compassion, and for friends and families to turn their thoughts to those less fortunate.
For Darling who is in the marketing line, it is time to scout for the best Ramadan dinner spread to reward his business partners. We'll start with Eastin Hotel's buka puasa menu. Themed Sajian Ramadan Ibunda, we are treated to an extensive spread of mouth-watering local cuisines inspired by mother's home cooked meals.

Swez Brasserie brings us balik kampung this Ramadan.
Super love the table setting especially the 'candle' napkin. 
An enormous variety of dishes such as Ayam Bertebu, Daging Salai, Ikan Masak Asam, Puyuh Goreng Sambal Hijau, Kambing Golek and many more. Let's look at some of the dishes I managed to capture.
A must-have at every buka puasa dinner buffets is the much sought after Roasted Lamb served with chef's special sauce and nasi briyani.
Lemang and Ketupat Palas
I love that they served lemang with two types of glutinous rice – white and black. Lemang is commonly made with the white glutinous rice but here, they even serve the black and purple glutinous rice lemang. Such a great treat.
Ayam Bertebu
Sugarcane is threaded through the chicken and grilled making this one sweet and delicious chick.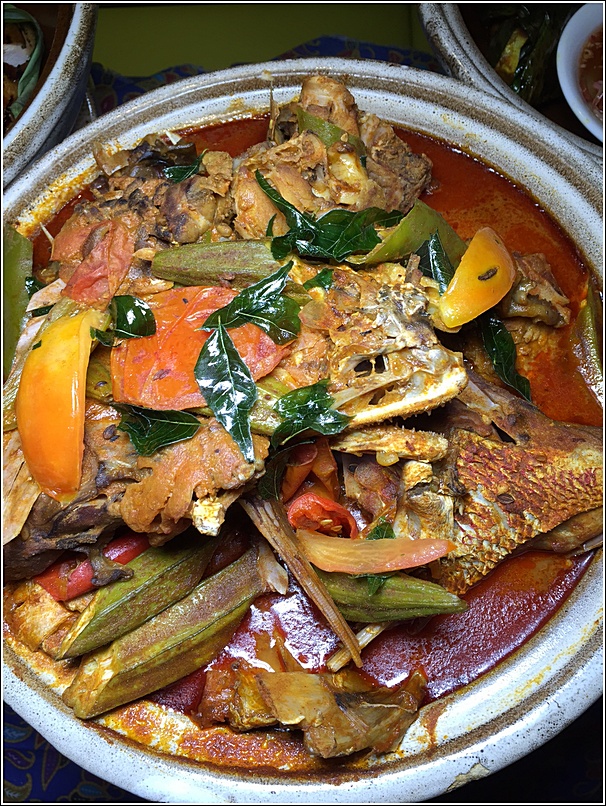 Kari Kepala Ikan
Appetising fish head curry with lots of okras and tomatoes.
Telur Masak Lemak
Siput Sedut Masak Lemak
Popiah and Pai Tee
Kerabu Udang
There are various kerabus available but my favourite is this refreshing prawn and pamelo salad.
For Durian lovers, there is a special dessert counter serving desserts made from the King of Fruits!
I went crazy with all the durian desserts here.
Durian Cream Cake
Durian Profiterole
Durian Profiterole or simply known as durian cream puffs is very good. The pastry has a crunchy crust on the outside yet super soft on the inside with delicious durian cream filling.
Durian Tarts
This is equally good. The tart is layered with jelly, cream cheese and topped with delicious durian cream. Ooo la la!
Durian Swiss Roll 
Pretty durian swiss roll that melts in the mouth.
Durian Puff Pastry
Adorable looking pillowy puff pastries.
Durian Mousse
Rich and robust yet smooth enough to glide down the throat. Ahh…
I ate each and every one of them coz they are just soooo good!
The pastry chefs in Eastin Hotel is seriously good. I always satisfy my sweet cravings here. Just the other day I had a BBQ party at a friend's place and he got some cakes from Eastin too and they were such a hit with the guests!
We were served this special ice treat during dinner:
It is inclusive in the buffet spread. The boys love this. Layered with treasures and topped with a scoop of ice-cream this is such a pleasure to eat. It is a cross between ais kacang and bubur chacha as I found gems such as jackfruit, coconut flesh, lychee, atapchi, mango, red bean, yam cubes and much more in it.
We were also pampered to the max with this pretty lady going around serving us local kuih-muih raya. 
Price:
18th to 22nd June 2015
RM115 nett per adult and RM58 nett per child
23rd June to 16th July
RM138 nett per adult and RM69 nett per child.
Early Bird Vouchers are available for sale now until 12th June 2015 at RM91 nett per person. It can be used from 18th June to 22nd June 2015.
For reservations, call +603-7665 1111 ext 183