Mother's Day Celebration at Eastin Hotel
Weeks before Mother's Day, Darling looked high and low for restaurants or hotels that offer unique Mother's Day promotions. Most of the eateries offer the usual Mothers Eat For Free kind of promo but we came across Eastin Hotel's Young Chef Competition in conjunction with Mother's Day. Now knowing me, you'll know that I always prioritize the kids before me so Darling knew this will be the PERFECT way to celebrate Mother's Day and went ahead to make bookings.
My heroes and I :)
The competition is divided into two categories; Kinder Cook for kids aged 3 to 6 years old and Young Chef for kids aged 7 to 11 years old. Ethan participated in the Young Chef category.
There is no registration fee to participate in this competition. All that is needed is two paying adults who are parents or guardians of the kid and he or she is eligible to participate. Hi-Tea price for Mother's Day brunch buffet was RM84nett per adult and RM42nett per child (4-12 years old).
We went there at noon to have lunch before the competition. Here are some of the food we had from the lavish buffet spread:

Lasagna 
Salmon
Satay
Prawns and Crabs
After eating, I went to have a look at the Kinder Cook competition that was held first before Young Chef.
It was so cute to see these little kids aged 3 to 6 years old trying their hands at food styling; decorating cup cakes and brownies. I am filled with pride looking at them trying their best to complete their task eventhough I am not their mother. Haha!
This scene warms my heart. I told the person next to me that it is so sweet to see a father helping out instead of the mother as he was the only male there among all the other mothers. That was when I was told that he is not the father, but the caretaker from Rumah Charis. Apparently Eastin Hotel hosted a group of them (the kids and their caretakers) that day. I am so touched.
After the Kinder Cook competition is over, it is time for the Young Chefs to show off their skills.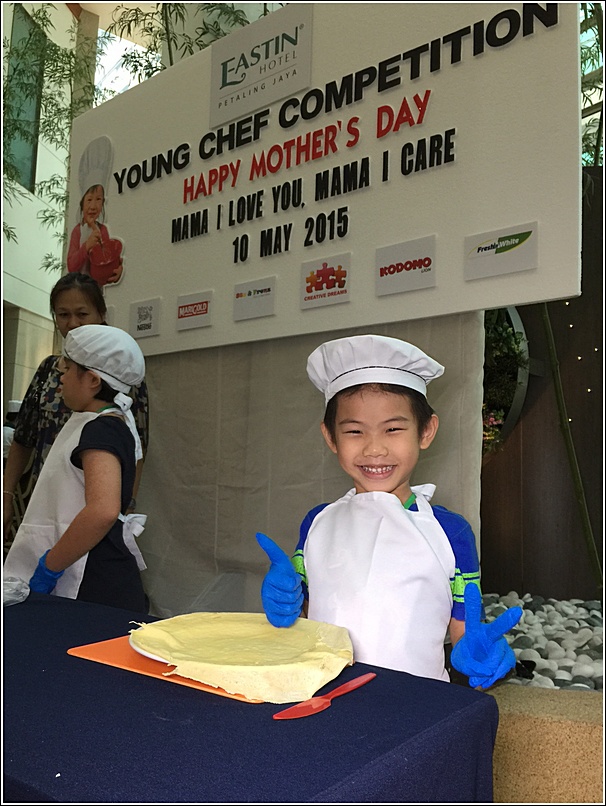 Ethan all dressed and ready to roll up, slice the crepe and roll a pita bread to serve his mummy later :D
Young Chef Ethan delivering his best.
Decorating his masterpiece before presenting it to the judges. Judging is based on the cleanliness (of the workstation), creativity, presentation and their coordination. 
Lil bro Ayden was Ethan's biggest fan that day, giving him as much moral support as possible. 
More Young Chefs at work.
Every contestant received a goodie bag and went home a winner that day. I must say that their prize is really attractive. The champion for each category brought home RM500 cash each, a hamper, a trophy and more. 
Ethan's masterpiece at Number 15 next to the winners of Young Chef Competition. Not too bad. I love his creation though it is not too neat but it is still perfect to me :) <3
His number is 16 actually but when I took this pic, Ayden mixed up the numbers -.- Ethan did not win the top 3 prizes but he had a whole lot of fun. 
There was also a clown giving out balloon sculptures to the kids. 
He went back to the buffet spread to eat somemore after the competition. His favourite is always the cereal bar (like we don't have enough cereals at home). Tsk tsk.. LoL! 
I saw that they just replenished the sushi counter so I went to grab some.
The boys had ice-cream before calling it a day while I had my nail color done as they had complementary nail color, special hand henna, and doll crochet activities available for mommies that day.
I had a whole lot of fun pampering and spending quality time with the boys like this. Ethan enjoyed himself so much that he told me to be on the lookout for any special promotion for the upcoming Father's Day next month! Hah! I'm not too sure about that though. I need to give them a call to check. With such a nice surprise from Darling today, I definitely have to level up next month!
//

//

//
//
//
//

//

//
//