Be LOHAS Healthy Vegetarian Cuisine
How many of you here are vegetarian? Raise your hands. Well, I am not a vegetarian but I do believe in organic food and eating healthy whenever possible.
That is why I am now growing my own greens in whatever little space I have at home.
Last Sunday, a vegetarian friend invited our family to dine at Be LOHAS Healthy Vegetarian Cuisine in Sunway Mentari.
Be LOHAS healthy vegetarian cuisine, Mentari Plaza.
Ayden and Ethan googling for what's best to order here :P
Every diner in Be LOHAS will be given complimentary Spirulina tablets and Honey Ginger Lemongrass tea to warm our tummies before our meal. It was Ethan's first time eating spirulina and here's his reaction:
You can read about his story on first time eating spirulina here.
We were privileged to be among the first to try their Set Lunch and Dinner that will be available from 1st May 2015 onwards. We chose Set B1 for 4pax. For RM108 (Non-member) or RM99.36 (Member) we get:
Mongolian Soy Fish
Curry Mixed Vegetables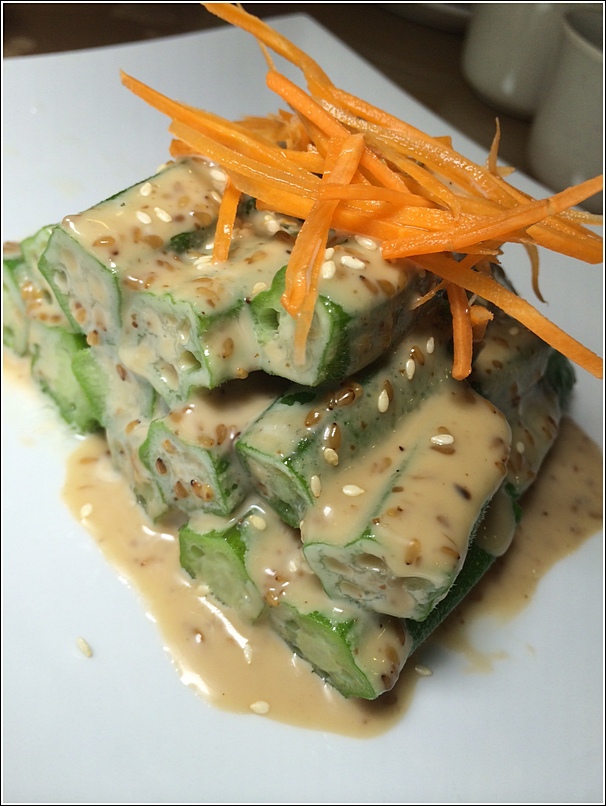 Ladies Finger with Sesame Sauce
Seaweed Veggie Ball Soup
Mushroom and Vegetable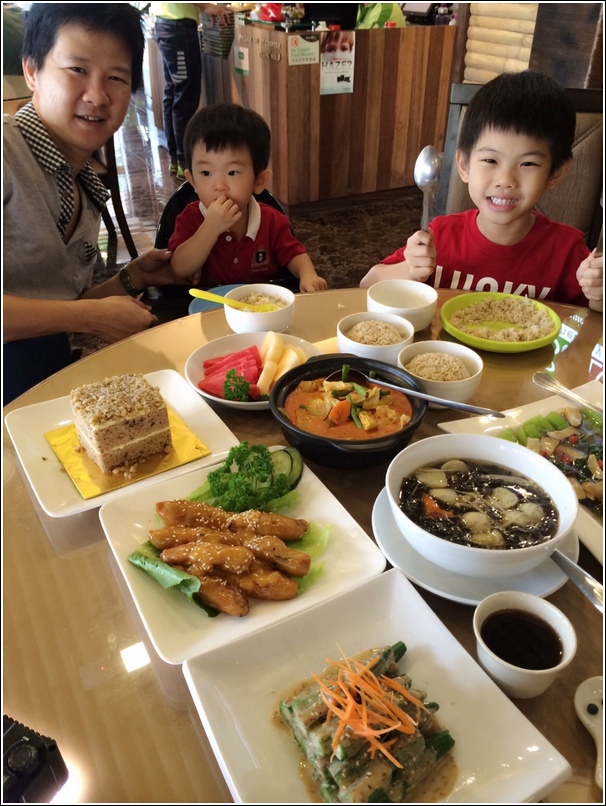 Our set comes with 4 bowls of 3-Grain Rice.
While the boys love the Mongolian Soy Fish the most, my favourite has got to be the Organic Soya Milk Mixed Vege Curry. Made of organic soya milk instead of coconut milk, it is easier digested and I need not worry about high cholesterol when drenching my rice with the delicious curry gravy. The organic virgin coconut oil used gives a delicate coconut fragrance to this wonderful curry dish. The curry is really good that I don't feel I'm eating vegetarian at all. It is no wonder their ala carte Organic Soya Milk Curry Laksa Noodle is one of their much sought after dish.
As a whole, the dishes in this set complimented each other really well. The ladies finger in rich creamy sesame seed dressing goes very well with the boys while the mushroom and vege dish suits Darling and I more as the boys don't like leafy greens. The seaweed vege ball soup is surprisingly very tasty but it was the nice kind of tasty; not those that will leave you thirsty later on as the food here has no MSG added.
Overall, we had a combination of sweet, spicy and savoury dishes to tease our palate that afternoon. Not only that, because Mother's Day and Father's Day are approaching soon, Be LOHAS is giving out complimentary cake and fruit platter with every set meal purchased on Saturdays and Sundays.
I received a cake and fruit platter because I am a MOTHER :)
The carrot cake with cream cheese layers is really one of the best I've eaten thus far. Topped with generous cream cheese and nuts, it is really a heavenly bite.
I love the interior of this place. Even their washroom signage is green!
Their handwash area is also nice.
But Ayden loves this part the most. He was so busy looking at the fish that he totally ignored the two lengluis there!
//

//

//

//

//

//

//

//
//

//

//

//