Dr Kong healthy shoes
This post I am sharing is very personal to me as it involves Ethan and his foot condition. I was totally unaware about it until recently. I hope with this sharing, many mothers out there will be more aware about the well-being of their children's feet.
Before we got Ayden, when we went shopping with Ethan, we still bring along the stroller even when he was 4 to 5 years old. The reason being he always complains of tiredness and will request to sit in the stroller. Then Ayden came into our family and these days when we go out, Ethan will still sometimes request to sit in the stroller. I got annoyed at his attitude, thinking he is jealous of Ayden or something.
Then one day I was talking to a friend of mine and told him about it. He suggested to get Ethan's feet checked but I brushed him off completely. I mean, won't it be obvious if there is something wrong with Ethan's feet? I would have known it earlier. That boy is already 7 going to be 8 this year. I'm not going to bring him to an orthopedic doctor for nothing.
I mean look at him. Surely there can't be anything wrong with his feet?
Just recently, that same friend of mine contacted me. He told me he knows of this Datin Emily who is in charge of Dr Kong outlets in Malaysia but I was like, what? I later learnt that Dr Kong is a footcare product offering healthy shoes. Xavier (my friend) told me they offer free foot assessment so okay lah, we went. 
We went to the outlet in Tropicana City Mall. They tested his feet on a machine and I was horrified at how severe Ethan's feet are. 
Okay, here's what actually happened.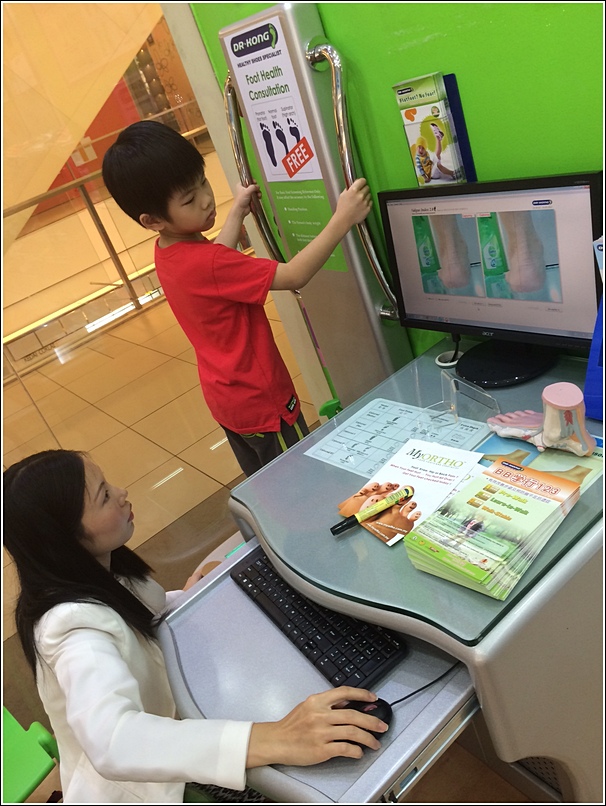 Ethan is told to stand on this foot evaluating equipment for a computerized assessment. 
This is Ethan's feet. The red and blue line shows how Ethan's heel is not properly aligned due to him having a collapsed arch or also known as flat foot. 
Datin Emily drew some dots on Ethan's heel to show me how the alignment on his feet can be corrected with the help of an arch insole. 
This picture is to show how flat Ethan's feet are. Look at the green footprints. Totally flat.
Datin Emily demonstrated how Ethan's heel alignment improved significantly with an artificial arch. Look at his footprint now. It is similar to normal footprint already. 
In case you don't know what I was talking about earlier. The picture above shows how a normal and flat foot looks like. It also shows high arch foot but that is not a concern with Ethan right now. 
I was a little startled with the discovery of Ethan's foot condition. I never expected this actually. Datin Emily further explains that if this condition persists, Ethan might get knock-knee condition in which the knees touch when the legs are straightened. 
Datin Emily proceeded to introduce some shoes that has the proper arch support for Ethan. The price range for the shoes here starts from RM79 and above.
Ethan has always dislike wearing full covered shoes so he opted for sandals instead. 
Darling got a pair of shoes for Ayden too as he was such a good boy that evening, sitting there quietly waiting for big brother Ethan. 
See. Such a good boy that day. Sitting, minding his own business and maybe modelling for Dr Kong? :P
I did the foot assessment test too and got good results. Nothing is wrong with my feet and for that I am glad. 
Anyway, I got myself a pair of sandals nevertheless as the one I wear to the playground is wearing off. Darling did not get anything for himself. It is always like that. The person paying always ended up with nothing and that person in our house is always the Daddy :P
Ethan's foot arch support sandal (RM199)
Ayden's shock absorbing shoe (RM129)
My health sandals (RM359)
Ethan is diligently wearing his arch support sandals these days. I'll bring him over for another assessment when he outgrows this sandal and I hope by then, we will get to see some improvement to his foot condition.