BOOST Juice Bars
I'm a bit of a health freak mom when it comes to drinks. I don't usually allow the boys to drink sodas on ordinary days. They are only allowed to have sodas on special occasions due to the high sugar content. I prefer them to be drinking something healthier. I prefer juice.
I make fresh juices for them everyday at home. When we are out I usually make them drink water from their tumbler >_< I was introduced to BOOST Juice when they had this Name Game promotion whereby if your name happens to be in their shoutout, you are entitled to a free Boost. 

That was the first time we had BOOST and I actually love it. I picked the All Berry Bang and it was awesomely refreshing with real berries in it.
From that day onwards, we'll get a cup each during our jalan jalan in the mall every weekend.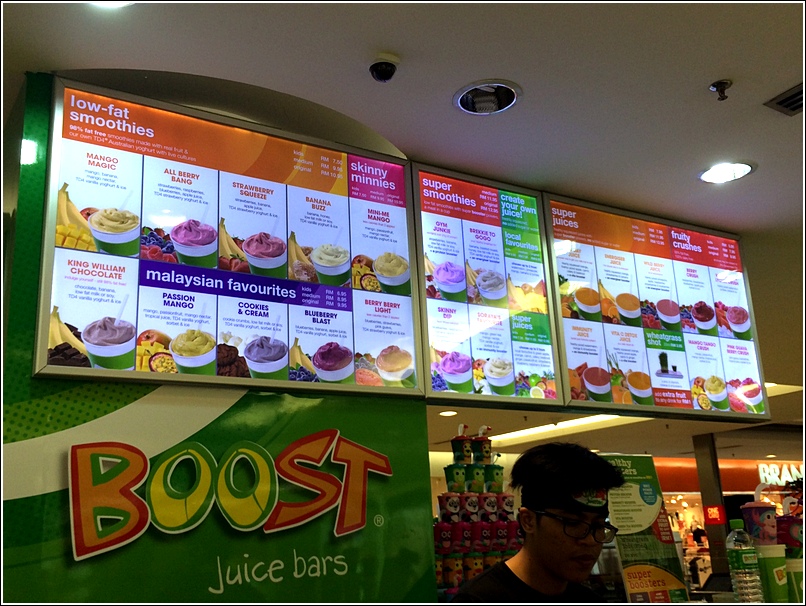 So many flavours yet I always stick to my personal favourite, the All Berry Bang each and every single time.
Ethan doesn't eat fruits nor does he like fruit juices but as I've mentioned in my earlier post, he only drinks watermelon juice so when we saw that BOOST has this new flavour WONDER MELON in store, I did not hesitate to grab one for him.
The watermelon juice I make for the kids at home is purely watermelon but the one here is jam packed with superfruit boosters and antioxidants from Acai Berry, Cranberry, Goji Berry and Pomegranate.  
Wonder Melon
Contains strawberries, freshly juiced watermelon, strawberry yoghurt, whey protein, ice and superfruit booster. Though it has a mixture of so many goodness, the watermelon flavour is still very prominent so Ethan actually loves this. 
All Berry Bang
As always, I will always have this refreshing All Berry Bang in my hand. Made of strawberries, raspberries, blueberries, apple juice, strawberry yogurt and is full of probiotics. 
Every once in a while, the Daddy prefers freshly squeezed juice to smoothies and his favourite is always this 5 A Day Juice. Freshly squeezed orange, apple, carrot, celery and beetroot plus a vita booster, this will guarantee to make you feel so much healthier. 
If Ethan has a choice, he will request for this Cookies & Cream but I tell you, I'll only allow him every once in a blue moon as both the Daddy and I don't really fancy this and Ethan can never finish the whole cup as it is kind of sweet. But he will without fail try his luck and request for it every time we are here to order our juices -.-
It was the school holidays and we had the entire day to kill. Our legs were dead tired from all the walking so we sat down for replenishing and some boosts. We had FOUR Boost! We usually just order 3 but that day I gave in to Ethan's Cookies & Cream request. It is after all the school holidays. Let that boy happy a bit :D
Look at Ayden. He can't wait to get a sip of his favourite All Berry Bang too, our family's obvious favourite choice :)